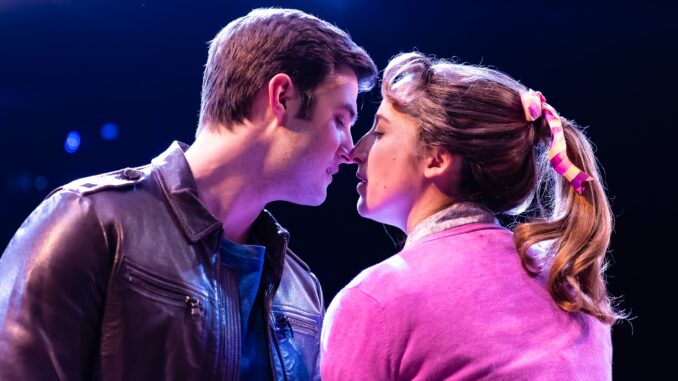 Following its world premiere in San Francisco in 2013, BEAUTIFUL: THE CAROLE KING MUSICAL soon made its way to Broadway in 2014, where it was a smash hit and won two Tony Awards for best lead actress and best sound. The popular jukebox musical toured in London and the U.S. and was even adapted to film. Now, courtesy of Southern California Regional Theatre, BEAUTIFUL makes its premiere at La Mirada Theatre for the Performing Arts in 2023.
Briana Brooks, Fatima el-Bashir, Rosharra Francis, and Jazz Madison as The Shirelles – Photo by Jason Niedle/Tethos
Brooklyn-born Carole Klein/King (Sara Sheperd) is only 16, but she already knows that her future will be writing songs. When she auditions a song for New York music producer Don Kirshner (Brian Ibsen), she is soon on her way to realize her dream. Enter Gerry Goffin (Miles Jacoby), a lyricist who wants to write plays; and the couple soon collaborate to write some of the best pop music in town. When their collaboration goes beyond professional to personal, they become the hottest song-writing duo in Kirshner's studio. But what is life without friends? Soon Carole meets wannabee song writer Cynthia Weil (Sara King), who teams up with Barry Mann (Trevor James) to create the best of pals and competitors for the music public's ear. The rest is history. Carole's success as a song writer goes up a notch when she reluctantly agrees to perform her own songs – even as her marriage begins to disintegrate before her eyes.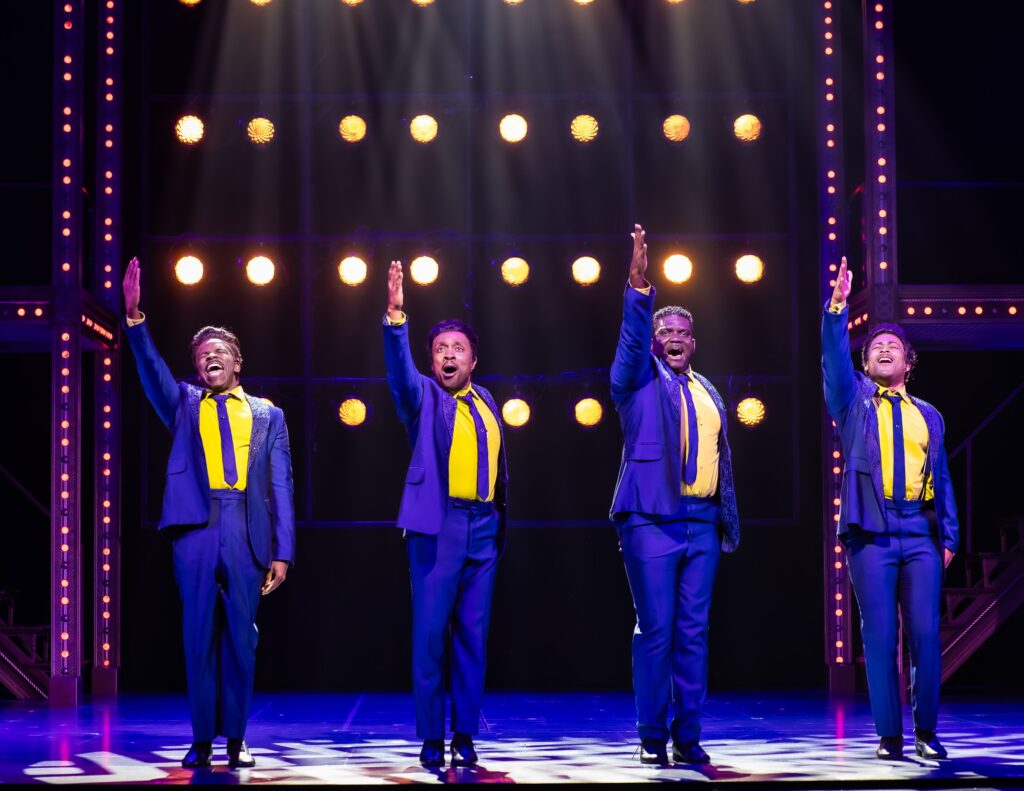 Domo D'Dante, David Ginlet, Cornelius Jones, Jr. and Kenneth Mosley as the Drifters – Photo by Jason Nielde/Tethos
Skillfully directed by David Ruttura, BEAUTIFUL is a song-fest to the audience's ears with over 25 smash hits performed with all the glam and dazzle only Broadway can offer. For audience member of a certain age, it is also a trip down memory lane as groups like The Drifters, the Shirelles, and the Righteous Brothers turn Carole's music into gold and platinum. Kudos to Jacoby, King, and James, who do a dynamite job of performing their roles. And a special nod to Sheperd, who carries the show with passion and zing.
Sara King and Trevor James – Photo by Jason Niedle/Tethos
But BEAUTIFUL is really a package wrapped up with a shimmering bow by a superb production team. Derek McLane's glorious scenic design, Alejo Vietti's spangled costumes, Kaitlin Yagen's hair and wigs, Ethan Steimel's lighting, and Josh Bessom's sound make this jukebox musical very special. And let's not forget Ryan O'Connell's musical direction and Joyce Chittick's choreography. All elements combines to turn BEAUTIFUL into a spectacular slice of musical history. Words and music are by Gerry Goffin and Carole King and Barry Mann and Cynthia Weil from a book by Douglas McGrath with orchestrations, vocal, and incidental music arrangements by Steve Sidwell. All you pop music aficionados out there will adore BEAUTIFUL – and all the on-the-fence music listeners will soon become humming, heel-clicking converts. Audiences can't seem to resist the lively, energetic, and often passionate music of Carole King and friends.
Cast of BEAUTIFUL: THE CAROLE KING MUSICAL – Photo by Jason Niedle/Tethos
BEAUTIFUL: THE CAROL KING MUSICAL runs through December 3, 2023, with performances at 7:30 p.m. on Thursdays, at 8 p.m. on Fridays, at 2 p.m. and 8 p.m. on Saturdays, and at 1:30 p.m. and 6:30 p.m. on Sundays (no performances on Sunday, 11/12, at 6:30 p.m. or Thursday, 11/23, at 7:30 p.m.; added performance at Wednesday, 11/22 at 7:30 p.m.). La Mirada Theatre for the Performing Arts is located at 14900 La Mirada Blvd., La Mirada, CA. Tickets range from $19 to $90 (group and military discounts available; $14 student tickets). For information and reservations, call 562-944-9801 or 714-994-6310 or go online.