The world premiere of SHE by Antaeus-commissioned playwright Marlow Wyatt comes to the Kiki & David Gindler Performing Arts Center in 2023. SHE is the recipient of the second annual Los Angeles New Play Project (LANPP) grant designed to attract excellence in playwriting in the Los Angeles theater community and encourage the production of exciting, untried plays. The script was also a CTG/HUMANITAS finalist and a Long Beach Playhouse New Works winner; it was also designated as the National Black Theatre Festival A-List. Directed by Andi Chapman ("Native Son" and "The Abuelas"), the coming-of-age tale stars Camille Ariana Spirlin.
Karen Malina White and Jon Chaffin – Photo by Jeff Lorch
She Sojourner Freeman (Camille Ariana Spirlin) has an awful lot of dreams for a Southern black girl of 13. She is a nascent poet who longs to attend the best and most exclusive academy in the South – even if the cost is probably too high for her single mom. The world begins to intrude on She's plans when her mother (Bernice (Karen Malina White) impulsively marries her unemployed ne'er-do-well boyfriend Lonnie (Jon Chaffin) – and then, to make matters worse, the factory where her mother works shuts its doors and mom turns to alcohol to cure her ills. As the family's finances rapidly go downhill, She begins to see the downside of growing up – even if her 14-year-old boyfriend Davie (Lorenz Arnell) offers all the support he can muster. But dreams have a way of hanging on, and She only needs her own set of wings to fly.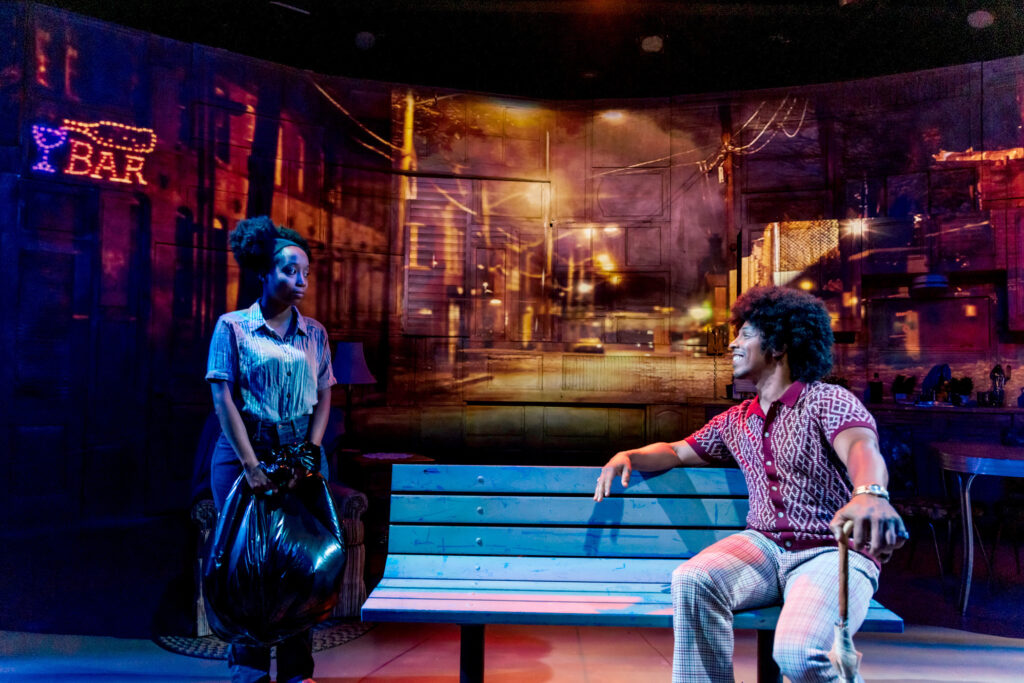 Camille Ariana Spirlin and Gerard Joseph – Photo by Jeff Lorch
SHE is flawlessly directed by Andi Chapman, who clearly "gets it" and wants the audience to see it too. The characters are perfectly cast with as talented a set of actors as you'll find anywhere. Kudos to Spirlin, Arnell, White, and Chaffin for running the gamut of emotions in this dramedy of dreams colliding with reality. Black cultural insights shine throughout SHE as it roller-coasters through the twists and turns of the real world in this unvarnished coming-of-age tale. Eli Sherlock's scenic design makes the perfect backdrop for SHE, with Wendell C. Carmichael's costumes, Andrew Schmedake's lighting, Jeff Gardner's sound, and Nicholas Santiago's projections – to name but a few of the excellent production team – adding that special something extra.
Camille Ariana Spirlin and Veronica Thompson – Photo by Jeff Lorch
SHE will find a home with both Black and White theater-goers as it tenderly tells She's story – for don't we all have dreams and aren't we all, sooner or later, forced to face obstacles to reaching our goals? Above all, SHE is the saga of hope, a never-give-up attitude which makes dreams possible. SHE is highly recommended for all audiences.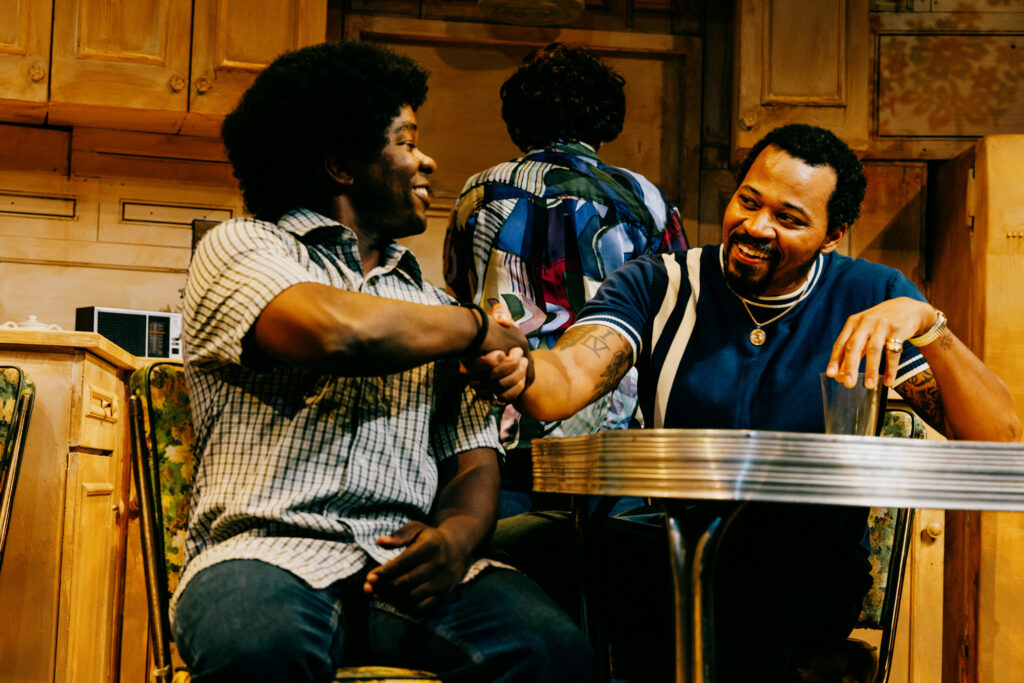 Lorenz Arnell and Jon Chaffin – Photo by Jeff Lorch
SHE runs through November 20, 2023, with performances at 8 p.m. on Thursdays (11/9 and 11/16 only), at 2 p.m. (11/11 and 11/18 only) and 8 p.m. on Saturdays, at 2 p.m. on Sundays, and at 8 p.m. on Mondays. The Kiki & David Gindler Performing Arts Center is located at 110 East Broadway, Glendale, CA 91205. Tickets are $40. For information and reservations, call 818-506-1983 or go online.