First performed in 1606 and eventually published in the Folio of 1623, MACBETH is one of Shakespeare's most gripping plays, entwining the supernatural with murder, treason, ambition, and greed. Confirming the play's popularity, this political thriller has been adapted to film, television, opera, novels, comics, and nearly all media available today. Many suspect that MACBETH was a courteous nod to Shakespeare's patron, King James 1 of England, supposedly a descendant of Macbeth's friend Banquo and more than a little obsessed with witchcraft and the paranormal. 2023 brings Macbeth back to the boards at Will Geer's Theatricum Botanicum, a mini Hollywood Bowl creating the ideal setting for this grisly tale – a perfect introduction to Theatricum's fiftieth anniversary season.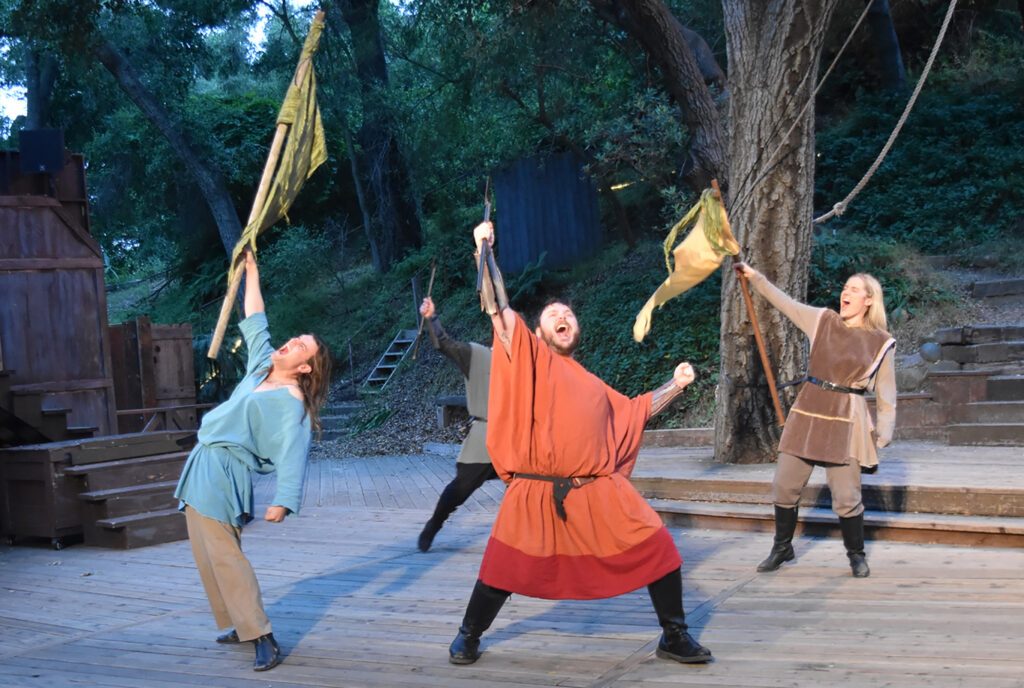 Corrin King, Steven Fisher, Isabel Stallings – Photo by Ian Flanders
As the play opens, Macbeth (Max Lawrence), a general in Scottish King Duncan's army, happens upon a coven of witches who offer him prophecies almost surely guaranteeing him the Kingship. Goaded by Lady Macbeth (Willow Geer), his ambitious wife, Macbeth soon begins taking the steps needed to reach his goal – even if they entail murder and mayhem. Soon a hero on the battlefield morphs into a bloody tyrant. Just as quickly and inevitably, the destructive effects of overweening political ambition escalate to transform the man into a beast. The bodies pile up as Macbeth's world crumbles around him. But guilt, shame, ghostly visits – and even the suicide of his wife – do not deter Macbeth, who fights the losing battle – even as he begins to realize the double-edged sword inherent in interpreting colorful but abstruse divinations about the future.
Max Lawrence, Franc Ross, (front) Seth Weaver, Jeff Wiesen, Steven Fisher, and Daniel Ramirez (rear) – Photo by Ian Flanders
Skillfully directed by Theatricum artistic director Ellen Geer, the theater company does a splendid job of bringing Shakespeare's tragedy to a modern audience. Every member of the large cast makes a telling contribution to the final denouement, including Banquo (Jeff Wiesen), Aaron Hendry (Macduff), Claire Simba (Lady Macduff), Franc Ross (Duncan), Hecate (Taylor Jackson Ross), and Cavin Mohrhardt (Malcolm).
Sara Carpenter and Claire Simba – Photo by Ian Flanders
As always, the production team skillfully sets the stage for the story, including costumes (Tracy Wahl), lighting (Zachary Moore), sound (Charles Glaudini), fight choreography (Cavin Mohrhardt), and original music (Marshall McDaniel and Ellen Geer). The cast and crew are ably assisted by this rustic setting carved into a hillside surrounded by the Topanga woods. If swashbuckling action and palace intrigue are your bag, you'll love this production. If you're a Shakespeare buff, you'll enjoy it even more. And even if you just want to enjoy the bucolic splendors of Topanga Canyon during this balmy summer season, you'll want to bring your picnic goodies and join the crowd wending its way up the hill to the mini amphitheater called Will Geer's Theatricum Botanicum.
Willow Geer and Max Lawrence – Photo by Ian Flanders
MACBETH runs through September 23, 2023, with performances at 7:30 p.m. on Saturdays (6/10, 6/17, 8/26, 9/2, 9/23), Sundays (6/25, 7/2, 7/9, 8/20, 9/17), Thursday (8/3), Friday (7/24, 8/11) and at 3:30 p.m. on Sundays (7/16, 7/30). Pre-show discussion on Sunday 8/26 from 6:30 p.m. to 7 p.m. The Will Geer Theatricum Botanicum is located at 1419 N. Topanga Canyon Blvd., Topanga, CA 90290. Tickets range from $30 to $60 (seniors, student, military veterans, teachers, AEA members $35/$20; children to 15 $15; children under 4 free; Pay-What-You-Will on Friday, 7/21 at 7:30 p.m. For information and reservations, call 310-455-3723 or go online.