Written and performed by Romy Nordlinger, GARDEN OF ALLA brings the trailblazing and scandalous Alla Nazimova's world to life. Following critically acclaimed productions throughout the U.S. and internationally, GARDEN OF ALLA arrives in Los Angeles – only miles from Nazimova's famous mansion termed the "Camelot of Hollywood" in its heyday – now a strip mall and parking lot. To quote "All About Solo," GARDEN OF ALLA is "a spellbinding homage to an oft-forgotten trailblazer…a remarkable solo show."
Romy Nordlinger – Photo by David Wayne Fox
From Nazimova's early days in Tsarist Russia, where she was raised by her abusive father in a poor single parent household – to her brief contact with fame as a child prodigy violinist – to her teen years as a prostitute – to her arrival in the U.S. as a Jewish immigrant, Nordlinger documents the rocky and often depressing history of the woman who was to become a Broadway and silent film superstar, visionary Hollywood director and producer, and LGBTQ trailblazer. Nazimova was a woman who would not be denied, a woman who danced to her own tune, a canny negotiator who learned English in just six months, and a woman whose sexuality was unbridled.
Romy Nordlinger – Photo by David Wayne Fox
Beginning as a performer in the Yiddish theater in New York, Nazimova became so popular that the Shuberts eventually built and named a theater after her. In 1916, she left for Hollywood; and the rest is history. She quickly became the industry's highest paid actress earning $13,000/week from Metro Pictures. She also hobnobbed with Hollywood's elite like Charlie Chaplin and Rudolph Valentino, as well as important music and literary figures of the day like Cole Porter and F. Scott Fitzgerald. She entertained with lush soirees at her elegant Sunset Boulevard mansion, where no holds were barred. Her earthy sensuality and willingness to defy the norms of her day were legend.
Romy Nordlinger – Photo by Lorca Peress
Directed by Lorca Peress, GARDEN OF ALLA imbues Nazimova with a larger-than-life persona, a brash lady never afraid to express her opinions and encourage sexual and intellectual freedom years before its time. Kudos to Nordlinger's solo performance as the iconic flapper of silent screen fame. Her energy and barely constrained excitement offer Nazimova a vivid life in 2023. This was a woman of indomitable will who appeared to see failure as a learning experience to be incorporated in her next successful venture.
Romy Nordlinger – Photo by David Wayne Fox
GARDEN OF ALLA also features video design by Adam Jesse Burns, graphic design by Doug Haverty, original score and sound design by Nick T. Moore, lighting by Malcolm Wilson, and production by Anne Leyden and Benjamin Scuglia (Behind the Bar Productions). GARDEN OF ALLA is definitely a team effort.
Romy Nordlinger – Photo by David Wayne Fox
GARDEN OF ALLA is a show which will appeal to all you Hollywood history buffs out there, as well as to people fascinated by what makes the famous who they are. Clearly, LGBTQ audiences will savor Nazimova's meteoric rise and her influence on American culture. But above all, this is a play about a woman who rose against all odds at a time when the culture frowned upon scandal and was barely beginning to accept female's role in society – and certainly years before anyone endorsed feminist views.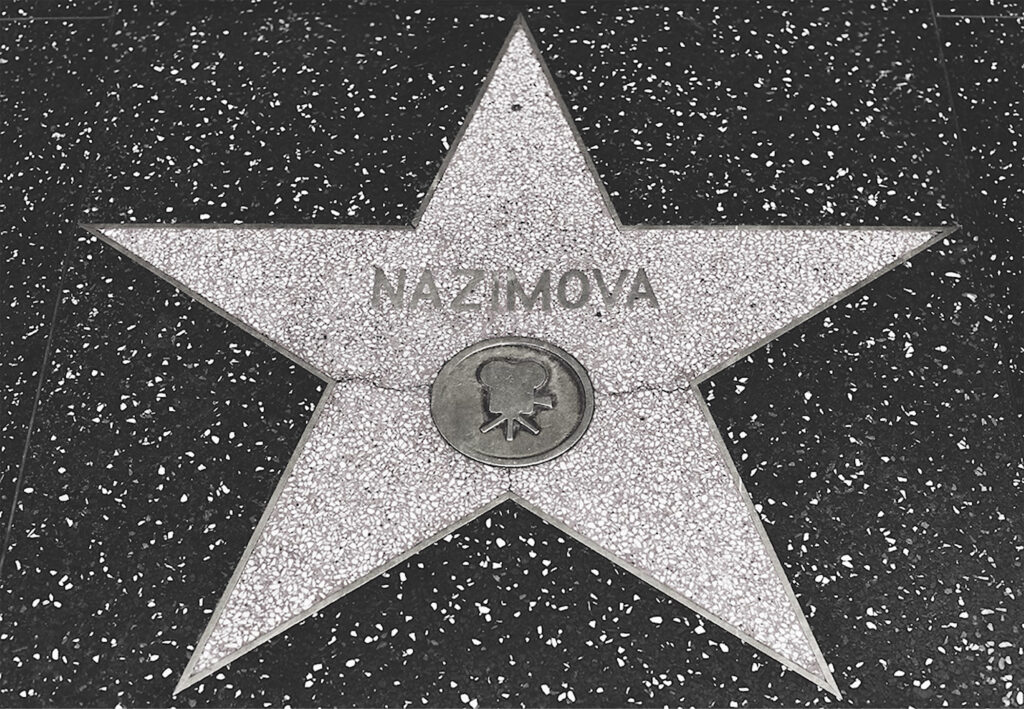 Alla Nazimova's Star on Hollywood Boulevard – Photo courtesy of Behind the Bar Productions
GARDEN OF ALLA runs through July 23, 2023, with performances at 8 p.m. on Fridays and Saturdays and at 2 p.m. on Sundays. Screenings of Nazimova's "Salome" and "Camille" follow performances on 7/8 and 7/15. Theatre West is located at 3333 Cahuenga Blvd. West, Los Angeles, CA 90068. Tickets are $35 online with advance purchase and $40 at the door. For information and reservations, call 323-851-7977 or go online.