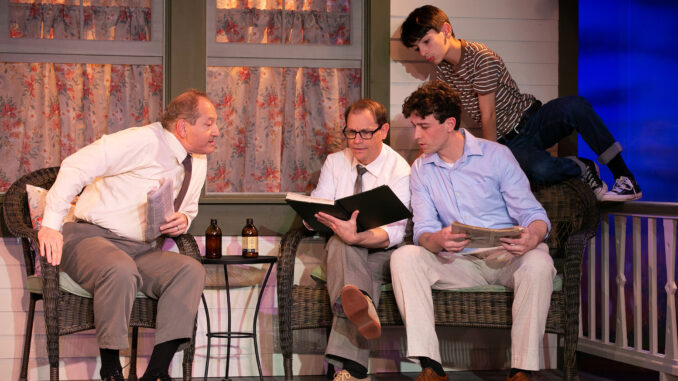 Kansas born and bred playwright Eric Anderson may be living proof that even one seemingly trivial event may leave a huge impression lasting for decades. In 1955, playwright Eric Anderson had an "ah-hah" experience which imprinted itself on his personality and helped inform the path he would pursue as he grew.
"When I was four years old, portions of the film "Picnic" were filmed one county away from my home…my family drove to the location one evening…I've been crazy about movies – and theater- ever since…with BACK PORCH, I wanted to pay tribute to a significant American playwright who was also significantly closeted…I hope to write the kind of play that he himself might have written had he lived in another time and place."
BACK PORCH Director Kelie McIver, who also hails from Kansas, describes Anderson's play as "a love letter to William Inge," the author of "Picnic." In 2023, Bluestem Productions proudly presents the world premiere of BACK PORCH.
Playwright Eric Anderson – Photo courtesy of Bluestem Productions
The time is 1955, and the place is a small town in Kansas. Barney Opat (Karl Maschek) is a widower with two very different sons, 18-year-old day-dreaming Gary (Isaac W. Jay), soon slated to enter a local teacher's college after his high school graduation, and 13-year-old Del Wayne (Cody Lemmon), a rambunctious youngster whose unbridled enthusiasm for all and sundry can be infectious. When star-struck Gary, who prays for nothing more than escape from the dull Kansas scene, discovers that the film crew for "Picnic" – including stars William Holden, Rosalind Russell, and Kim Novak – are on the way to his small town to film some scenes for the upcoming movie, he is sure that his dream has come true. But dad isn't impressed and even tries to discourage Gary from auditioning as an extra. When he is not chosen, Gary is decimated – especially when his young brother is selected.
Jonathan Fishman, Karl Mascheck, Jordan Morgan, Eric Zak, Cody Lemmon, and Isaac W. Jay – Photo by Keira Wight
Enter Bill Holman (Jordan Morgan), William Holden's stunt double, who met Del Wayne at the shoot and has taken up the kid's invitation to the family home. The very handsome and charismatic Bill soon charms the Opat family and next-door neighbor Millard Goff (Jonathan Fishman) – and especially the questioning and frustrated Gary. Only Myron Uhrig (Eric Zak), a music teacher renting a room at the Opat house, seems immune to Bill's presence. But soon Bill's appearance becomes the catalyst which turns the Opat household upside down.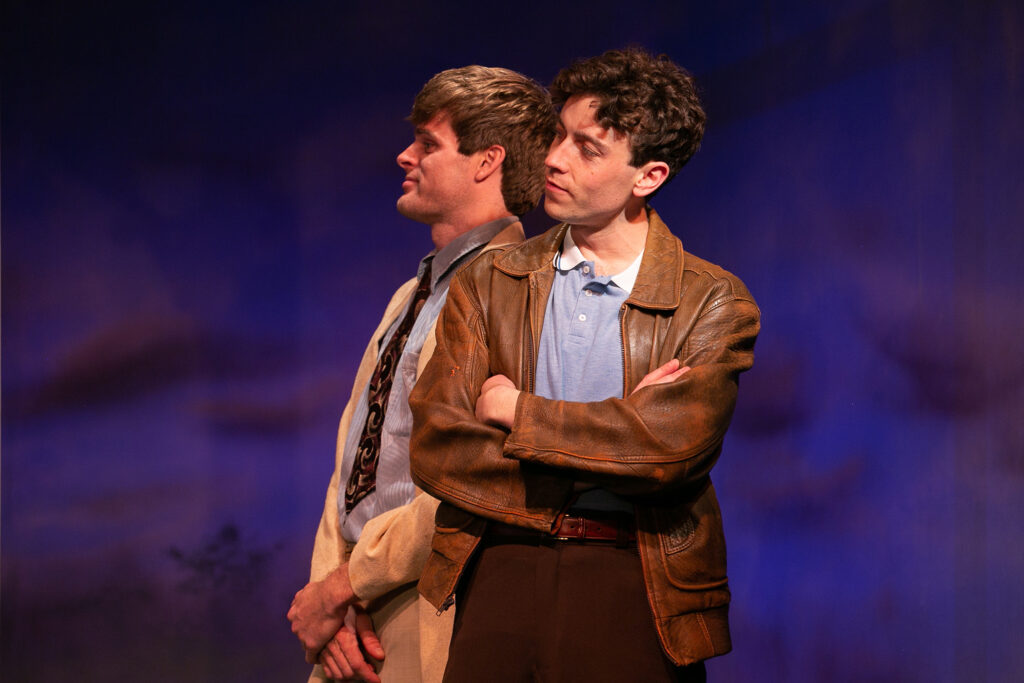 Jordan Morgan and Isaac W. Jay – Photo by Keira Wight
Director Kelie McIver does an excellent job of building up suspense as the disparate personalities strike sparks which might threaten to start a house fire. She is especially effective in defining the dynamics between the worldly Bill and the naïve Gary as they do the two-step dance drawing them ever closer. Of course, McIver is lucky to have two very talented actors drawing out the tentative nature of their attraction. Kenneth Klimak's set is homey and easily projects the quiet small-town feel of Central Kansas. Molly Martin's costumes are on point for the period. Carol Doehring's lighting, Cinthia Nava's sound, Brett Elliott's stunt/fight direction – and especially Amanda Rose Villarreal's intimacy direction – result in an engrossing look at a society where secrets are the norm. The world premiere of BACK PORCH is well timed, falling squarely into contemporary celebrations of Gay Pride. This is a thoughtful, thought-provoking production which is also entertaining and involving.
Cody Lemmon, Karl Maschek, Jordan Morgan, Isaac W. Jay, and Jonathan Fishman – Photo by Keira Wight
BACK PORCH runs through July 9, 2023, with performances at 8 p.m. on Fridays and Saturdays and at 4 p.m. on Sundays. The Victory Theatre Center is located at 3324 W. Victory Blvd., Burbank, CA 91505. Tickets are $25. For information and reservations, call 818-533-1611 or go online.