The Rogue Machine presents its very first musical, a world premiere at the Matrix Theatre. COME GET MAGGIE is a quirky intergalactic production written by Diane Frolov with music by Susan Justin and lyrics by Frolov and Justin. When asked about her relationship with Maggie, the heroine of her newest show, Frolov remarked: "What I most admire in Maggie, and people like her, is the desire to ask herself the big questions: Who am I? Where do I belong? Why am I here? Her curiosity, openness to new things, and her acceptance of differences shows that she's also capable of self-examination and has the ability to change." Meanwhile, when asked the same question, co-creator Justin couldn't resist adding, "Some of the things I like most about Maggie include her social vulnerability, her brain power, and her wacky and fanciful need to connect with someone in outer space…she is simply clueless in social situations while also being the greatest problem solver and insightful person in the room." With a heroine like this, COME GET MAGGIE can't fail to intrigue audiences.
Maggie (Melanie Neilan) has always seemed "out there," especially in the 1940s and 1950s, when a woman's place was in the home, preferably barefoot and pregnant, waiting on her man until she dropped. Here she is, stuck in '50s suburbia – physics Ph.D. in hand and nuclear discoveries under her belt – with hubbie Hugh Hinkle (Chase Ramsey) and two stepchildren from hell. She's always dreamed of being out there – literally – on a space ship going somewhere, anywhere. And then it happens! She is sucked into outer space on a flying saucer commanded by the very sexy Varex (Dennis Renard). A dream come true – or is it? Especially when she is summarily dismissed and dropped back into her suburban nightmare and left to deal with people like Auntie Ruthie (Jacquelin Lorraine Schofield), General Winthrop (Bruce Nozick), and Detective Ziskin (Philip Casnoff). And that's not even counting the corpses piled up around her.
Helmed by award-winning director Michael Pressman, whose belief in this project is legendary, COME GET MAGGIE is a madcap journey punctuated by strong vocals and clever lyrics. To quote Pressman: "It's a story about pursuing your dreams and having the courage to be your true self in the world. After the last two years of incredible adversity and isolation, I wanted to work on a joyful piece of musical theater that would share optimism and humor with all ages." Pressman has the good fortune to work with a skilled cast with experience on stage and screen. And, besides that, they can sing. Stephanie Kerley Schwartz"s set is perfect for the inner and outer space odyssey, with Dana Rebecca Woods' costumes, Chris Moscatiello's sound, and Ric Zimmerman's lighting adding to the fun. And let's not forget about music director Michele Do, choreographer Brooke Wendle, and video designer Nicholas Santiago.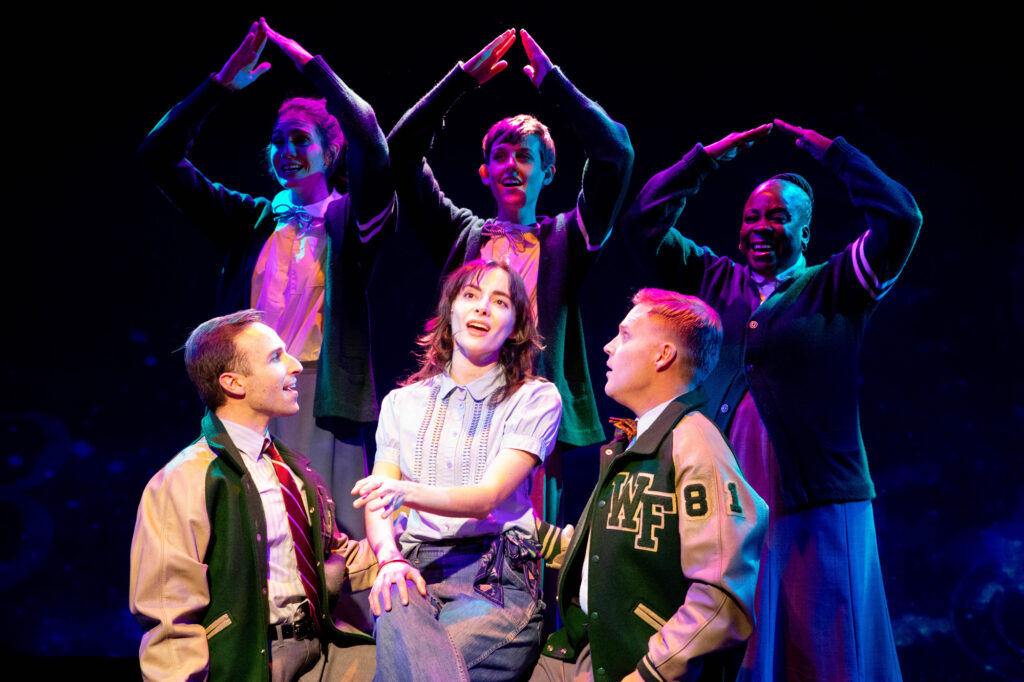 This is a whimsical and entertaining production which suspends reality just enough to make the world sparkle again after a tough two years. So buckle up and get ready to take an exciting trip into the universe, both internal and external. But don't forget Dorothy of "The Wizard of Oz" fame; maybe the best place is home after all.
COME GET MAGGIE runs through March 26, 2023, with performances at 8 p.m. on Fridays and Saturdays, and Mondays, and at 3 P.m. on Sundays. The Rogue Machine performs at the Matrix Theatre, located at 7657 Melrose Avenue, Los Angeles, CA 90046. Tickets are $60 (seniors $50, students $30, Children under 18 $30, Pay-What-You-Can Fridays (2/17 for $10+, 2/24 for $15+, and 3/3 for $20+). For information and reservations, call 855-585-5185 or go online.