With a script by David Lindsay-Abaire, winner of the Pulitzer Prize for his play "Rabbit Hole," GOOD PEOPLE certainly sports the right credentials for a thoughtful examination of people as they navigate a difficult – and sometimes unforgiving – environment. Helmed by director Ann Hearn Tobolowsky, venerable Theatre 40 tackles the tale, the second play in its fifty-fifth season at the Beverly Hills High School. GOOD PEOPLE is a comedy-drama which will make you think – and feel – as it studies some of the conflicts in today's society.
Set in Southie, a Boston neighborhood where dreams and bills collide, GOOD PEOPLE takes place in 2009. Margie Walsh (Alison Blanchard) had some of those dreams – but then life happened. Now she is in her 40s working in a Dollar Store and taking care of her adult autistic daughter alone since her husband took off years ago. But bad really can evolve into worse – and Margie has just been fired from her minimum-wage cashier's position in an economy where jobs don't grow on trees. And the rent is coming due.
When Margie hears that her old beau – the one that got away by escaping from South Boston and becoming a physician – is back in town, stirrings of her earlier, younger self begin to intrude on her present life. Besides, Dr. Mike Dillon (Scott Facher) just might be her ticket to a better life if only he can help her find a job. As Mike artfully dodges Margie's prodding, Margie might just give up – but finally he feels obliged to invite her to his house for a birthday party. When she gets a call that the party is cancelled, a very suspicious Margie decides to go anyway – where she meets Mike's wife Kate (Charlotte Williams Roberts), intelligent, charming, very young, and black. Conversation soon turns into confrontation, and old secrets begin to emerge and envelop the trio. Margie's friends Dottie (Mariko Van Kampen), Stevie (Michael Kerr), Jean (Suzan Solomon) may be her only solid foundations as she flounders in life's waves. Coupled, of course, with bingo.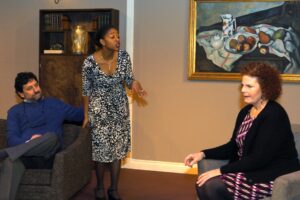 Lindsey-Abaire has penned any intriguing and involving story that taps into a host of current issues everywhere – including homelessness, joblessness, racism, gangs, poverty, have and have-nots, marital strife, disability, jealousy – need I add more? As the account unfolds, the author gives us a capsule view of how childhood and adolescence inform adulthood – and how some cycles may never be broken. Each of the principals has his own demons to fight, some with stoicism and some with an eruption that lays the soul bare. These are all "good people," but circumstances might make that hard to discern. To his credit, Lindsey-Abaire manages to intersperse his potentially somber narrative with some very funny observations about life, death, and everything in between. But under the laughter the truth of the human condition remains.
Each member of the talented cast does an excellent job of parsing the tiny details that make up their particular personalities – with special congrats to Alison Blanchard and Charlotte Williams Roberts. There is so much subtext in the lines that the play seems bigger than it is. Perhaps with that in mind, less might be more. The last scene in the play seemed almost redundant, and the point where Margie made one of her perfect quips and left the Dillon home (just before the epilogue) seemed like the real ending. As always, kudos to the Theatre 40 production team:  Jeff G. Rack (set design), Michele Young (costume design), Derrick McDaniel (lighting design), and Nick Foran (sound design). They keep the ball rolling and productions on the mark.
GOOD PEOPLE runs through January 9, 2022, with performances on Mondays, Wednesdays, Thursdays, Fridays, and Saturdays at 8 p.m. and on Sundays at 2 p.m. (12/12 and 12/19/21) and 7 p.m. (12/12, 12/19/21, 1/9/22). Theatre 40 performs in the Reuben Cordova Theatre located at 241 S. Moreno Drive, Beverly Hills, CA 90212. Tickets are $35. For information and reservations, call 310-364-0535 or go online.