"Galveston, oh Galveston
I still hear your sea winds blowing" sang Glen Campbell.
You'll hear them too as you gaze upon the 32 miles of sandy beach on Galveston Island. Considered Houston's beach playground, Galveston is located in their backyard, less than an hour away. This sun and fun-filled destination creates the perfect getaway with family-friendly activities and unique historic sites year round. If you're planning to depart from the Galveston port for a cruise, be sure to spend a few days before or after your cruise exploring this historic city.

The jewel of Galveston is the Strand, a National Historic District where you'll find shops, restaurants, galleries, and museums, all within a few blocks. Be sure to check out the Pier 21 Theatre for a film about the Great Storm in 1900 that devastated the island. There's also a film about Pirate Jean Lafitte who made Galveston his home.

Where to Stay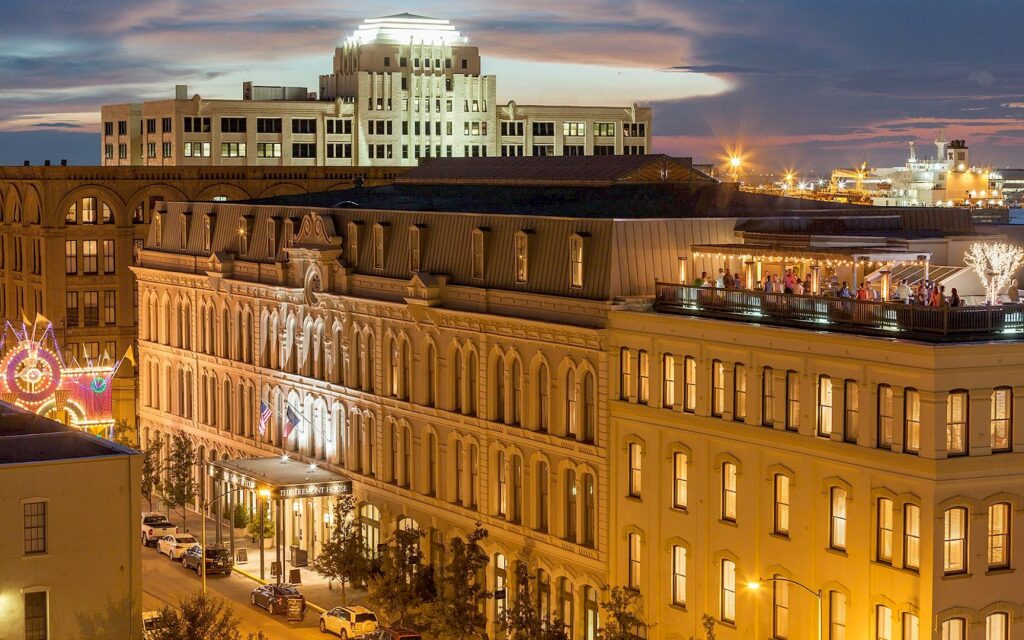 The Luxurious Tremont House

Located in in the heart of The Strand, the historic Tremont House offers luxury accommodations with 14' high ceilings, hardwood floors, and custom-crafted furnishings, all designed to create a warm, elegant stay. You'll be awed by the 1920 Art Deco design combined with Victorian charm and lovely antiques from a bygone era located throughout the hotel. Get a perfect view of the lobby from the dramatic 4-story atrium.

Check out the Toujouse Lobby Bar, which is a work of art itself, coming from the saloon in the Grand 1894 Opera House. Try one of their Prohibition Era cocktails like a New York Sour or the Bees Knees. The Tremont House has the only rooftop bar in Galveston which affords amazing views of the ships in port as well as downtown. Warm to the firepits, great cocktails and delicious snacks as you admire the views.

Welcome to The Grand Galvez Resort & Spa

The only historic hotel on the beach, Hotel Galvez has recently been renamed the Grand Galvez Resort & Spa and is undergoing some dramatic changes. The lobby décor will be re-imagined, resembling a 1911 train station with high-backed, circular chairs. The interior will feature black and white marble flooring along Peacock Alley, the grand walkway with elegant chandeliers, lush burgundy carpets and intricate iron detailing.

Where to Dine

Dining at the Grand Galvez is an authentic Galveston experience. The Grand Galvez Bar & Grill serves up the best Gulf Coast seafood from Galveston's Pier 19 as well a savory gumbo, Messy Nachos and roasted cauliflower tacos. Check out this dining hot spot as you overlook the changing tides of the Gulf.
Riondo's Ristorante on the Strand offers gracious dining with Northern Italian cuisine. This historic building used to house a bank and today, you can even dine in the Vault Room. Chef Rico Caminos offers delicious "Farm to Fork" and "Sea to Table" menu options such as Sicilian Eggplant Tower and Three Layer Lasagna. Exquisite!

Take a step back in time to Star Drugs, a Galveston classic, which opened in 1886. For a hearty breakfast, lunch and Sunday brunch. In between bites, check out all the unique, fun and nostalgic gifts. Cool soda fountain, too.
Taquilo's offers excellent Tex-Mex cuisine with the best Margaritas in a historic Post Office Street building. Loved the yummy shrimp fajitas and savory nachos. Taquilo's is also Part of the Galveston Restaurant Group that includes Sky Steak & Sushi, Saltwater Grill, The Gumbo Diner and more
What To Do

Spend the Day at Moody Gardens

Moody Gardens offers families a day-long exploration with an Aquarium, Tropical Rainforest and Discovery Museum as well as the 3D and 4D and theatres. In season, you can hop aboard the Colonel Paddlewheel boat for a relaxing ride on Galveston Bay. Inside the Rainforest you'll get up close and personal with monkeys, macaws and other endangered species. Get a behind-the-scenes tour with the penquins and watch them paint with water. There is so much to discover, your best bet is a Value Pass, which gives you access to multiple venues.
Visit the Galveston Railroad Museum

See the unique collection of restored railroad cars at Galveston Railroad Museum where you can even stay overnight! For the holidays, the "POLAR EXPRESS" theatrical journey takes you from the Galveston train station to the North Pole. Come dressed in PJ's. Enjoy cookies and hot chocolate, too.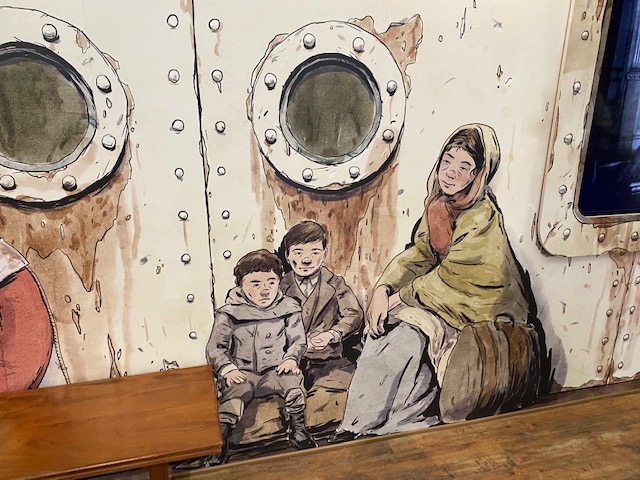 New Interactive Exhibit at Historic Texas Seaport Museum
Just reopened with a 2.5 million upgrade is the new Ship to Shore exhibit which allows visitors to experience what it was like to arrive in Galveston in the 1880 with authentic stories and documents. Use your digital membership card that follows the journey.

Pirate Lafitte also introduced coffee to Galveston, so I pirated my own package of Galveston Island Coffee – bold and flavorful.
Make your plans to visit Galveston soon and enjoy all that this Texas beach town has to offer. For more information about Galveston Island, visit Galveston.com.