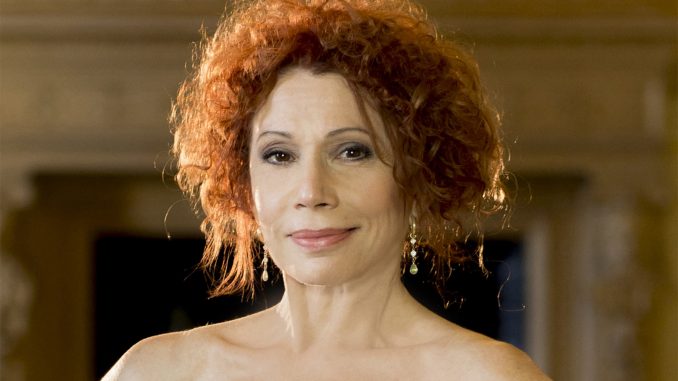 This November, Grammy-winning chanteuse and soprano extraordinaire Julia Migenes travels back to the Paris of song as she says goodbye to her series of concert performances at the Odyssey Theatre. What better way to say adieu than with the nostalgic music and melodic memories of Edith Piaf, Jacques Brel, Charles Aznavour, and Michel Legrand? Directed by talented Peter Medak and accompanied on piano by Victoria Kirsch, LA VIE EN ROSE marks the end of this moment in time and the beginning of another rich with promise.
WHEN DID YOU BEGIN YOUR CAREER IN MUSIC?
I started when I was three years old. I was born in New York City; and, right on the corner, there was a dancing school for little kids. It was free because they used the children in different shows around town. Then the unexpected happened. One day, without warning, the people from the school walked up five flights of stairs to our apartment and asked to take me to the old Metropolitan Opera house. One of the children from the studio was ill, and they needed a replacement right away for the evening's performance of "Madame Butterfly."
They put me in a kimono with a blond wig on my head – and there I was. Three years old and right in the middle of the performance with everybody else all dressed up just like me. I remember that opera singing was violent singing. I got scared and started screaming. But then Madame Butterfly took me in her arms, looked into my eyes, and sang me the most beautiful aria about a mother whose child was being taken away by her American father. Then she left me alone on the stage with this incredible Puccini music surrounding me; I was riding the wave of music. I couldn't see the orchestra, and I didn't know that she was going to commit suicide. After that, I was in lots of operas at the Met.
I remember watching everybody sing, and that's how I learned to sing – by watching and copying. I could see how they were breathing and what they were doing with the music. Opera is ferociously intense, very athletic music. I could actually see the sweat pouring down their cheeks. I got it like a sponge.
Later, when I went to music and art high school, Bernstein hired me to sing with the Philharmonic Orchestra. Without voice lessons, I won the Albanese award for young sopranos. I went on to sing Maria in "Westside Story" on off-Broadway. And I sang the role of Hodel in the original Broadway production of "Fiddler on the Roof" with Zero Mostel. I would take my days off and sing a production of opera here and there. After singing the lead in Menotti's "Saint of Bleaker Street," directed by Menotti himself, I moved to Vienna to sing opera. I made a career in Germany and went to Paris and the capitals of Europe. Finally, I returned to the Met where I sang lead roles. I also sang the role of Carmen in the Grammy-winning movie "Carmen" opposite Placido Domingo.
WHAT LED TO THIS, YOUR FAREWELL CONCERT?
As it is obvious that a ballet dancer cannot dance past a certain age, opera is very similar. Plus, after so many years of traveling and singing – unless one has a muse – it becomes just about making money; and that is not good for an artist. You really have to love what you are doing in order to overcome all the difficulties and stress that comes with living out of a suitcase and being jet lagged. I actually retired four years ago. But, as fate would have it, I was working with a friend on a new French opera. He is a brilliant singer, so the work was very exciting – and it jump started me to come out of retirement and sing in French one last time. I called my dear friend Beth Hogan at the Odyssey to see if a French chanson concert would fit her schedule. She said yes, and I was overjoyed. So here I am with my last row of concerts – here in Los Angeles at the wonderful Odyssey Theatre.
HOW ARE YOU PLANNING TO SPEND YOUR RETIREMENT?
I have a happily very peaceful life, teaching occasionally a selection of talented people. An artist must impart what they have learned. I find, surprisingly, that there is a bit of a void when it comes to singing in different languages, the different styles which go with each language, and the era the pieces were written. I find myself filling that void. I also like to relax alone. Some people need to be around other people all the time. I need to go into the world and then come back to my alone time.
WHAT IS YOUR MESSAGE TO OTHER MUSICIANS?
I guess coming from poverty, true poverty, and not letting that interfere with your heart's goals. When you achieve them, you should be proud but remain humble. I've kept my past in my past. It's not in my present. My ego doesn't hold on to past accomplishments. I float in a reclusive bubble. Yes, when I go on stage, I meet "her" in the wings and she joins me on stage. Then I leave "her" there in the wings. My contribution is, perhaps, that every so often my music makes people – at least for a short while – forget their problems. This makes me very happy. My message is that it is important to follow you heart. Personal integrity is very intimate, private, and satisfying when, even though no one agrees, you are true to yourself. Everybody should learn to have those moments.
LA VIE EN ROSE runs through December 14, 2019, with performances at 8 p.m. on Thursdays (11/4, 11/14, 11/21, and 12/12), Fridays (11/29 and 12/6), Saturdays (11/2, 11/9, 11/16, 11/23, and 12/14), and Sundays (12/1 and 12/8). The Odyssey Theatre is located at 2055 S. Sepulveda Blvd., Los Angeles, CA 90025. Tickets range from $25 to $40. For information and reservations, call 310-477-2055 ext. 2 or go online.