Based on Linda Hirschman's nonfiction bestseller of the same name, playwright and UCLA law professor Jonathan Shapiro was right at home digging into the relationship between the first two women appointed to the U.S. Supreme Court. Arizonia lawyer, judge, and elected politico, Sandra Day O'Conner became the first woman to sit on the High Court after being appointed by Ronald Reagan in 1981 – a stunning choice which created its share of political and judicial stir as she became the informal Queen of the Court. When Ruth Bader Ginsburg was appointed to the Supreme Court by Bill Clinton in 1993, the female minority increased to two – and the two women judges would naturally become the best of pals – right? Wrong.
In a fascinating study of two individuals with widely differing opinions and philosophies, Shapiro has drawn an intriguing nexus between two real-life, flesh-and-blood ladies. When radical Democrat Ruth Bader Ginsburg (Tovah Feldshuh) meets moderate Republican Sandra Day O'Conner (Stephanie Faracy), the fur will surely fly. First produced by the Phoenix Theatre Company in Arizona in the spring of 2019, SISTERS IN LAW makes its California debut at the Wallis in September.
Competently directed by Patricia McGregor, SISTERS IN LAW quickly launches into the love/hate relationship that characterized two justices with brilliant legal minds but very different world views. Much like a respected society matron, gracious Sandra Day O'Conner cautions against "rocking the boat" as she advises the newest justice about how the world works in the highest Court in the land. Slow and steady is her mantra, with change coming…eventually. Meanwhile, fiery Ruth Bader Ginsburg sees the law not as a follower – but rather as a leader in societal change. As the two women but heads, the conflict goes on in its catty but sometimes good-natured and sometimes amusing way.
SISTERS IN LAW is a compilation of relevant moments as their relationship matures, held together by Rachel Myers' fluid scenic design, Leigh Allen's lighting, Cricket Myers' sound – and especially by Yee Eun Nam's projections, which serve as bridges between historic events over nearly 40 years. Melissa Trn's costumes and Judi Lewin's hair/wig design are phenomenal – with the end result that the two principals seem to have stepped out of real life to spend a few hours with us.
Perhaps the three most compelling moments in their relationship come when Ruth Bader Ginsburg nearly dies from colon cancer surgery and begins to question her accomplishments to date, when Sandra Day O'Conner retires in 2006 to care for her husband and gives up a post which some dubbed "the most powerful woman in the U.S.," and finally, when Sandra Day O'Conner returns from retirement for a testimonial dinner in 2012 – and the two women realize that they may be more alike than different. Currently 89 years old, Sandra Day O'Conner might just remain Ruth Bader Ginsburg's greatest ally.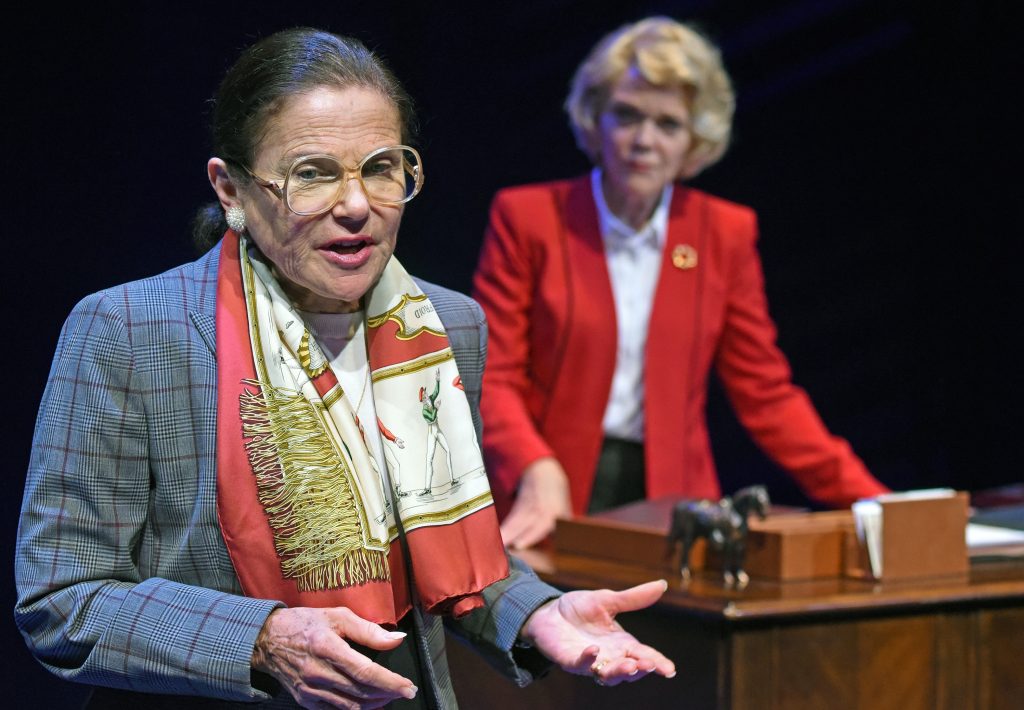 SISTERS IN LAW is a must-see for anyone interested in political, judicial, or governmental issues – but, perhaps more importantly, anyone fascinated by the up-and-down relationship between two very intelligent and strong women.
SPLASH SELECTION
SISTERS IN LAW runs through October 13, 2019, with performances at 8 p.m. on weekdays, at 2:30 p.m. and 8 p.m. on Saturdays, and at 2:30 p.m. and 7:30 p.m. on Sundays (no performances on Friday 9/20, Saturday 9/21), and Tuesday 10/8). The Lovelace Studio Theater is located in the Wallis Annenberg Center for the Performing Arts, 9290 N. Santa Monica Blvd., Beverly Hills, CA 90210. Tickets are $60. For information and reservations, call 310-746-4000 or go online.