Very feminist, Cuban-American playwright Maria Irene Fornes had her hands full tracking a handful of individualistic women who meet for an afternoon of charity planning – but easily settle for the fun and games inherent in their group dynamic. Something like herding cats, each of these unique females has something to say and wants to say it. Led by the clever, controlling Fefu, the ladies meet to discuss the state of the world, each with her own personal perspective.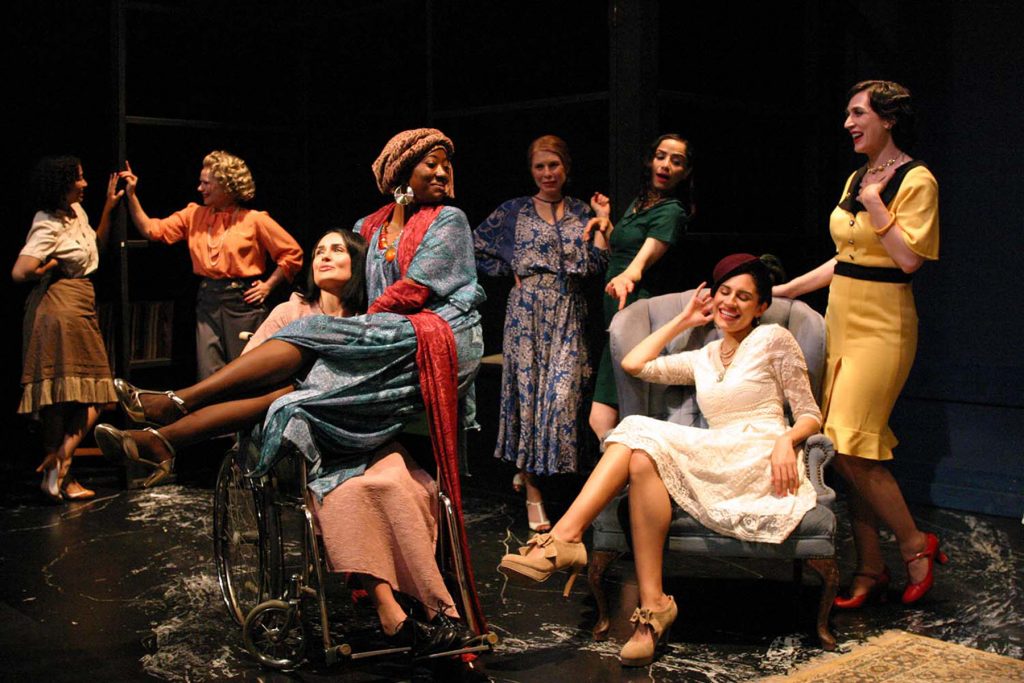 Director Denise Blasor says it all: "This is a play about female empowerment and about all aspects of femininity." Set in 1935 in New England, FEFU AND HER FRIENDS has been described as plotless, and – in fact – concentrates on personalities and character studies rather than events. Fornes wrote the play in 1977 about women in 1935 – and it is currently being staged in 2019. Despite changing cultural viewpoints over the years, FEFU AND HER FRIENDS remains an involving slice of eight women's lives from noon to the evening of one day.
The all-female cast are having a blast dealing with the male-dominated world they have inherited. The ladies have congregated in the home of Fefu (Tiffany Cole), where past and present often overlap and combine. It is the story of eccentric Fefu and her bizarre relationship with her husband, a relationship marked by a love/hate conflict which seems impossible to resolve. The story also delves into Fefu's relationships with her female friends, Cindy (Tanya Gorlow) and Christina (Dominique Corona), who don't really know how to deal with their unpredictable colleague. It is also the tale of Paula (Cynthia Yelle) and Cecilia (Jennifer Lee Laks), two former lovers who drifted apart and now must learn to tolerate each other in a new reality. Let's not forget haunted Julia (Sandy Duarte), in a wheelchair after a mysterious encounter with a deer hunter. As worldly, lively Emma (Sydney A. Mason) adds plaintive notes from her sax (yes, she can really play the instrument), innocent Sue (Alexis Santiago) keenly observes the goings-on.
Director Blasor helms the piece with panache and a knowing smile as the uber-talented cast whisper – and sometimes shout – their innermost thoughts and feelings. But it is the format of the play which clearly demands audience attention. The story begins and ends with the audience quietly seated and observing the ladies in Fefu's living room. In the middle of the first act, however, the audience is divided into four groups; and each group is led to a different room in Fefu's home to spy on a couple of the women as they "let their hair down." By the end of the first act, each group has visited each of the four rooms and has come away with a fuller understanding of the personalities being dissected in Fornes' study.
This innovative format probably taxed the production crew, since the groups are led through dark hidey holes in order to enter and leave two separate Odyssey stages and finally return where they began. Kudos to the hard-working and creative team, including scenic designer Frederica Nascimento, costume designers Denise Blasor and Josh LaCour, lighting designer Katelan Braymer, sound designer Christopher Moscatiello, and prop designer Mateo Rudich. FEFU AND HER FRIENDS is clearly a team effort! The result is a refreshing journey back in time which should prove entertaining to audience members.
FEFU AND HER FRIENDS runs through September 29, 2019, with performances at 8 p.m. on Fridays and Saturdays and at 2 p.m. on Sundays. The Odyssey Theatre is located at 2055 S. Sepulveda Blvd., Los Angeles, CA 90025. Tickets range from $32 to $37. Post-performance discussions are on 8/16/19 and 9/13/19 (Fridays) and 9/15/19 (Sunday). For information and reservations, call 310-477-2055 ext. 2 or go online.