By Kathy Carpenter
San Diego Musical Theater – Your Local Way To See Broadway: Presents All Shook Up. Inspired and featuring the songs of Elvis Pressley  Elvis is one of the most important influencers of pop culture of the twentieth century.
Based on Shakespeare's Twelfth Night, the musical is a total fun kooky Elvis movie-like epic. Funny, romantic, and the kind of character-driven story you get all wrapped in and cheer for the couples when everything works out. Filled with twenty-six Elvis songs. Fun songs like "Jailhouse Rock," "Teddy Bear," and "Burning Love." But also beautiful songs such as, "Can't Help Falling In Love," and There's always me." A concert of music any Elvis fan would love. The casts tribute delivered delightfully. Also, filled with lightning-paced dancing.
The main story follows Chad "The Roustabout", as he rolls into a small town on his motorcycle., in the fifties.  His bike is making noises so he takes it to a female mechanic, who falls for him. Chad falls for someone else. But another guy likes Natalie the mechanic but has not told her. Natalie's dad falls for the same woman the roustabout falls for, Confusing, that's just the beginning. There are several more twisted relationships, bringing the fun in the plot.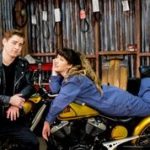 Robert J. Townsend directs this perfect summer escape. Don Le Master is Musical Director, with Michael Mizerany is the master behind the choreography. Jesse Bradley lends his charm as the spellbinding Roustabout. Krista Feallock, plays the captivated Natalie, doing wonders as she transforms to Ed. My favorite character is Dennis. He secretly loves Natalie and becomes the sidekick to The Roustabout. Noah Filley is perfect in the role. So Funny. Erin Vanderhyde brings her fantastic voice to the role of Sylvia. Sami Nye, whom I'm a fan from her role of Tanya in "Mama Mia." A real treat as the Mayor. With Anthony J. Ballard playing her sidekick, Sheriff Earl, the surprise of the story. A professionally entertaining experience.
Andrew Orbison conducted te offsite orchestra. All the music we know and love. One of my favorite numbers was "The Devil in Disguise." Which featured the girl's ensemble behind the mayor dress in white like angels, and the boy's ensemble in Black and red behind the Roustabout.
It Now Or Never come out for a great night before it's too late.
For this show, the San Diego Musical Theatre is teaming up with The boys and Girls Club. Please donate when you leave the theatre.
All Shook Up
Aug 2 – Sept 1, 2019
Horton Grand Theatre
Downtown San Diego 4th St.
Next Up at SDMT
Man Of La Mancha
September 27 – October 27, 2019