Considered Canada's most produced playwright, Norm Foster has been compared to American Neil Simon as a master of poking fun at the common folk as they struggle to survive and thrive. Foster's first play, "Sinners" was produced in 1983 and 1984 in Theatre New Brunswick, heralding the start of a successful career as a comedy writer. Following last year's successful production of Foster's "Screwball Comedy," Theatre 40 again presents a Norm Foster show which will entertain and keep the audience laughing – while sandwiching in a few positive messages about life besides. In fact, Theatre 40 has found Norm Foster plays to be such audience pleasers that RENOVATIONS FOR SIX is the fifth Norm Foster piece they've offered.
Shayna Perkins (Rebecca Driscoll) and Grant Perkins (Lane Compton) are new in town. Grant is now the manager of a thriving furniture store, but Shayna is languishing for want of companionship and camaraderie. She really misses some of the besties she left behind. What better way to make new acquaintances than by throwing a small cocktail party? Even if their new digs are in the process of serious renovation.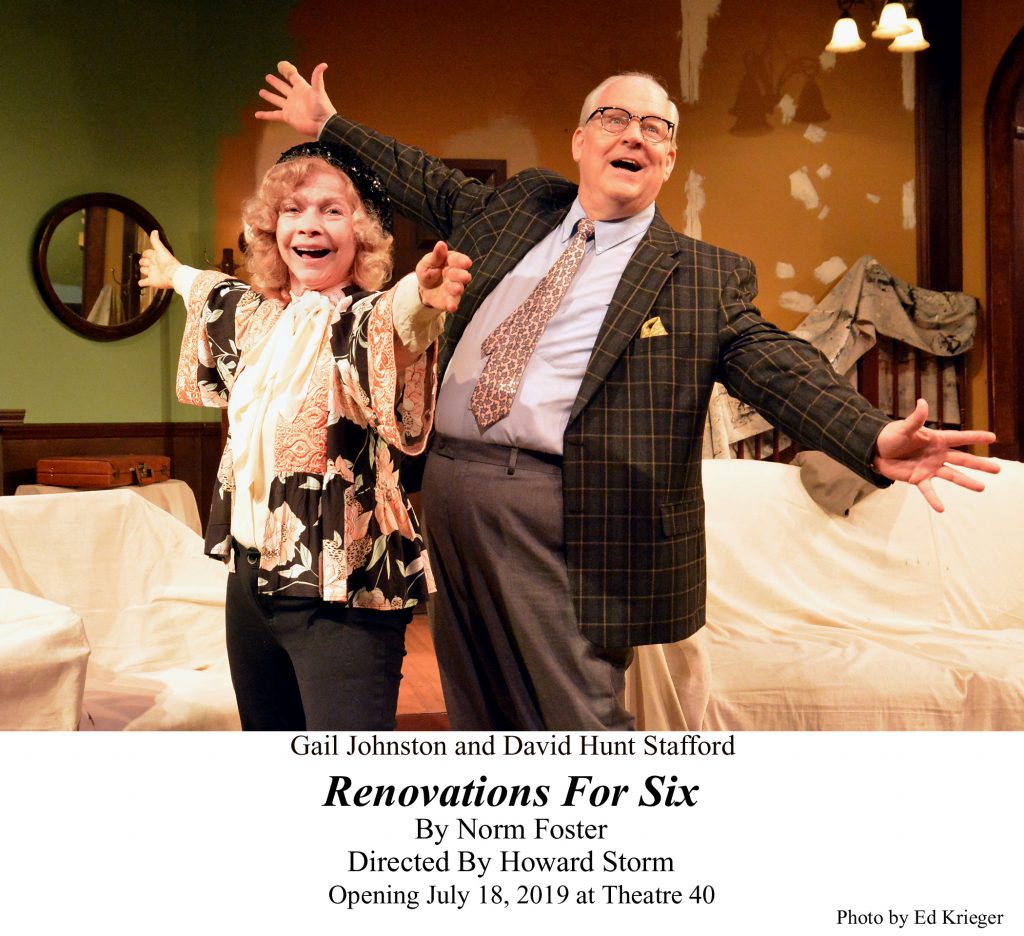 Shayna casts around for guests and finally comes up with Veronica Dunn-Dudet (Mona Lee Wylde), an on-edge psychiatrist she met at the gym, and Veronica's husband Maurice (Martin Thompson), a freshly minted writer pursuing his dream after years of simply earning lots of money. Now that Veronica is the main breadwinner of the family, Maurice could be in for trouble. Grant has a problem holding up his end of the guest list but finally settles on his star salesman Wing Falterman (David Hunt Stafford) and Wing's wife Billie (Gail Johnston), both retired vaudevillians – even if Billie still has dreams of wowing them in Syracuse. As it turns out, all three couples are in the midst of major renovations to their homes – and perhaps to their lives when carefully hidden secrets begin to emerge.
Directed by Howard Storm, RENOVATIONS FOR SIX is a very funny, very real comedy about people in crisis – even if they don't know it yet. The talented cast keep the chuckles coming even as they delve into some poignant and perhaps painful parts of their personalities. Their timing is precise, and it had better be – since the one set serves as home for the three couples who move in and out of each other's way as they troop through their personal territory. As always, Jeff Rack's scenic design is charming – even if a little unfinished. Also as always, the Theatre 40 production team provides just the right setting for Norm Foster's warm and witty play. If you're a fan of gentle humor which mimics and pokes fun at real life, you'll surely be a fan of Norm Foster's work.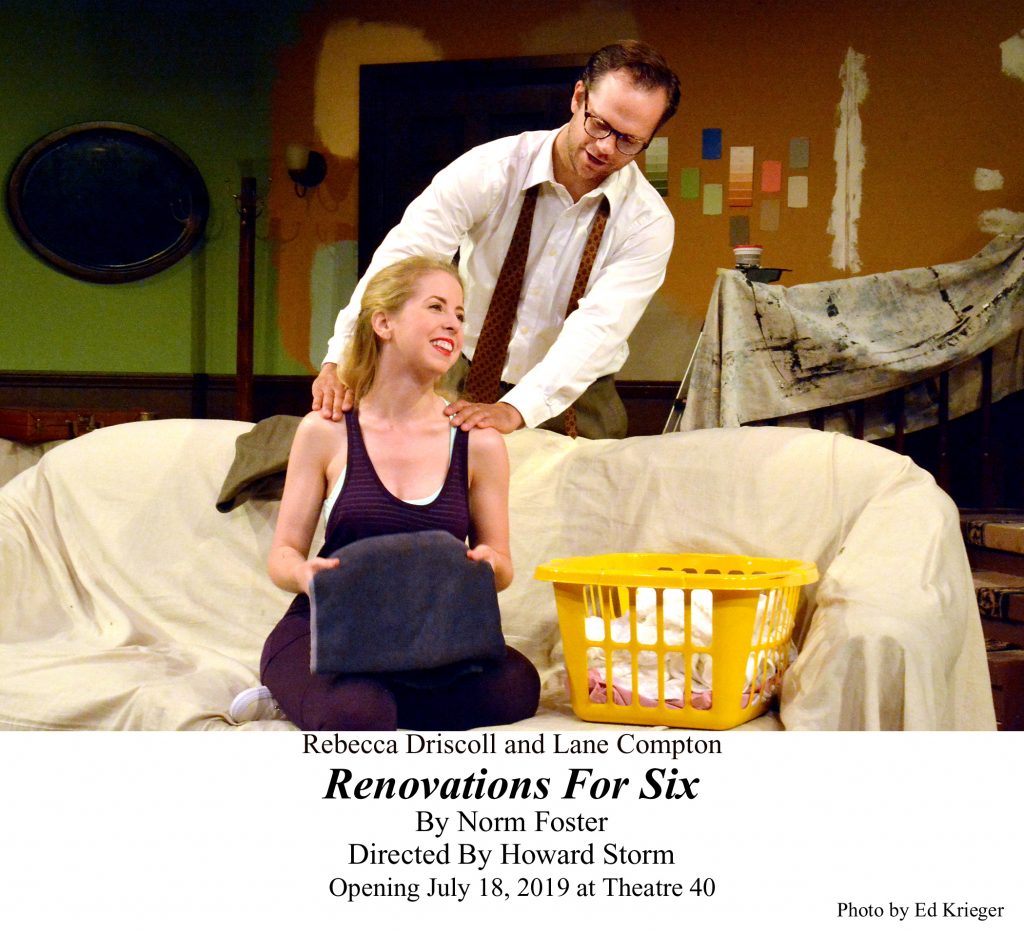 RENOVATIONS FOR SIX runs through August 18, 2019, with performances at 8 p.m. on Thursdays through Saturdays and at 2 p.m. on Sundays. Theatre 40 is located in the Reuben Cordova Theatre, 241 S. Moreno Drive, Beverly Hills, CA 90212 (on the campus of Beverly Hills High school). Tickets are $35. For information and reservations, call 310-364-0535 or go online.