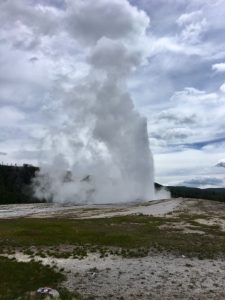 Head west, young man for adventure in Cody, Wyoming. Named after Colonel William F. "Buffalo Bill" Cody, the town was founded in 1896 and has lots of unique venues that continue to carry his name and tell his story. Not only did he earn his name for shooting buffalo, but he created Buffalo Bill's Wild West Show, which toured the globe for more than 30 years. Everywhere you go throughout the town, you'll see and feel his larger-than-life presence.
Stay at the Irma Hotel
Named after Cody's youngest daughter, The Irma Restaurant & Saloon is still a hot spot in town with great dining and an exquisite Cherrywood bar, a gift from Queen Victoria after he performed during her Diamond Jubilee in London. This historic hotel, on the National Register of Historic Places, opened in 1902 and offers guests a choice of handsome guestrooms, each named after a different Wild West personality.
While you're in Cody, here are some must do's!
The Buffalo Bill Center of the West
Start at The Center of the West, an affiliate of the Smithsonian Institution that celebrates the history, culture and art of the American West. Boasting five distinct museums, the Center includes the Buffalo Bill Museum tracing his life story; the Draper Natural History Museum featuring wildlife, the Whitney Western Art Museum, the Plains Indian Museum and Cody Firearms Museum. The best thing to do is to spend some time at each of the museums and then come back to explore more.
The best way to see Cody is via the one-hour, 22-mile Cody Trolley Tour to get a feel for 100 years of Cody history. Departing from the porch of The Irma, the Trolley Tour features historic photos and audio clips with old and new attractions.
Enjoy a great night of music and entertainment with Dan Miller's Cowboy Music Revue, starring Dan and his talented daughter, Hannah and Wendy Corr. Check out their dinner/show package with The Irma. Plays Monday – Saturday, June through September. Every night is a different show. You'll laugh, you'll sing along, you'll love it.
Get ready for a night of family fun at the Cody Nite Rodeo, the longest-running night rodeo in the world. All the action kicks off at 8 p.m., but get there early for an Instagram-able moment as you sit on a live rodeo bull or have fun with the rodeo clowns. Nite Rodeo runs every night from June 1 – August 31.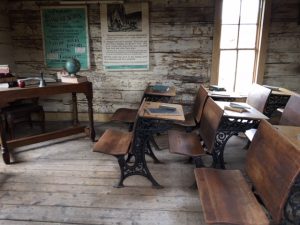 Take a walk through history at Old Trail Town, a 1880s town filled with historic log cabins, doctor's office, drugstore, school, homesteader cabins and other buildings that showcase daily life in the West. One of the most popular sites is the Butch Cassidy's Hole in the Wall Cabin.
The Heart Mountain WWII National Landmark Site is a somber remembrance of the Japanese Confinement Site, where more than 14,000 Japanese Americans were incarcerated during the war. See the "All We Could Carry" film which features testimonials from people who were forced to live there.
Visit Yellowstone – Home of Old Faithful
One of the best things about Cody is its prime location in northwest Wyoming that puts it an hour's drive from the magnificent Yellowstone National Park. Drive along the Buffalo Bill Scenic Highway where every turn provides exquisite views. Yellowstone National Park is the world's first national park, opened in 1872. More than 2 million acres of open land is teeming with roaming bison, mountain goats, elk and antelope.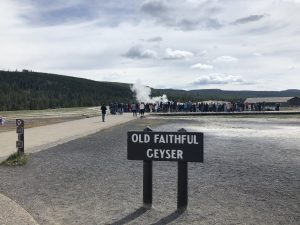 Old Faithful is the star of Yellowstone, erupting on schedule every 35 – 120 minutes; lasting between 1 minute, 30 seconds and five minutes of spectacular glory. There's even a clock in the lodge to predict the next eruption. Check out the 500 + geysers in the park with their own schedules. Don't miss the Grand Canyon of the Yellowstone River, with its gorgeous waterfalls that the will simply take your breath away.
Lake Yellowstone Hotel – Classic Accommodations with Spectacular Views
You'll know it when you see it because of its pale yellow exterior and white columns, welcoming you to this luxury hotel. The largest hotel in the park with 158 rooms, the Yellowstone creates a step back to a time of grandeur and elegance. Located on Yellowstone Lake, guests enjoy fine dining, a string quartet, and deluxe accommodations. The narrow halls reminded me of staying on a cruise ship. When I saw the marble bathrooms with their black and white tiled floors, I thought I was staying at The Ritz in London. You almost forget where you are. For more budget-friendly accommodations, try Old Faithful Inn, Canyon Lodge & Cabins and Roosevelt Lodge & Cabins. Make your reservations early as accommodations do fill up.
For a Wild West experience you will long remember, plan your visit to Cody/Yellowstone Country now.  Tell 'em Buffalo Bill sent you!