In a contemporary translation by award-winning playwright Alistair Beaton, THE CAUCASIAN CHALK CIRCLE is Bertolt Brecht's masterpiece, both a peasant parable and a play-within-a-play. An example of Brecht's epic theater, THE CAUCASIAN CHALK CIRCLE was written in 1944, while Brecht was living in the U.S., and initially translated into English by his friend Eric Bentley. The piece had its world debut in a student production in Minnesota in 1948 and its first professional production in Philadelphia. A German premiere followed in Berlin in 1954. Derived from a fourteenth century play by Li Xingdao, Brecht's story delves into issues of ethics, morality, legality, and love. Adding to his unique take on the politics of everyday life, Brecht includes actual "songs" within the text.
It's around the end of World War II, and the play is set in the Soviet Caucasus. Collective fruit farmers and collective goat farmers are vying for a piece of land abandoned by the Nazis. Accompanied by his band of musicians, singer Arkadi Tcheidse decides that the solution to the dispute might lie in re-formulating the points of contention through an old peasant fable.  And so the account takes a quick turn. As described in the folk tale, the elite of the day, including Governor Georgi Abashwili and his wife Natella, blatantly ignore the problems of the ordinary citizens of the day. Natella has just given birth to a son Michael, "a governor from head to toe." But when a populist uprising ensues, Natella becomes a fast-track widow more concerned about escaping with her possessions than her infant son.
Happily, her maid Grusha Vashnadze remembers the child before it's too late; and the balance of the play concerns Grusha's efforts to protect the baby, often at her own peril, from perverted and sometimes evil men hoping to end the Governor's line for all time. Even though Grusha is in love with Simon Shashava, a soldier off to war, she is forced to marry a dying villager in a wedding-funeral in order to care for little Michael. When her new husband miraculously recovers as soon as he finds out that the war is over and he will not be drafted, Grusha still longs for her first love.
Enter a parallel story about Azdak, a man whose kindness almost kills him – until he is appointed judge, a powerful (and profitable) position. Soon Grusha crosses paths with Azdak when Michael's birth mother Natella decides that – even though several years have passed – she wants her child back so that she can lay claim to his father's estates and wealth. What will happen next? Clearly, there are myriad legal and ethical matters at stake in Arkadi's parable – as there are multiple legal and ethical topics inherent in the claims of the two collectives introduced in the prologue. To unravel this conundrum, you'll have to see the play.
As always, The Antaeus Theatre Company does an excellent job of presenting Brecht's story in an authentic and absorbing manner – no small feat, given the large cast of 16 and the multiple settings. Each member of the talented cast gets to play multiple roles in the play, raising the final number of characters by a factor of three or more. Director Stephanie Shroyer has her job cut out for her keeping all the threads in the tapestry from unraveling. Kudos to Frederica Nascimento's scenic design, simple yet effective, and to the entire production team. A witty and warm play which has no problem spotlighting justice, corruption, and morality, THE CAUCASIAN CHALK CIRCLE gives the contemporary audience a chance to again appreciate Brecht at his best.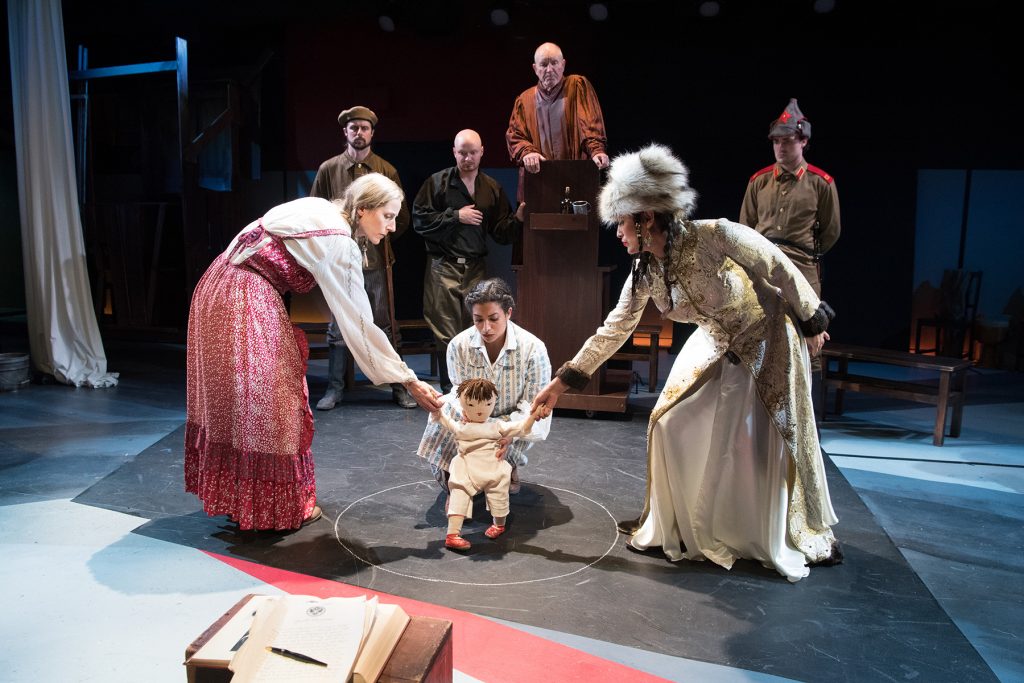 CAUCASIAN CHALK CIRCLE runs through August 25, 2019, with performances at 8 p.m. on Thursday (7/11 only), Fridays, Saturdays, and Mondays and at 2 p.m. on Sundays. The Kiki & David Gindler Performing Arts Center is located at 110 East Broadway, Glendale, CA 91205. Tickets are $35. For information and reservations, call 818-506-1983 or go online.