Written by Geraldine Inoa, New York Times "playwright-to-watch," SCRAPS is timely, relevant, and disturbing. First presented in New York in 2018, Inoa's play explores the aftermath of the shooting of a black man by a white police officer. Set in Brooklyn, SCRAPS digs into the all-but-invisible wounds left following a traumatic event. Described as "a provocative mash-up of poetry, realism, and expressionism," SCRAPS details the profound effects of trauma after-the-fact, those long-lasting effects which never make the headlines.
It's approaching midnight, and teenager Forest Winthrop is rushing to the store to pick up some diapers for his newborn son. He just happens to be black and moving a little too quickly. When he's spotted by a policemen on patrol, Forest looks pretty suspicious – so much so that he ends up fatally shot. Thus begins the too often-repeated saga that has gripped America for the past decade: an unarmed African-American teenager fatally shot by a white policeman. This teenager leaves behind his young son Sebastian (Damon Rutledge), his baby-mama Aisha Douglas (Denise Yolen), her sister Adriana (Ashlee Olivia), his best friend Calvin Young (Ahkei Togun), and neighbors and friends in their tight but dangerous hood.
Would-be rapper Jean Baptiste Delacroix (Tyrin Niles) fills us in about the tragedy in a poetic prologue preparing the audience for what's to come. The first act is a riveting overview of everyday life in this corner of the world. Single mom Aisha is juggling a job and child care while trying to keep her life vibrant despite its depressing nooks and crannies. Perhaps a few minutes of warmth with old friend Calvin will makes things more bearable. Fragile Adriana may not have the resilience and strength to weather this storm. In striking contrast, the second act takes a look at the nightmare world of little Sebastian, now eight years old and already experiencing the futility of growing up without hope – or a dad.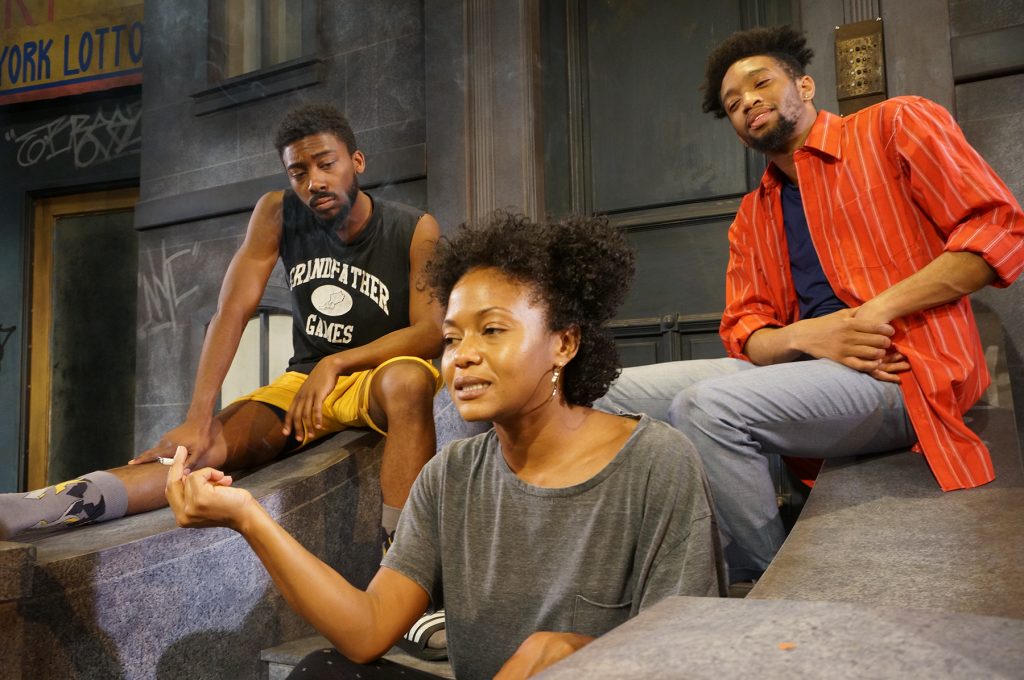 Directed by Stevie Walker-Webb, SCRAPS is presented with compassion and empathy, a fascinating peek at a world of trauma and loss. The division between Act I and Act 2 is not so much a division of time – but rather a division of style. Act I's reality morphs into Act 2's stylized Brechian dream state. The real life of stressed adults is contrasted to the disorganized, confusing, and frightening life of a child. This is an intriguing approach which may both attract and reduce audience involvement as they struggle to understand the proceedings. Kudos to John Iacovelli for his set design and to the entire production team for its competent efforts. AUDIENCE ALERT: The white policeman (Stan Mayer) is presented in the most unfavorable terms as a murderer, molester, and even a pig (with a face to go along with the animal inside him).
SCRAPS runs through September 15, 2019, with performances at 8 p.m. on Saturdays, Sundays, and Mondays. The Matrix theatre is located at 7657 Melrose Avenue, Los Angeles, CA 90046. Tickets are $35 (Mondays, Pay-What-You-Can). For information and reservations, call 323-960-7711 or go online.