Playwright Michael Perlman has fashioned an intense personal study of millennials in today's world, a world inundated with high tech toys and lots of ways to escape honestly dealing with others. When a small group of ethnically and sexually diverse friends plan their annual weekend retreat, they agree to abandon their cell phones, social media, and internet connections – all to give them time to interact with real people in real time. And apparently in a no-holds-barred atmosphere where anything can and will be brought up. Add liquor and pot to the mix, and some of those face-to-face conversations are very likely to expose hidden – and most certainly controversial – thoughts and feelings.
It's 2017, and the liberal gang are meeting in the Catskills, New York, for a weekend in late May. Lauren (Cherish Monique Duke) and boyfriend Stuart (Justin Okin) are hosting this year's event. They are joined by Nate (Christian Prentice), Elliot (Ray Paolantonio), Chris (Avery Clyde), and Nicholas (Blake Young-Fountain). Lauren has decided to play matchmaker between two gay friends, Elliot and Nicholas, who never met before. Among the six participants, friction erupts quickly as the group mingle at the table when the subject of abortion arises. It seems that Chris, an executive at a women's center, feels strongly that men cannot have a valid opinion, given that their bodies are not involved. Clearly, fur will fly. When Chris leaves the room to call her boyfriend, lots of innermost thoughts may come to the surface. In fact, a wager ensues about what Stuart and Nate are thinking – a bet that will have some interesting repercussions.
A year has gone by, and it's now early September 2018 in the same house. The annual weekend is again in full swing. Only there are some obvious changes in the assembled group. Elliot has brought along his latest boyfriend, Leif (Nick Marcone). Stuart is accompanied by his current squeeze Sophie (Jacqueline Misaye). Lauren has come alone, and Nicholas is nowhere to be seen – perhaps given his failure to click with Elliot the year before. But there is another intriguing difference – after a rocky start, Chris and Nate are now a couple. Suddenly, a bombshell explodes as Lauren makes an announcement that will throw the group on its ear.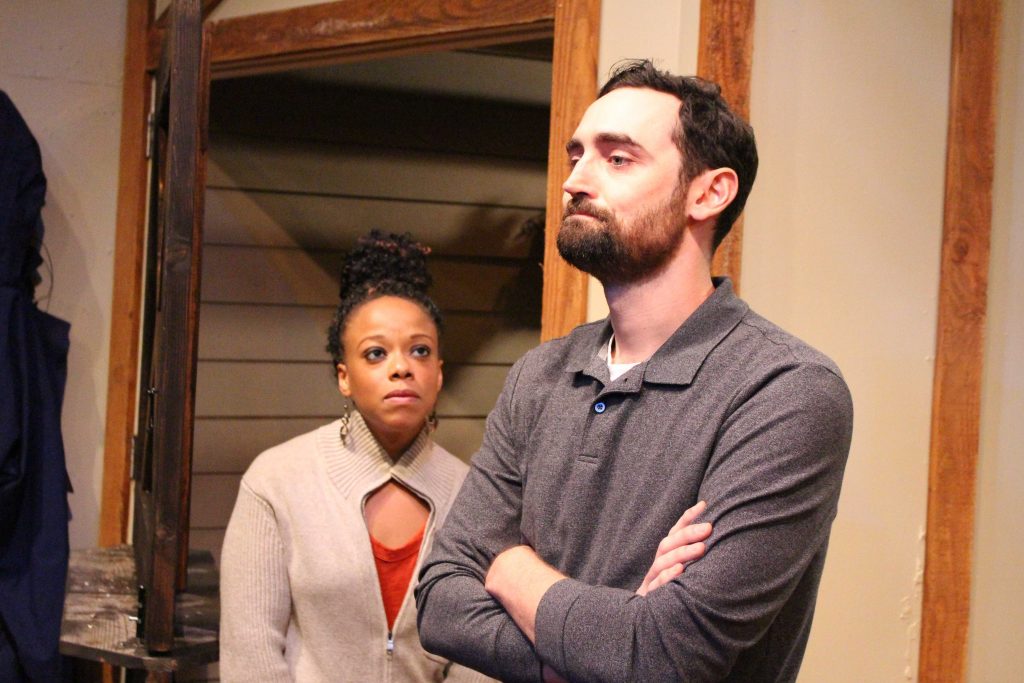 Directed by Judith Moreland, AT THE TABLE delves into myriad issues that arise when a group of people are thrown together and left to make it or break it, together or individually. The talented ensemble cast keeps the audience involved – and sometimes guessing. Each character is carefully delineated as they respond to honesty – or is it really honesty? Brian Graves' scenic design presents a cozy backdrop to the tensions that will erupt, with Derrick McDaniel's lighting and Chris Moscatiello's sound right on target. As always, the Road on Lankershim Company has selected a fascinating piece which is guaranteed to captivate audiences and set them to thinking. Even if the chaos onstage is at times disconcerting, the overall effect is worth the effort.
AT THE TABLE runs through July 7, 2019, with performances at 8 p.m. on Fridays and Saturdays and at 2 p.m. on Sundays. The Road on Lankershim is located at 5108 Lankershim Blvd., North Hollywood, CA. Tickets are $34 (students/seniors $15; Sundays pay-what-you-can). For information and reservations, call 818-761-8838 or go online.