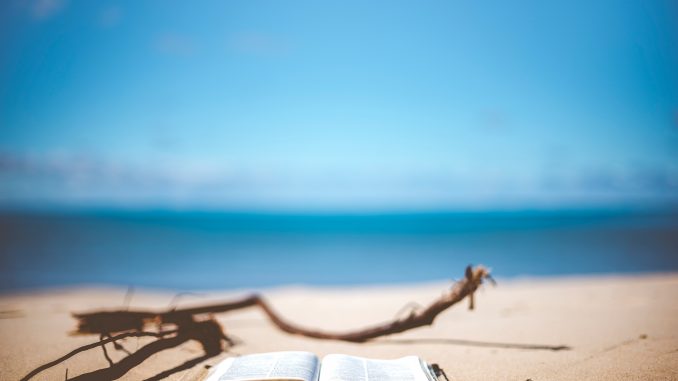 Books are sorted from most to least expensive.
The Forensic Nurse: Law Enforcement's Secret Weapon
For those who like true crime this should be the book for them. Most doctors and nurses do not know how to collect evidence and preserve it for the court case. Based on her own training as a forensic nurse, Serita and her fellow forensic nurses discuss the various cases they work on helping law enforcement – not only sexual assault, but domestic, child and elder abuse, arson investigation, motor vehicle accidents, general trauma, workman's comp cases, insanity pleas, death investigation, and legal nurse consultation helping attorneys with their cases. Be on the lookout for the forthcoming TV series.
$29.84 Buy now!
YOU HAVE TO KISS A LOT OF FROGS
Forty-five-year-old actress Karrie Kline doesn't usually lose a lot of sleep over her age or her single status. But after one too many bridal showers, a notice on her apartment, an expired unemployment claim and her acting prospects drying up – too old to play the ingénue, too young for the role of matriarch – she's awake at 2:00 a.m. and determined to get perspective on her life. Starting with the men she's dated.
From the man whose parents loved her more than he did, to the famous actor who had more bark than bite, Karrie traces back through her love life to uncover how her experiences have shaped her and how to find meaning in the past. Told with warmth, wit and poignancy, You Have to Kiss a Lot of Frogs shows how to face your memories – even the darkest, most secret ones – with courage, humor and hope.
$22.53 Buy now!
How to Live Like a MILLIONAIRE When You're a Million Short
How to Live Like a MILLIONAIRE When You're a Million Short is a breezy, information-packed guide that features all kinds of money-saving tips on entertainment, travel, shopping, fashion, restaurants, beauty, health, home décor, and more.Readers find out how to attend gala events for free, go to restaurants for ¼ the price , wear a $2,000 dress for $50, and see Broadway, Vegas and local shows at super discounts or free. The book can help find ways to get prescription drugs for less than with insurance, find money you didn't know you have, travel, dine, and shop for next to zero and even how to spend six nights at a four-star resort in Spain for FREE!

In How to Live Like a MILLIONAIRE When You're a Million Short, bestselling author Marilyn Anderson reveals the secrets of how she does it and how readers can, too! There is a ton of valuable information in the author's warm and witty style which adds up to a delightful "how-to" book with a humorous flair. How to Live Like a MILLIONAIRE When You're a Million Short is available from Amazon in paperback and on Kindle.
$19.95 paperback/$4.99 ebook Buy now!
The Ultimate Writer's Workbook For Books And Scripts
As a writer in many genres and platforms, Serita has taught at several universities both in Chicago and Los Angeles and is a sought after speaker at many writing conferences. She believes that it is character that drives the story and plot and while there are differences in writing books versus scripts, the main concern is having a well-rounded, in-depth story. Besides doing her own writing, she mentors many new writers helping them to achieve their dreams.
$19.95 Buy now!
Bonfire of the Vanderbilts
In 1892 Paris, Julius Stewart painted The Baptism, a Vanderbilt family scene that contains an embarrassing secret. In the present day, art historian Grace Atwood becomes obsessed with the painting and its hidden clues for reasons that have more to do with her personal ghosts. Either her doting husband is trying to make her think she's crazy, or she really is in the early stages of dementia.
$18.99 paperback / $2.99 Kindle / Audible audiobook $21.99 Buy now!
Hiding in a Cave of Trunks: A Prominent Jewish Family's Century in Shanghai and Internment in a WWII POW camp
Ester Benjamin Shifren is the descendant of five generations of British Jewish Nationals living in Shanghai for more than one century. She and her family were interned by the Japanese during WW II. After the war her family scattered to the four corners of the earth, many she would never see again. Between 1987 and 2004, Ester taped three interviews of her parents, that yielded invaluable information for use in her book, "Hiding in a Cave of Trunks," that details all facets of Shanghai's colorful multi-ethnic population and cultures, and relates the saga of her family's century-long existence in China.
Ester has lectured extensively internationally about her life, and the Japanese incarceration of Far Eastern Allies in Shanghai. Ester lived in Hong Kong for three years before leaving China for Israel in 1951, embarking on a voyage that eventually led to several more emigrations—and finally to Los Angeles, California. She is a professional pianist and visual artist—all of which helped diminish unwelcome memories, and carry her through some extremely difficult life experiences.
$18/ $3.99 ebook Buy now!
Haiku Style Passion Heart
Just released this is author Ron Irwin's first step into writing in the style of the venerable Japanese Haiku poetry. It tells many different tales from the life of Ron Irwin including a few thoughts on his service in Vietnam. Here are some examples
Rising sun lights sky
Cool air soon grows warm and soft
New adventure starts
Holding hands we walk
Her sweet voice soft and gentle
Love and passion grow
And there are many more dealing with love, passion and joy. This is a small but powerful book that will lift your heart and spirit.
$17.75 Buy now!
Preacher Finds a Corpse: An Evan Wycliff Mystery (release date August 12, 2019)
A lapsed divinity student who is fascinated by astrophysics finds his best friend shot dead in a cornfield. It looks like suicide. Having returned to his farm roots near Lake of the Ozarks, Evan Wycliff works as a skip tracer for the local car dealer. He learns his friend was involved in a dispute over farmland ownership that goes back two centuries – complicated now by plans to make an old weapons facility into a tourist attraction. First in a series.
$15.99 trade paperback / $6.99 Kindle Buy now!
Bright Lights, Dark Shadows: The Shadow Side of Celebrity and Fame
Author Mimi Amaral takes the readers into the shadow side (unspoken aspects) of celebrity and fame for entertainers and athletes. One may think being in the world of entertainment and sports is a dream come true, but is it? The hidden truths are exposed and explored within.
$14.95 /Kindle $6.97 Buy now!
Emasculated: Men Are Abused Too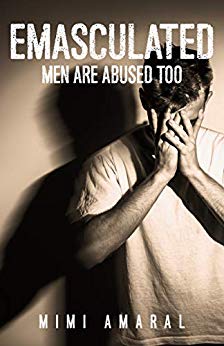 This book author Mimi Amaral illustrates the shadow side of abuse by providing several firsthand accounts of men who survived abuse. For there to be a shift in the way we perceive abuse and who can perpetrate it, we must understand where our beliefs about gender, gender ideals, and gender roles come from in order to comprehend how men can be abused in many of the same ways a woman can. When we discuss toxic relationships or relationship abuse, we expect to hear stories of women being abused and mistreated by their male partners. This is because we hold the belief that men are strong, aggressive, violent, and controlling, and women are soft, physically weak, nurturing, and loving. This has led us to the shadow attribute that men cannot be abused, and if they are, then they are less of a man.
$14.95/Kindle $6.97 Buy now!
Second Language
What would you leave your wife if you knew your death was imminent? What would you say to your husband's mistress if your paths should cross? In Second Language, Ronna Wineberg investigates the bonds that tie us together and how those promises, kept and unkept, are both broken and renewed. From an elderly widow looking for closure and finding something surprising and new, to a lawyer with a vengeance for her husband's lover, and everything in between including a doctor's wife, a daughter navigating her mother's terminal illness, and lessons learned from a holocaust survivor, Second Language is home to a rich, vibrant, and profoundly human array of characters who share one thing in common: choices.
At times humorous, despairing, and triumphant, the characters of Wineberg's astutely observed world chose his or her own path, ranging the spectrum from forgiveness to revenge. Second Language, an exquisite collection of short stories, marked the debut of Ronna Wineberg. The book won the New Rivers Press Many Voices Project Literary Competition, chosen from among 450 manuscripts. It was awarded an Honorable Mention for the Eric Hoffer Book Award, an award created to honor fiction of exceptional merit published by small or academic presses.
$14.55 to $3.95 Buy now!
On Bittersweet Place
On Bittersweet Place is the powerful coming-of-age story of Lena Czernitski, a young Russian Jew whose family flees their homeland in the Ukraine after the October Revolution. The story unfolds in Chicago during the Jazz Age of the 1920's, where Lena's impoverished family has settled and where she must traverse the early years of adolescence. Lena's new world is large and beautiful and full of promise, but it is also cold and unwelcoming and laden with danger. Ronna Wineberg delivers a moving, universal story of family, self-discovery, young love, and the always relevant experience of the immigrant, the refugee, the outsider struggling to create a new home and a better life in an unfamiliar place. The novel won the 2016 Shelf Unbound Best Indie Book Competition.
$13.95 Paperback/$9.99 Kindle Buy now!
THE CHOCOLATE PONY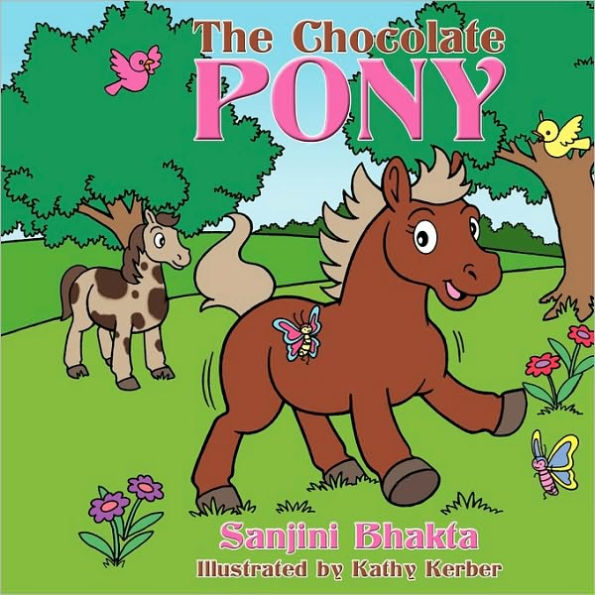 Chocolate is an adventurous pony and is the color of chocolate. She gets lost beyond the meadow one day and loses sight of her Mom and her home. Her adventures take her to become the star of a pet zoo, the star of a circus where she performs pony tricks and living a life of luxury with a little girl who adores her. Will she find her way home?
Sanjini Bhakta is a writer, film producer and actress. She was born in Zimbabwe, Africa where she won many literary Eisteddfods and then went to Colleges in Oklahoma, California and Texas. She received her B.A. in History from University of Texas at Austin and her M.A in Speech Communications from Texas State University.
$12.99/ $3.99 ebook/ $2.99 itunes Buy now!
MY LIFE AS A DOLLAR BILL
Follow the adventures of a "one dollar bill" from a bank, to the streets of New York City, freezing in a Coca-Cola Machine, to a fun taxi cab ride, on a fun rollercoaster ride at Disney World and to a classroom in Texas. Every dollar counts and so does this one dollar.
Sanjini Bhakta is a writer, film producer and actress. She was born in Zimbabwe, Africa where she won many literary Eisteddfods and then went to Colleges in Oklahoma, California and Texas. She received her B.A. in History from University of Texas at Austin and her M.A in Speech Communications from Texas State University.
$12.95/ $3.99 ebook/ $2.99 itunes Buy now!
Unpronounceable by Susan diRende
WINNER 2017 Philip K. Dick Awards Special Citation of Excellence – Earth has discovered it is not alone in the universe. The aliens—pink, shapeless, and peaceful—are very nice, but after a string of failed diplomatic missions, they ask Earth to stop with the crazies and send someone normal. In frustration, the UN devises a lottery to pick the next ambassador.

Enter Rose Delancy, a Jersey waitress with a grudge against pretty much the whole world. Rose is not happy about winning; she's not particularly happy about anything. When she arrives on Unpronounceable—the planet having a name she refuses to attempt saying—she is nothing but rude to the Blobs, as she calls them, and they find it refreshing. She likes them; they like her. She settles in and starts teaching the natives all about junk food, movies, and sex. They show her a few things of their own involving the transformation of matter, but Rose is only interested in how it applies to sex. That is until she learns that she's been suckered to play the patsy for an interstellar takeover by Earth.
$12 Paperback on Amazon/$10 direct from publisher/ e-book $5.95 Buy now!
Against Her Will
Based on Serita's experiences as a psychiatric nurse, this is a young adult coming of age about a teen who having run away from home due to her overzealous religious parents and thrown into a psychiatric ward, must learn to come to terms with her life and realize that nothing really is against her will.
$10.63/ $5.49 ebook Buy now!
THE SHIKSA SYNDROME
Manhattan publicist Aimee Albert knows a good spin, but she's the one who winds up reeling when her gorgeous, goyishe boyfriend breaks up with her—on Christmas! For a stand-up comedian, you'd think he would have better timing. But Aimee's not about to let a man who doesn't even have a real job get her down. She dusts herself off and decides to seek companionship with a member of her own tribe. There's just one problem: all the shiksas are snapping them up!

So when the very cute, Jewish, and gainfully employed Josh Hirsch catches Aimee's eye at a kosher wine tasting and mistakes her for a shiksa, what's a girl to do? Hey, her heart was broken, not her head! Unfortunately, the charade goes on longer than Aimee planned, and her life becomes more complicated than a Bergman film. To make matters worse, Josh and Aimee aren't exactly on the same page as far as their attitudes toward Judaism go, creating tension in the relationship. But as Aimee begins to discover that her identity isn't as easily traded as a pair of Jimmy Choose, she must decide if having the man of her dreams is worth the price of giving up so much of who she is. Wry and witty, The Shiksa Syndrome is a by turns laugh-out-loud funny and disarmingly poignant.
$10.39 Buy now!
Horse Latitudes: collected poems and anecdotes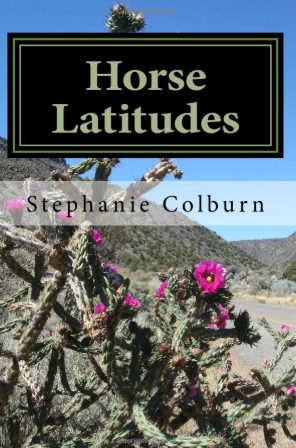 This is a good introduction to Stephanie Colburn's work: ranging from growing up in Illinois, living in Oklahoma, adventuring in latitudes from 20.8-51.5 degrees north, and settling back in Illinois. Horse Latitudes is a collection of poems and anecdotes from the author's experiences as a daughter, sibling, wife, mother, friend, adventure seeker, and writer. Her work, whether serious or whimsical, considers beauty and irony in nature, language, logic, relationships, the imagination, and our changing environment. Some of her others works are, In Close Company, Postcards from Basecamp, Horse Latitudes, Songs of Hallowe'en, Tales of Yuletide, and Currents of Time.
$10 Buy now!
The Search for the Villa Melzi Gardens — and Other Tales of Mystery, Struggle and Redemption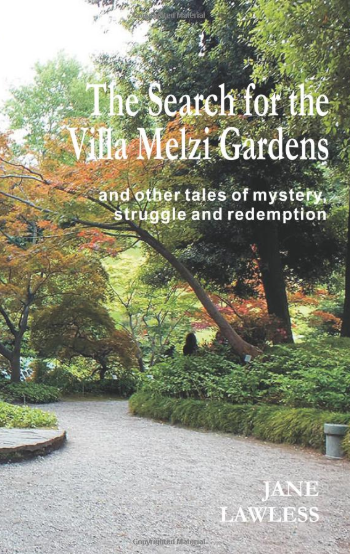 The collection of short stories concern ordinary people and how they handle life's challenges.
In 2017, it received the Second Place Book Award from Colorado Independent Publishers Association. Kirkus gave it a positive review, calling it "fifteen understated yet lyrical tales."
$9.95/ $5.95 ebook Buy now!
Nine Facts That Can Change Your Life
In this stirring new collection, Ronna Wineberg explores our essential bonds to partners, children, parents, and friends. Intimacy, marriage, parenthood, adultery, divorce, and the legacies left by the past unfold in these beautifully written stories. Men and women search for happiness and love, yet often face longing, disappointment, and loss. The characters in Nine Facts That Can Change Your Life struggle with unexpected changes in their own lives but discover the power of kindness, the joy of connection, and the ways in which we can be renewed. The book won an Honorable Mention for the Eric Hoffer Book Award.
$8.19 Buy now!
51-50 the Book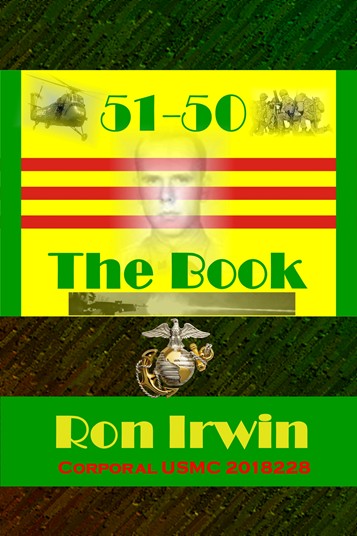 This is one man's story of his experiences as a United State Marine in the Vietnam War. Unlike most to the Americans who served in Vietnam he was not drafted but volunteered. This is a powerful autobiographical story about Ron Irwin and his sudden passion to visit Asia that possessed him at age 15. In effort to fulfill his passion he joined the Marines at age 17. His first 13-month tour of Asia was unbelievably wonderful. He got to attend the 1964 Olympics in Tokyo, partied with A List super star William Holden in Hong Kong and over all enjoyed a yearlong super Holiday.
His next assignment was Chu Lai, Vietnam. Attacked by a huge rat, his raisin bread toast didn't have raisins it had huge bugs, and shortly after arrival came a mortar attack. To add to the experience he had both malaria and dengue fever while serving. After seeing many killed and pilots take off and never return he began searching his mind and his soul for some plausible explanation for the carnage. When he was sent to pick up a Marine Corps General and bring him to the headquarters the young Marine Corporal asked the General one question. "Sir why in the hell are we here?' After a long thoughtful pause the General replied: "In all honesty Marine I do not know?" What happened next is unbelievably zany but one hundred per cent real and it is all in the book.
$7.98 Buy now!
MATILDA, THE MOST EXPENSIVE PIG IN THE WORLD
Matilda is a big sow or pig who lives in Provence, France. She has a very big snout and is an expert at digging for truffle mushrooms which are the most expensive food in the world. This makes Matilda, the most valuable pig in the world!
Sanjini Bhakta is a writer, film producer and actress. She was born in Zimbabwe, Africa where she won many literary Eisteddfods and then went to Colleges in Oklahoma, California and Texas. She received her B.A. in History from University of Texas at Austin and her M.A in Speech Communications from Texas State University.
$6.09/ $2.99 ebook Buy now!
One and a Half Pinoy
A story of passion, friendship and love. Most of all a richly moving tale of triumph against overwhelming odds. Meet two new immigrants from the Philippines, Felina Ramos and her son Noel. Quickly they form a strong with their two new American neighbors , Dave Hamilton and his teen daughter Aija.
Come along with them on an amazing life adventure as their separate pasts help them to weld an inseparable future Thrill as both Noel and Aija reach for the stars. Cheer with them as their deeply evil nemesis is vanquished. This is THE feel good story of the 21st century.
$3.99 (eBook) Buy now!
LOOKING FOR MR. GOODFROG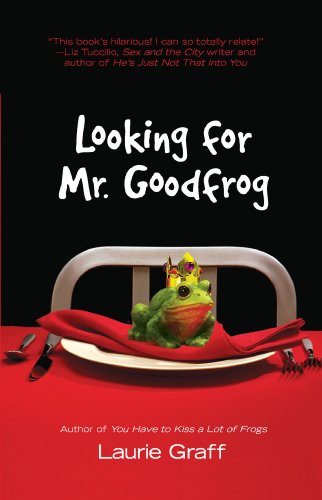 Karrie Kline had kissed her share of frogs. But when it came to finding her prince, her pond was dry. With disappointments ranging from a Colorado-bound Casanova to a lascivious lawyer she meets online, Karrie's frustration climbs so high, even dreams of meeting her match on her own reality show become a nightmare. But she still has her tales.

An enterprising actress, Karrie turns her dating stories into a successful one-woman show. Has her quest to put her bad-date karma to good use turned her into a dating pariah? Her old frogs are hopping out of the woodwork. But offstage, Karrie journeys back to the beginning to figure out how she got here. From finding her very first tadpole on up to her biggest horniest toad, Karrie comes away with an even stronger sense of herself and relationships, passing on a prince for her own good frog.
$2.99 kindle Buy now!
Red Sea, Dead Sea
The first in the Fanny Zindel dramedy series where this Jewish grandmother is coaxed into traveling to Israel to find her granddaughter only to get mixed up with a romantic Mossad agent and a Dead Sea Scrolls scam. At the end, she decides that sleuthing isn't so bad.
$2.29 Buy now!
Logan's Land – aka Deceptive Desires (available in July 2019)
A western romantic suspense from a feminine POV – When Elissa travels to Montana in 1880's to find her missing twin brother, she confronts the man she believes to be head of the local Robber Barons and responsible for his death – only to find love but not before her life is endangered by the real killer.
Available soon!
Images used with permission of the authors or PR companies.