American playwright Lucas Hnath has fashioned an intriguing play which questions some basic Christian doctrines while fleshing out the people who struggle to come to terms with the intangible and unknowable. First produced in Kentucky in 2014, THE CHRISTIANS made its way to off-Broadway and Los Angeles (Mark Taper Forum) in 2015, to Chicago in 2016, and to San Francisco in 2017. In 2016, Hnath received the Obie Award for Playwriting, while THE CHRISTIANS won the Outer Critics Circle Award for Outstanding New Off-Broadway Play. THE CHRISTIANS returns to Los Angeles in 2019 at the Actors Co-op Crossley Theatre.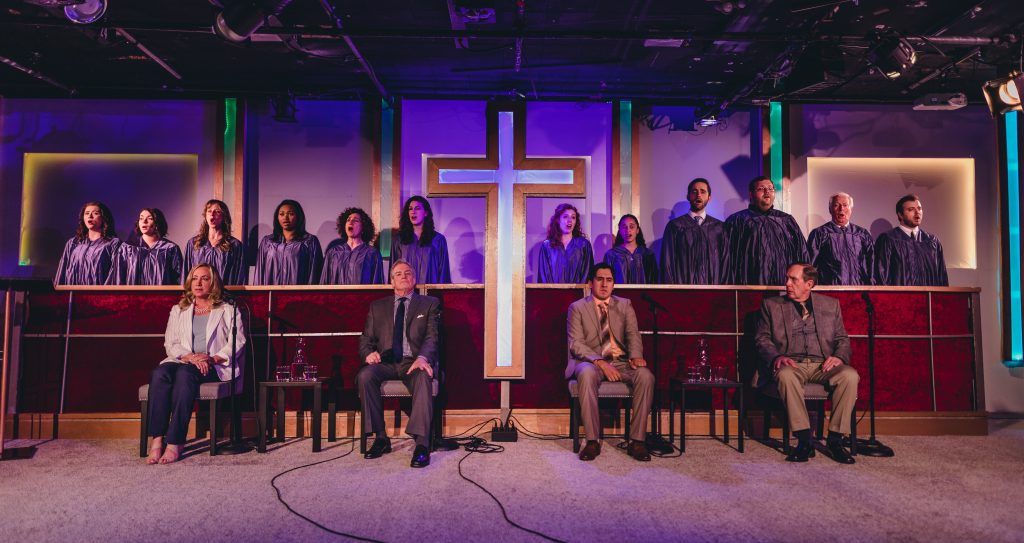 Pastor Paul (Townsend Coleman) has single-handedly turned his simple, storefront church with a handful of followers into a megachurch with thousands of parishioners. Now he has good news for the assembled congregants. The church has finally paid all the money it owed during its dramatic expansion and is now debt-free. But Pastor Paul has a second message to deliver during his sermon. After careful consideration, he has decided to reject the traditional fundamentalist view of hell in favor of a more universal and inclusive doctrine of Christianity. Suddenly, even non-Christians can enter heaven based on their good deeds. His shocking disclosure meets unexpected resistance from Associate Pastor Joshua (Thomas Chavira), a favorite of the church-goers, who opines that he simply cannot endorse Pastor Paul's changes. A handful of worshippers agree and leave with him.
At first, Elder Jay (Phil Crowley) goes along with Pastor Paul, as does the pastor's wife Elizabeth (Kay Bess) and most of the church followers. But their acceptance may be short-lived – especially when Congregant Jenny (Nicole Gabriella Scipione), a timid, faithful choir member, becomes the voice of the silent flock and questions Pastor Paul's motives. Will the tiny crack in the foundation of the church turn into an irreparable chasm?
THE CHRISTIANS explores issues of faith, belief, and doctrine. But it also examines the personal lives of the people involved and the unexpected impact that decisions may have on others. Suddenly, Pastor Paul's marriage comes under the microscope, as do Associate Pastor Joshua's relationship with his dying mother and Jenny's trust in her church leadership. As they stumble along through this minefield of religious belief, each character also begins to share some internal dynamics, dreams, and goals. Director Thomas James O'Leary helms this intriguing production.
THE CHRISTIANS is well written – but also feels more like a reading than a play in the traditional sense. Nicholas Acciani's three-sided scenic design brings intimacy to the story, while E. B. Brooks' costumes, Donny Jackson's lighting, and David B. Marling's sound keep the play very personal. Let's not forget Dylan Price's choir direction; the choir presents a rousing musical background to the more academic aspects of doctrine. THE CHRISTIANS will probably resonate powerfully with like-minded audiences. For others, the intimate personal nature of the principal's conflicts will likely prove involving.
THE CHRISTIANS runs through June 16, 2019, with performances at 8 p.m. Fridays and Saturdays and at 2:30 p.m. on Sundays. Saturday matinees have been added on May 18 and May 25 at 2:30 p.m. The Actors Co-op Crossley Theatre is located at 1760 N. Gower St., Hollywood, CA 90028. Tickets are $35 (seniors $30, students $25). For information and reservations, call 323-462-8460 or go online.