What could be more exciting than playing golf on a beautiful day with tons of celebrities? Playing golf and getting grand gifts and goodies galore! Doris Bergman's Third Annual Gratitude Lounge was held in conjunction with the 12th Annual George Lopez Celebrity Golf Classic on Monday, May 6th at a renowned Toluca Lake golf club. The glorious gifting lounge was co-hosted by Dr. Sanda Moldovan, Precious Vodka and Buywine.com and featured all kinds of luxury items, offered by a truly international group of companies.
The lovely Valerie Perez from Spain offered elegant robes from Wrap Up By VP. Guests loved trying on various styles and patterns in the super sleek and soft fabrics. Whether you're lounging at home or sitting by the pool or spa, these wrap-ups will make you feel truly luxurious.
Precious Vodka was founded in 2010 and produced by one of the oldest distilleries in Bulgaria. Initially launched in Europe and Australia to rave reviews, Precious Vodka is now sold in over 40 countries worldwide! It has received multiple awards from the prestigious San Francisco World Spirit Competition. In addition to their standard one litre bottle, their Precious Vodka diamond-shaped bottle was a huge hit with the celebs and VIPs. There's a genuine, natural precious gemstone inside each bottle, such as a sapphire, emerald, ruby, topaz, peridot or amber. It's a jewel of a vodka with an exquisite smooth taste.
I can't talk about smooth taste without mentioning BuyWine.com – the world's finest resource on all things wine, as well as food and travel. Through their exclusive online "Wine Academy," consumers become better educated about wine not only made in the USA, but Internationally as well. They also offer local directories and wines for purchase.
Buywine.com presented guests with samples of various wines from Napa Valley including a chardonnay from Buhman Estate Vineyards. There's a fascinating history to this winery that begins in the early 1800s when John Jacob Buhman and his wife left Germany to come to the Americas. They traveled from New York, around the cape of South America and ended up settling in San Francisco, then eventually found their way to Napa Valley and what has become the historic Buhman Cattle Ranch. Buhman and his descendants have always been ranchers and farmers, and currently Don Buhman carries on his tradition. Don is also a cattle farmer, but 20 years ago he started growing grapes on the ranch for wineries. He and his partner Suzanne Javorina founded Buhman Estate Vinyards and recently announced their joint venture with a new world wine innovator, Jason Elkin. There is much more about their story and information on their wines at buhmanwines.com.
Do you love France? How about French perfume? Oui, oui, monsieurs et madames! La Cristallerie Des Parfums was on site featuring a collection of divine fragrances in exquisite crystal bottles. By combining the ancestral gestures of the arts of fire with the alchemy of fragrances, La Cristallerie des Parfums delivers unique pieces that captivate the eye, the nose and the hand. Their perfumes are exclusively composed of natural products with no dyes and sublimated in flasks of glass and crystal, handcrafted in the rules of French craftsmanship.
Italy was represented at the event, too. S&G Thesign showcased fashionable bags, wallets, accessories and jewelry made with the elegance of Italian craftsmanship. Inspired by the nobility, grace, and precision of the Giostra della Quintana Festival, S&G Thesign evokes these same principles in their products. Dating back to 1613, the festival remains the most challenging equestrian competition in Italy today. Riding atop majestic horses, ten knights race around a track in the shape of the infinity symbol. That symbol is incorporated into all the elegant items from S&G The Sign.
Beautiful artistry and innovation is also exhibited in the stunning jewelry designs by Twisted Silver. The founder and designer, Debra Mitchell, uses found metals and objects to make every bracelet, necklace and other items eco-friendly, unique and eye-catching.
Another sponsor who graced the day with her designs was Charise Noel Jewelry. All these necklaces are easy to put on without having to fumble with difficult clasps or closures. Charise developed these when her mom was ill and didn't have great dexterity with her hands. But now all women can benefit wearing these lovely and easy-to-fasten pieces. Charise showcased her new Magic collection that features interchangeable endings that can be magnetically added to the necklaces and earrings. You can wear one ending during the day, then dress it up for evening. Some of the endings are hearts, pink crystals, and baroque pearls. The jewelry is both beautiful and versatile. A great gift for a friend, yourself or your honey.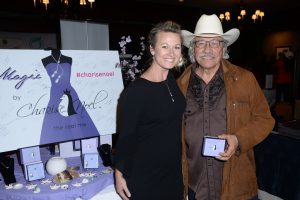 Here's another gift that's a real honey: True Gold Honey. Guests were presented with a gift box of five different flavors: Avocado, Orange Blossom, Coastal Mountain Sage, Summer Valley Flowers, and Wild Buckwheat, which was a winner in the 2017 California Honey Festival. Thanks to owners Sarah and Tyler Sample, 3rd and 4th generation beekeepers, for introducing us to their sweet family business.
Another honey of a gift bag came from the Green Goddess Collective. They are a marijuana dispensary located in Venice, California, where cannabis is now legal. They filled a goodie bag with an assortment of products that can be smoked, vaped, eaten, or rubbed on your body for a topical treatment. Needless to say, this was a much-appreciated gift that got "high" marks from all.
Young LA is a casual clothing company that gifted oh-so-cool t-shirts, tank tops and hoodies in various colors and patterns, including green camouflage and a more unusual blue camouflage.
Also great for casual days are Telic sandals, named Americas Best Comfort Shoe by the Readers Choice Awards. They have great arch support, shock absorption, and mold to the shape of your foot.
No matter what you're wearing, you always want to have the best smile with sparkling white teeth. Founded by Dr. Sanda Moldovan, Beverly Hills Dental Health & Wellness is dedicated to the practice of biological dentistry and committed to the highest level of oral healthcare.
Youth Glow Skin Care offered products to help your skin repair, rejuvenate, and even out skin tone. They are enriched with antioxidants and vitamins to improve the skin's elasticity by activating the production of collagen and elastin.
Another skin care company was Beauty Kitchen by Heather Mariana. She gifted samples of her natural organic products that are popular all over the world.
And to help your hair look beautiful, Pura d'or gifted shampoo, conditioner and a gift trio of rosehip seed oil, castor oil and argan oil.
No question about it, after the Gratitude Lounge all the guests were looking good and feeling good! And they would be able to relax later at home by lighting a lovely candle from Milena.
It was a truly sweet afternoon, made more so by Popcornopolis that was available in several delicious flavors: Caramel; Zebra, with dribbles of chocolate; and their newest flavor, Unicorn.
To wash it down, there was Hint flavored water, a healthy drink for the day. I was surprised to see Hint even had a sun lotion, which is great for golfers who are always swinging and tanning in the sun.
Some of the golfers who joined in the day's festivities included the man of the day, George Lopez, along with Don Cheadle (The Avengers), Eva Longoria, Caitlyn Jenner (Olympic Legend), Jerry Cantrell (Alice In Chains Band Member), Andy Garcia, Anthony Anderson (Blackish), David Arquette, ScHoolboy Q, Joe Mantegna (Criminal Minds), Michael Pena (The Mule), Tim Allen, Richard Schiff (The Good Doctor), Oscar De La Hoya, Joe Regalbuto (Murphy Brown), Joe Pesci, Billy Dawson (Country Singer), Sugar Ray Leonard, Jeffrey Osbourne, Bryan Kellen (Comedian), and Chris Spencer (Real Husbands of Hollywood)
Also enjoying the festivities were D.L. Hughley, Wilmer Valderrama (NCIS), Debbe Dunning, Emilio Rivera (On My Block), Dr. Jason Diamond (Reality Personality), Ron Perlman (The Great War), Edward James Olmos, John Brotherton (Fuller House), Kyle Lowder (Ladies of The Lake), Matt Cedeno (Power), Lizzy Small (Actress/Recording Artist), Mark Rolston (Gang Land), Norman Nixon (Former NBA Player), Patrika Darbo (Emmy Winner), Paula Trickey (Actress), Andy Vargas (Carlos Santana Band Member), Roland Martin (TV Host), Steven Michael Quezada (Flexx), Gary Valentine (Kevin Can Wait), Kelly Sheehan (PGA), and Aimee Garcia (Lucifer)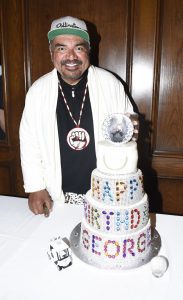 Thanks again to the dazzling Doris Bergman for her Gratitude Lounge and to gracious George Lopez who hosts the tournament every year to benefit the George Lopez Foundation that creates positive, permanent change for underprivileged children, adults and military families confronting challenges in education and health, as well as increasing community awareness about kidney disease and organ donation.
It was a wonderful day with gratitude from all.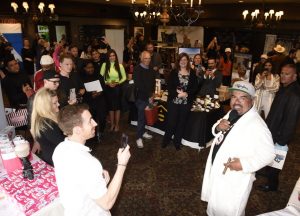 All photos courtesy of Doris Bergman.