Who knew that the 1952 uber-popular film starring Gene Kelly would morph into an exciting stage production at La Mirada in 2019? SINGIN' IN THE RAIN is a dream musical production enhanced by John Iacovelli's terrific set design, Steven Young's lighting, Julie Ferrin's sound, Shon LeBlanc's costumes, David Murakami's projections – in other words, a cute story with memorable foot-tapping musical numbers and the joint efforts of everyone in the show. Besides, what's not to like in a timeless musical by the skilled writing team of Betty Comden and Adolph Green with songs by Nacio Herb Brown and Arthur Freed?
Swashbuckling star of silent cinema, Don Lockwood (Michael Starr) has an ego to match his film success when he meets Kathy Selden (Kimberly Immanuel), a wannabe actress who isn't impressed by his derring-do. In true romantic comedy tradition, the poorly matched couple will soon make the temperature rise as angry interchanges slip into passionate embraces. But trouble is brewing for Don's future in flashing swords. It's that moment in time when sound exploded into films via "The Jazz Singer." Now Don must speak – which is no problem for him. However, it just might be an issue for his co-star Lina Lamont (Sara King), who has a catty personality and a voice to match. On top of that, Lina believes that Don is her inamorata in truth, even if their "relationship" was just cooked up for the fan magazines.
Bolstering everyone's woeful moments – and careers – is Don's faithful friend, idea man, and writer – Cosmo Brown (Brandon Burks). It's up to Cosmo to figure out a way to save Don's job and prevent the studio's falling into bankruptcy. And then the idea pops into Cosmo's head: there's a pretty and talented songstress named Kathy who can become Lina's voice in this era of talkies. What could possibly go wrong?
SINGIN' IN THE RAIN is a delight to behold. Even though the story was done in film over 50 years ago, the talented cast manages to breathe new and fiery life into it. In no small measure, that may have something to do with some unforgettable musical numbers, including "You Stepped Out of a Dream," "All I Do is Dream of You," "You are My Lucky Star," and "You Were Meant for me." And let's not forget the show stopper, "Singin' in the Rain," with genuine precipitation and puddles. With direction and especially choreography by Spencer LIff and musical direction by Keith Harrison, the production doesn't miss a beat.
The ensemble cast does an excellent job of keeping the action moving, the songs flowing, and the dance thriving – with kudos to Brandon Burks and Sara King for their very special talents. It's impossible not to join in the fun – and maybe even dance in the rain, given Southern California's recent weather. This is a not-to-be-missed production.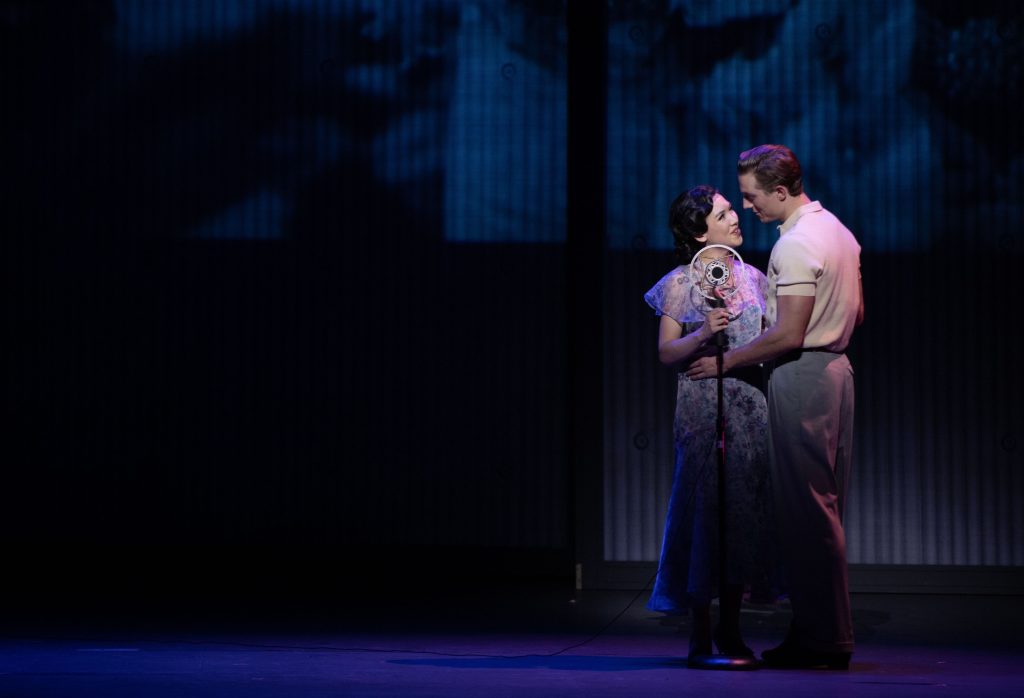 SINGIN' IN THE RAIN runs through May 12, 2019, with performances at 7:30 p.m. on Wednesdays and Thursdays, at 8 p.m. on Fridays, at 2 p.m. and 8 p.m. on Saturdays, and at 2 p.m. on Sundays. The La Mirada Theatre for the Performing Arts is located at 14900 La Mirada Blvd., La Mirada, CA. Tickets range from $20 to $94. For information and reservations, call 562-944-9801 or 714-994-6310 or go online.