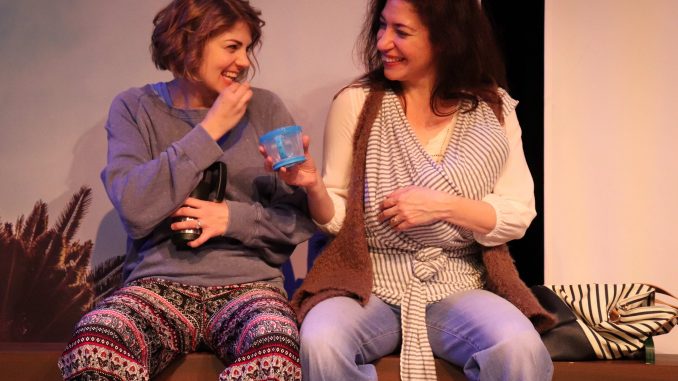 Playwright Stephanie Alison Walker tackles yet another controversial topic in her latest play, FRIENDS WITH GUNS. The question you must ask yourself is where you stand on "the gun issue." Are you in favor of gun ownership and maybe even nervous that your neighbors might own guns – or do you strongly support gun control? And how flexible are you about your opinion? Can you listen calmly to arguments in the direction you haven't chosen? Are there any situations where your opinion can change? Has your opinion changed over the past few years?
Liberal couple Shannon (Kate Huffman) and Josh (Brian Graves) are sure about where they stand. And that happens to be in the definite "con" corner. They don't own guns, and they don't plan on getting any guns. Then the surprising happens. While they're visiting with neighbors Leah (Arianna Ortiz) and Danny (Christian Telesmar) for a chummy night out, they make the stunning discovery that their new friends own guns. And that they keep the guns in the garage. Clearly, cognitive dissonance prevails. How can they maintain a friendship – and especially a lasting connection between Shannon and fellow-overwhelmed-mom Leah – when their new acquaintances seem to stand for something they've rejected?
As it turns out, Shannon is not quite ready to disown the woman who has offered her the support she needs so badly – but, of course, their association must remain a secret from Josh, who has forbidden Shannon from continuing their friendship. As the two women begin to share war stories about their lives, Shannon realizes that they might have a lot in common and, more importantly, that Leah may represent the part of herself that she's been suppressing during her marriage to the controlling Josh. Maybe she won't implode if she holds a gun – or even fires it. What wrong with a little spontaneity in an otherwise dull, totally predictable marriage?
Director Randee Trabitz does a yeoman's job of helming this production, keeping the subtle nuances of a coupling in focus while introducing stressful dynamics that have been long ignored. Of course, Trabitz has an excellent ensemble cast to work with: special kudos to the two women who cast a female perspective on the typically male topic of guns and what they may represent. Stephen Gifford's scenic design is simple and flexible, with the entire production team keeping the focus on internal dynamics and how inner changes are reflected in the real world. FRIENDS WITH GUNS is definitely as fascinating psychological study of ideas, opinions, stress, and marital expectations.
FRIENDS WITH GUNS runs through May 5, 2019, with performances at 8 p.m. on Fridays and Saturdays and at 2 p.m. on Sundays. The Road on Magnolia is located in the NoHo Senior Arts Colony, 10747 Magnolia Blvd., North Hollywood, CA. Tickets are $34 (seniors and students, $15; Sunday performances Pay-What-You-Can). For information and reservations, call 818-761-8838 or go online.