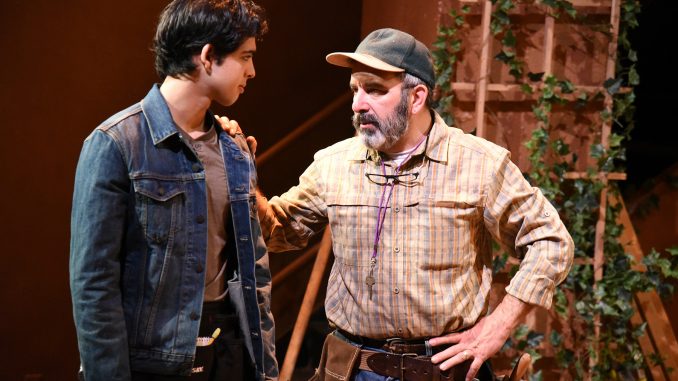 How deeply held are your liberal ideas? And what about that code of morality which you are sure that you will stick to through thick or thin? These are some of the tricky conundrums which playwright Jonathan Caren explores in his intense study of the effects tragic stress may have on core beliefs. Caren has seen life from different perspectives, both high and low – the life of a privileged white majority male and life as a student worker learning how to make his hands create beauty under the tutelage of a skilled Mexican handyman. These two very different views of being have come together in his thought-provoking play, CANYON.
House husband Jake (Adam Shapiro) and his newly pregnant nurse wife Beth (Christine Woods) have big plans for their homestead – situated at the entrance to an awe-inspiring canyon. To help them renovate and expand their blueprints for happiness, Jake has hired Mexican handyman Eduardo (Geoffrey Rivas) at a fraction of what their proposed changes might have otherwise cost. Eduardo, who has lived in California for decades, is a hard-working, talented man with one major dream – to send his son Rodriqo (Luca Oriel) to college. Whether or not Eduardo is legal or not never enters into the equation.
Enter the couple's old friends Will (Brandon Scott) and Dahlia (Stefanie Black), on vacation from the East coast – perhaps trying to escape their own demons. Will seems disenchanted by his role as attorney to the poor, while his wife Dahlia may be finding her maternal skills taxed beyond her limit caring for their young autistic son. When Eduardo falls from a ladder and is seriously injured, everyone's internal conflicts come rushing to the surface with catastrophic results.
Directed by Whitney White, CANYON is an unsettling look at the effect the unexpected creates in people who appear to have everything they want – at least on the surface. Each of the two couples does an excellent job of fitting right into the politically-correct mold – until they don't. Quiet and patient Eduardo is the very picture of a man staying under the radar and trying to survive. Meanwhile, his American son poignantly portrays a teenager torn between past and present, love and fear, heritage and goals.
Scenic designer Daniel Soule does a terrific job on a three-sided stage epitomizing canyon, desert, and everyone's dreams. The audience can almost feel the desiccated breezes and see the multicolored peaks beyond. R. S. Buck's lighting and Jeff Gardner's sound combine to expand the effects of sun and shadow. Melissa Trn's costumes have the feel of reality. The entire production team has outdone itself in creating a vivid setting to match the author's words. CANYON is a superb depiction of ordinary people who face extraordinary challenges. Dollops of humor help alleviate the pain inherent in such an exploration.
SPLASH SELECTION
CANYON runs through March 24, 2019, with performances at 8 p.m. on Thursdays, Fridays, and Saturdays and at 4 p.m. on Sundays. The IAMA Theatre Company, in association with the Latino Theatre Company, performs at the Los Angeles Theatre Center, 514 S. Spring Street, Los Angeles, CA 90013. Tickets are $38. For information and reservations, call 866-811-4111 or go online.