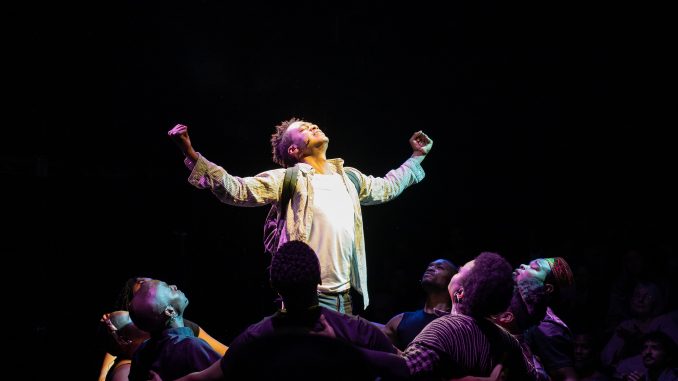 Do you want to be part of the action? WITNESS UGANDA comes as close as possible to fulfilling that promise. In an intimate yet barnlike theater with inches between the participants and the observers, WITNESS UGANDA has the feel of a real life event rather than a stage production. In fact, there really is no stage per se. Reviews have suggested that WITNESS UGANDA is "an awesomely powerful musical (CBS)," "a vibrant pulsating musical (AP)," and "exuberant and soulful (TimeOut NY)." WITNESS UGANDA has been performed in concert since 2008, had its world premiere in 2014, and premiered off-Broadway under the name "Invisible Thread." The show has received the Richard Rodgers Award, the Harold Adamson Award, and the Dean Kay Award. They must be doing something right.
The brainchild of Matt Gould (co-writer, music director) and Griffin Matthews (co-writer, director), WITNESS UGANDA is a loose compilation of their experiences living and working in Africa. Gould was a Peace Corps volunteer in The Islamic Republic of Mauritania from 2001 to 2003, and Griffin went to Uganda in 2005 on an aid trip. For more than a decade since, the two have gone back to Uganda through UgandaProject, an organization founded by Matthews and co-directed by Gould, focused on education for a group of 12 students living in Kampala. Based on interviews with UgandaProject staff and students, WITNESS UGANDA weaves music and words into a stunning whole.
WITNESS UGANDA is not easily described. The primary plotline follows Matthews, who came to Uganda to help others with a big heart, few skills, and less money. Having been rejected by his church and community due to his homosexuality, Matthews runs as far as he can. But, as he finds out, you can't run far enough. Soon, his best friend Ryan (Emma Hunton) is drawn into the fold as both try to enable a dozen orphans to receive an education denied them because of their poverty. The people they meet, friend and foe, enter the fray as Matthews tries desperately to make dreams become reality. Did they succeed? You'll have to see the production to find that out.
Most striking about WITNESS UGANDA is the variety of souls they meet in their quest – and the ever-present music which accompanies the entire venture. As the boneless bodies of the cast weave and swirl and the music reaches a crescendo, one can feel the liquid energy enveloping all of us. For this is a production which pulls everyone in, regardless of their prior plans. Conner MacPhee's set is fluid, following as needed and stable when required. Carlton Jones' costumes are a joy to see – especially at the end of the show, when color and life become one. David Hernandez' lighting, Martin Carrillo's sound, and Abdur-Rahim Jackson's choreography will make your head spin. This is an unusual production, but also a show worth seeing. Just try to keep your feet from tapping and your hands from clapping to keep the rhythm alive.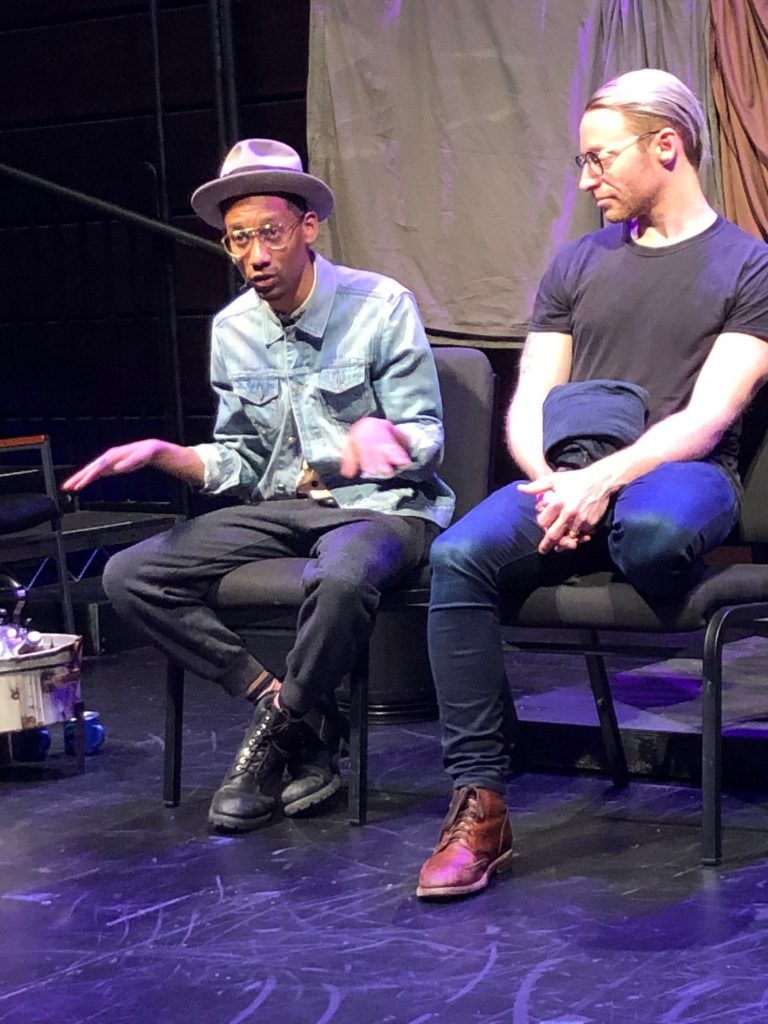 WITNESS UGANDA runs through February 23, 2018, with performances at 8 p.m. on weekdays, at 2:30 p.m. and 8 p.m. on Saturdays, and at 2:30 p.m. and 7:30 p.m. on Sundays. The Lovelace Studio Theater is located at the Wallis Annenberg Center for the Performing Arts, 9390 N. Santa Monica Boulevard, Beverly Hills, CA 90210. Tickets are $50. For information and reservations, call 310-746-4000 or go online.