What is love?  How do we define it?  How do we know when we are in love?  And what are the forms real love takes?  This is the question that an aspiring student asks her instructor but the answers, as you watch the play, will amaze you.
While that is the overlying theme of the play, Paradise, the real story is one of cultures understanding one another and the ability to reach out to others. So how does science, culture and religion merge into one seamless story?  Written by Laura Marie Censabella and produced by Viola Davis and Julius Tennon's JuVee Productions and executive produced by John Cappetta as well as American Oasis, now playing as a visiting performances at the Odyssey Theatre until February 17, 2019.
Directed by Vicangelo Bulluck, Paradise stars Medalion Rahimi  (as Yasmeen al-Hamadi)) and Jeff Marlow (as Dr. Guy Royston), the pair make a perfect merge of entertainment, and education as they seek to understand each other.   Ms. Rahimi plays a gifted Yemeni-American high school senior at a poorly rated South Bronx school.  She's torn between the patriarchal culture and religious rules of Islam and her desire to do more with her life as an American woman and seeks to obtain a science scholarship to Columbia.
In an effort to further her goals, she seeks the help of a partially disgraced atheistic biology teacher who sees her potential and encourages her. 
He has trouble understanding her motives as she tries to make peace with her heritage and her conflicting non-traditional desires. Yasmeen says "Love is a journey," when she informs him that she has agreed to an arranged marriage. 
Misunderstandings arise over differences in religion, culture and boundaries of his mentorship even as they alter the course of each other's lives.  Ultimately, the pair comes to appreciate each other and understand that diversity improves life rather than distracts from it.  After all, this is what America was founded on – our becoming a united people with many views, cultures and religions – and freedom for all.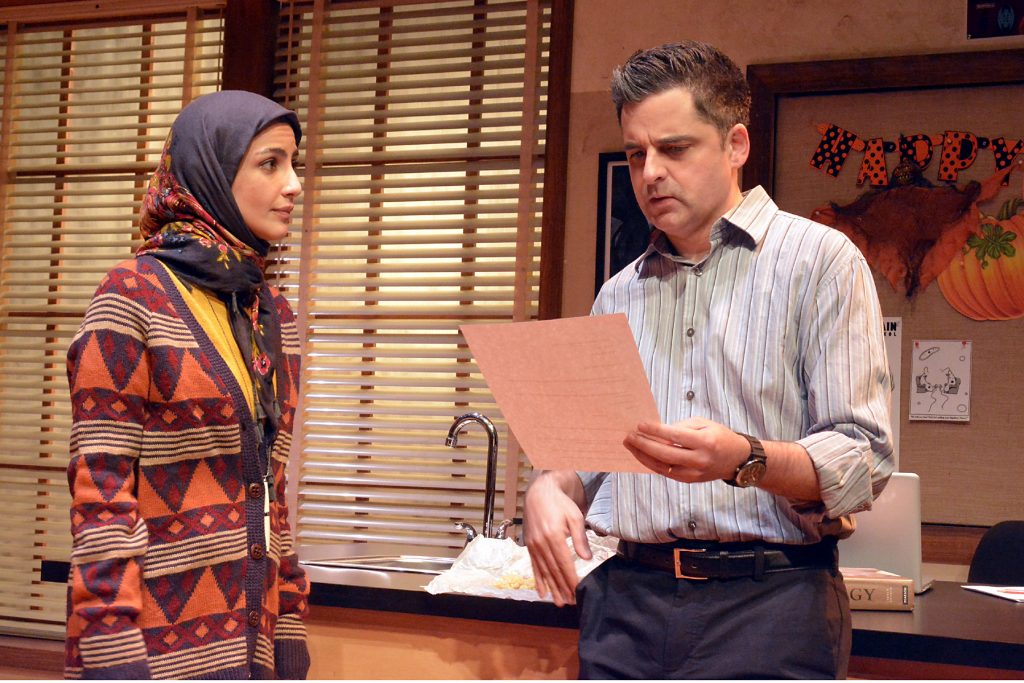 Growing up in an Orthodox Jewish traditional family, which has many of the patriarchal traditions of Islam, I fully understood and knew where Yasmeen, and how many other young women like her, struggle.  Do they honor the centuries of tradition or do they alienate themselves from their families, estrange relationships and supposedly discard their heritage?  It's a difficult choice for anyone to make and one that can haunt you for years.  She asks her professor, "How can you not believe in God?"
His response is that scientists believe in what can be proven – but many have to believe in their instincts, as well.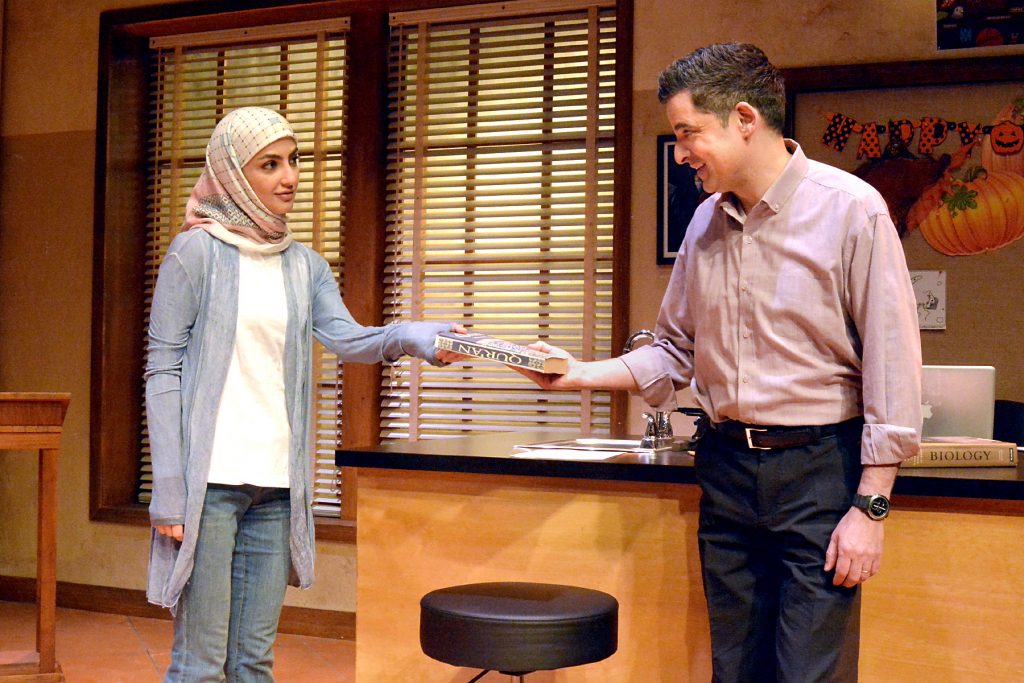 Jon Gottlieb was the sound designer, Jeff Rowlings designed the set and lighting, Mylette Nora was the costume designer, and casting was done by Michael Donovan.  Roxi-Rabab Muthana, Hedab Tarifi and Sue Obeidi served as the cultural advisor and consultants, while Joel Goldes worked with the dialect, and Colin Cox served as scientific advisor.  Racquel Lehrman of Theatre Planners is the general manager.
Ju-Vee Productions is an artist driven company that develops and produces film, television, theatre and VR/digital content across all narrative platforms. They seek to work with character driven stories with an emphasis on diverse narratives from both emerging and established voices alike.
Tickets cost $35. Lot parking is $5, though there is some on street parking.  Performances are at 8 pm Fridays, Saturdays, and Sundays at 2 pm.  The Odyssey can be reached at 310-960-7724.
Most of the performances are sold out but do your best to see Paradise at least once.  You'll not only love it, but you'll learn something, too. And isn't that what life is all about?