Cruelty and comedy become bedfellows in playwright Martin McDonagh's darkly comic tale of life on one of the small, insulated Aran Islands in Galway Bay. British/Irish McDonagh has the pulse of this tiny Irish community – where nothing ever happens and edited falsehoods carry the day. As McDonagh was wont to say, "I suppose I walk that line between comedy and cruelty because I think one illuminates the other." Add to that a brilliant ear for the Irish tongue and a genius sense of the ridiculous inherent in every situation – and THE CRIPPLE OF INISHMAAN is born.
Set in 1934, THE CRIPPLE OF INISHMAAN details the day-to-day life of the inhabitants of the island. Orphaned Cripple Billy Claven (Matthew Grondin), as he is known throughout Inishmaan, has lived with his "aunts" Kate (Kitty Swink) and Eileen (Mary-Pat Green) since he was an infant. His days are spent reading and staring at cows, since his physical limitations have ruled out the heavy labor common to his peers. Life is so uneventful, in fact, that JohnnyPateenMike's daily news flashes may be confined to local geese happenings and similarly enlightening accounts. But on this day, JohnnyPateenMike's stories take a surprising turn: A filum (sic) crew is on a nearby island making a movie about the Aran Islands (which actually happened in 1934). Maybe fate will turn an Inishmaanean into a star!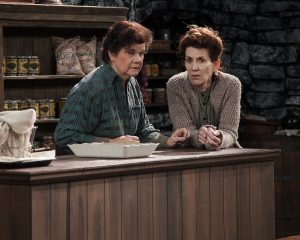 Suddenly, the dull life on Inishmaan has gained some sparkle; and everyone wants to share in this Hollywood dream. Especially Billy, who may be getting tired of observing the local cattle. By hook or crook, Billy is determined to flee the bland island life and seek out excitement and fun. And so Billy disappears one day – much to the consternation of the residents of Inishmaan. In fact, his absence has led to "aunt" Kate spending most of her day speaking to a rock – and listening for its sage replies.
It soon becomes apparent that there are lots of eccentrics floating around on this tiny isle, each a charming, lovable, and weird denizen of this limestone rock in the sea. There does seem to be one common trait among the inhabitants: there is no filter between thought and statement. Everyone says exactly what he thinks at the very moment that he thinks it – even if polite society might shudder at the thought. Which lends itself to some very funny interchanges which highlight McDonagh's talent. For here is a man who can find some kindness at the core of even the worst of us. All his characters are flawed – but never dull.
Brilliantly directed by Steven Robman – who has managed to help mold each character on Inishmaan into his own very special persona – no two characters are even remotely interchangeable. Each stands out as a unique human being – and yet they all play together so well even as the hurtful words fly. Kudos to every actor in the show, each etched into a fine engraving. Kudos too to John Iacovelli, whose scenic design is breathtaking; Garry Lennon, whose costumes are perfect; and to all the production crew who make Irish Inishmaan come alive. Dialect coach Lauren Lovett also deserves a hand. The cast sound more Irish than the Irish.
As always at the Antaeus, THE CRIPPLE OF INISHMAAN is double cast. The current review was based on the "Fripple Frapple" cast. THE CRIPPLE OF INISHMAAN is a must-see for all serious theatre-goers – but it will also delight and entertain audiences who are just looking for a little fun and a few minutes of escape from dreary reality. Another success for the Antaeus Theatre Company.
SPLASH SELECTION
THE CRIPPLE OF INISHMAAN runs through March 11, 2019, with performances at 8 p.m. on Fridays, Saturdays, and Mondays and at 2 p.m. on Sundays. The Kiki & David Gindler Performing Arts Center is located at 110 East Broadway, Glendale, CA 91205. Tickets are $35. For information and reservations, call 818-506-1983 or go online.