Presented by Anarchy Pictures and Gia Paladino, the world premiere of SOUL-CRUSHING DISCO BALL opened at the Hudson Backstage Theatre in Los Angeles. Playwrights Travis Perkins and Chambers Stevens penned SOUL-CRUSHING DISCO BALL. Stevens also directed the production, a tale of two buddies trying to navigate life and love.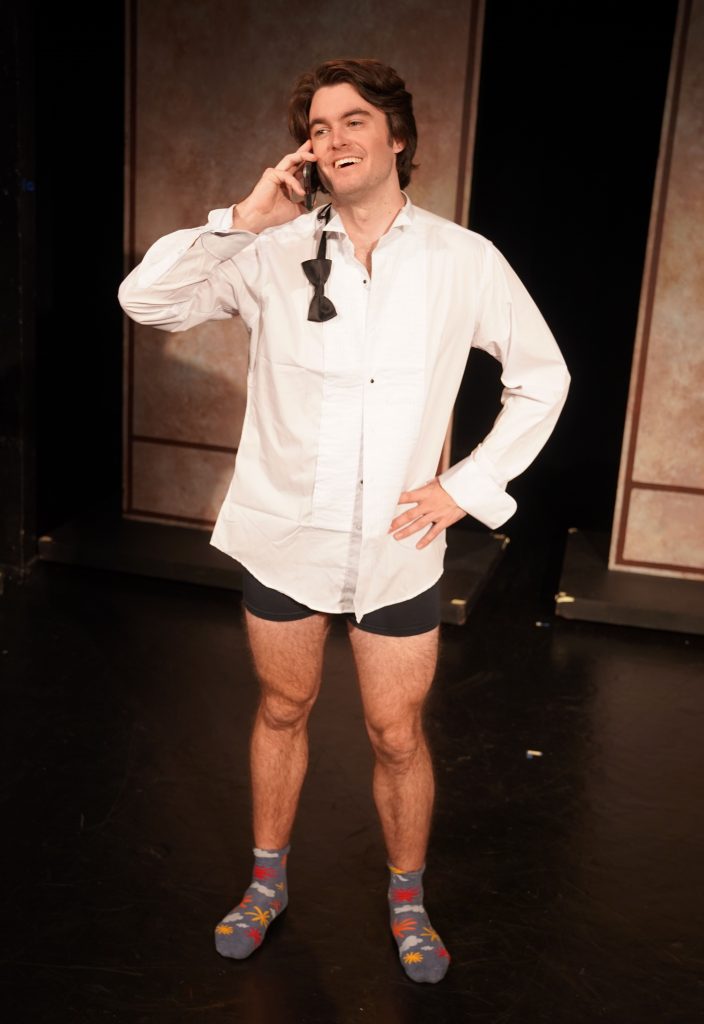 Marco (Malcolm Wise) and Bobby (John Brahan) meet in the third grade, two lonely little boys whose paths crossed in elementary school. The tragic death of a fellow-classmate only made their connection stronger. After the mandatory pushing, shoving, and "making male," the little kids gradually grow into immature adolescents and finally adults. The audience follows their ascendance from childhood to adulthood in a series of snapshots, typically pasted together in a somewhat random manner (which at times was difficult to follow). Between each short segment were extraordinarily loud contemporary music and a darkened stage to cue the audience into a new moment in time. Two young ladies popped in and out adding or subtracting chairs or various small items required in the scene to come. The unnamed young women also got to bow at the end of the show for a job well done!
SOUL-CRUSHING DISCO BALL is a comic production which definitely appealed to its millennial audience, whose spurts of hilarious laughter punctuated many of the show's lines. According to the authors, this is a tale of "love, death, and peanut butter." Each of these elements is carefully inserted into many of the snapshot scenes. It should be noted that fellow actor Jae Head apparently understudied Brahan and Wise. Although he did not appear in the current production, he does appear in some of the photos from the production team.
The two male leads did an excellent job of detailing their characters' feelings and emotions on the path from childhood and silliness to adulthood and silliness. They seemed to enjoy the journey from eight to 38, and the audience appeared equally entertained. Their sexcapades were well detailed and served as frequent grist for the comedy mill. Vali Tirsoaga's set and light design were simple (several movable rectangular "room dividers" and a few chairs/benches). Costume designer Ellen Uzarowicz got quite a workout, since many of the scene changes also entailed modifications of wardrobe. Fight choreography by Darbianna Dinsmore added some fun as the two physically demonstrated their opinions.
SOUL-CRUSHING DISCO BALL will likely appeal to lovers of "buddy" stories, as well as fans of "coming of age" sagas. Although it is somewhat uneven – and sometimes fails to dig into deeper dynamics – it was still amusing and entertaining. Unfortunately, the "shocker" in the final moments of the play seemed anticlimactic, coming right after what should have been the central focus of the piece: two life-long friends' feelings when they realize that they are to be separated. Space, time, and growing up will end their years of shared antics as their lives inexorably move on.
SOUL-CRUSHING DISCO BALL runs through February 24, 2019, with performances at 8 p.m. on Fridays and Saturdays and at 3 p.m. on Sundays. The Hudson Backstage Theatre is located at 6539 Santa Monica Blvd., Los Angeles, CA 90038. Tickets are $30. For information and reservations, call 323-960-7822 or go online.