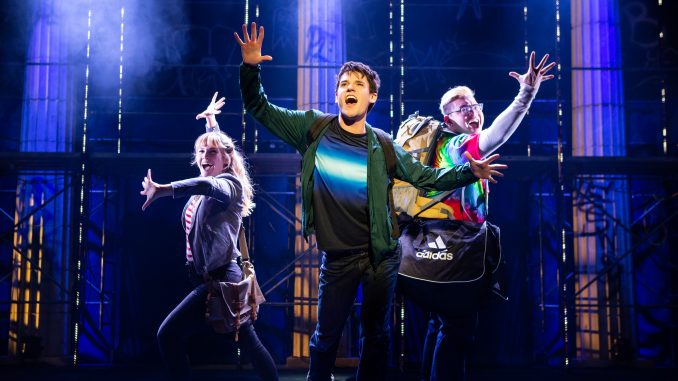 Rick Riordan's bestselling Percy Jackson series has earned its place in the canon of contemporary children's literature, alongside such greats as Harry Potter and The Hunger Games. It's only natural, then, that its success has prompted adaptations, including two films broadly considered by fans to be not just absolute train wrecks in their own right, but also horrific bastardizations of the beloved original stories.
Happily for fans of the series, there's a new adaptation of The Lightning Thief in town, this one a musical version that played twice Off-Broadway before going on tour, starting with its debut in Chicago this week. With a book by Joe Tracz and music and lyrics by Rob Rokicki, this is a down-to-earth, unembellished telling of the first of Percy Jackson's many adventures. With a rock score reminiscent of Spring Awakening or Next to Normal; a gritty, heavily graffitied set; frequent character doubling; and stripped-down special effects, The Lightning Thief: The Percy Jackson Musicalcalls to mind the style of show a group of passionate teenage Percy Jackson fans might create in their garage—and that's exactly what it should be.
For those unfamiliar, the premise of The Lightning Thief: The Percy Jackson Musical is also the first line sung in the show: the gods are real. Specifically, the Greek gods are, and they've been running around romancing mortals left and right. The resulting offspring are demigods who spend their summers at Camp Half-Blood training to be warriors and hoping to be claimed by their godly parent and chosen for a quest. Percy Jackson learns about his heritage after a substitute teacher turns out to be a monster, and shortly after arriving at camp he's sent on a quest to find Zeus' stolen lightning bolt and prevent a war among the gods.
There's a lot of magic in this story, and also a lot of monsters. In another universe, there's a slick, Disneyfied Broadway version of this show where the audience is dazzled by over-the-top special effects. In this version, several monster fights are cut and the most important ones play out with confetti canons, toilet paper guns, and minimalist puppetry, with lights and sound doing much of the heavy lifting for creating the fantasy world. This isn't a show where you're left wonder how the magician did her tricks; it's very obvious how Percy swaps his pen for a sword or how the substitute transforms into a Fury.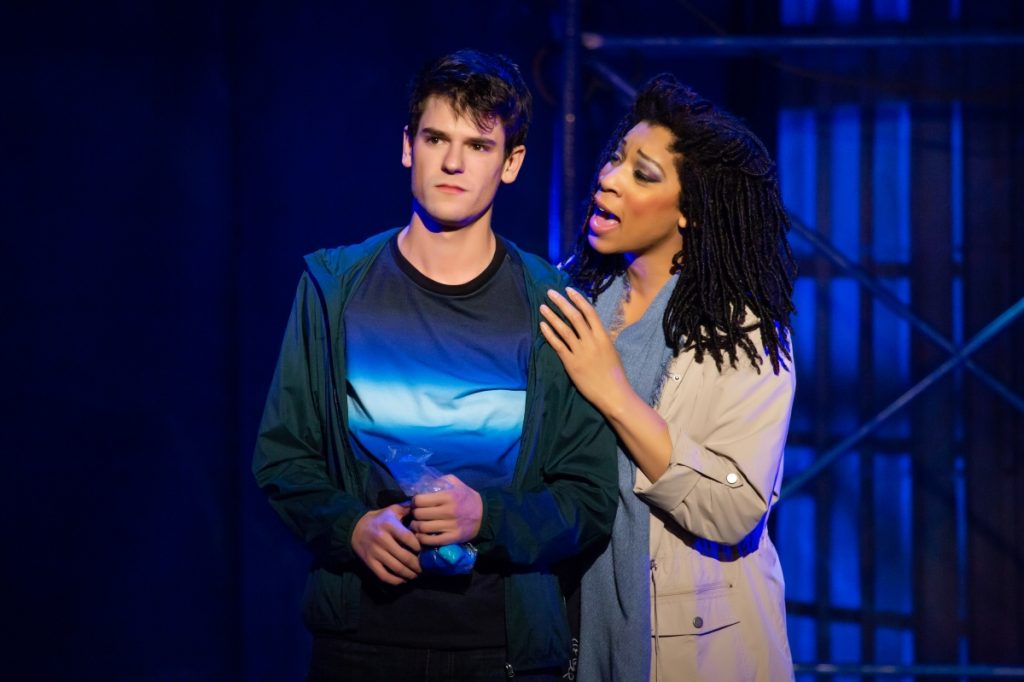 But the magic isn't the point, really. It's not the point of the books, either. Sure, it's a lot of fun, and honestly I enjoyed the grungy, lower-budget aesthetic of the production; after all, being a demigod is a lot more blood and grime than sparkles and sunshine. What the show, and the story, really have in droves is heart. What Riordan's heroes want are the same things every teenager, and indeed every person, want: to be loved, accepted, listened to, acknowledged for their talents. This musical works because it centers on the real truth behind the success of the Percy Jackson series: that Percy and his friends are charming, lovable characters trying to find their identities and their purpose in this world. And that's something we all can enjoy.
Performance Schedule
Tuesday, Jan. 8 at 7:30PM
Wednesday, Jan. 9 at 2:00PM & 7:30PM
Thursday, Jan. 10 at 7:30PM
Friday, Jan. 11 at 7:30PM
Saturday, Jan. 12 at 2:00PM & 8:00PM
Sunday, Jan. 13 at 2:00PM
Tickets
Individual tickets are currently on sale and range in price from $25-$80 with a select number of premium seats available.
Tickets are available now for groups of 10 or more by calling Broadway In Chicago Group Sales at (312) 977-1710 or emailing Gr********@Br***************.com. For more information, visit the Broadway in Chicago website.
All photos by Jeremy Daniel.