After her off-Broadway triumph, talented Monica Piper returns to Santa Monica with her hit solo performance, NOT THAT JEWISH. This is a hilarious peek at one very funny lady as she is growing up and older. Yes, Monica Piper is Jewish – well, according to her, sort of. Can you be Jewish if you don't go to the temple every week? Or celebrate each Friday with more ceremony than chopped liver? Monica – who, by the way, lifted her first name from a certain sign over a certain pier a few miles from the theater – chronicles her merry adventures and misadventures within her warm, loving, and "not that Jewish" family.
Monica didn't just stumble upon her comedic talent willy-nilly. It evolved from the closest to genetic underpinnings possible – her father. A man who never let anything get him down and started off life as a comedian himself. A man who knew how to make the greatest lemonade from even dried out citrus. Meanwhile, her mother played straight man with a wry humor that might escape notice if no one was paying attention.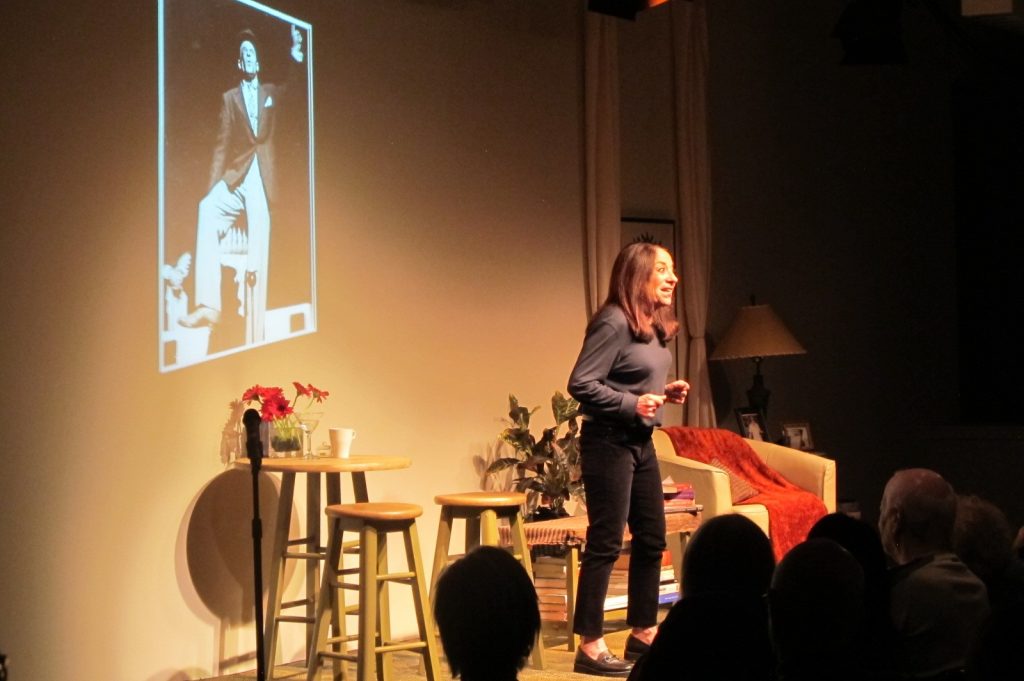 Monica has slain many a career dragon – beginning her professional life as an English teacher bitten by the performance bug when her marriage – of course, to a non-Jew – failed. She takes us through many a hilarious high point in her life, including her days at the Comedy Store hobnobbing with the crème-de-la-crème of young comics to her gig as head writer for the popular television Mugrats – and finally to a compilation of everything she knows is important in NOT THAT JEWISH, a show which she wrote and stars in.
Directed by Eve Brandstein, NOT THAT JEWISH hits every trope about being Jewish – and makes chopped liver of them all. The set is a cozy, comfy living room – just right to weave a tale that will make you laugh – and sometimes cry – with authenticity and warmth. Ernest McDaniel's lighting and Tom Jones' sound and projection make the stage grow before your eyes. It's no small wonder that NOT THAT JEWISH received multiple sterling reviews and well-deserved awards in the past. This is a delightful, completely charming look at a woman with the comic skills, timing, and creativity to tickle every funny bone. Get ready to chuckle, chortle, and outright guffaw as Monica lets you into her world, a world that's NOT THAT JEWISH.
NOT THAT JEWISH runs through December 16, 2018, with performances at 8 p.m. on Wednesdays, Thursdays, and Saturdays and 2 p.m. and 7:30 p.m. on Sundays. Tickets are $40 (presale) and $45 (at the door). The Jewish Women's Theatre performs at The Braid, 2912 Colorado Avenue, Suite 102, Santa Monica, CA. For information and reservations, call 310-315-1400 or go online.