DEAR EVAN HANSEN has rocked the Los Angeles theater scene by becoming the highest weekly grossing show in Ahmanson Theatre history. The winner of six 2017 Tony Awards, including Best Musical, the 2017 Drama League Award for Outstanding Musical Production, two Obie Awards, a Drama Desk Award, two Outer Critics Circle Awards, and two Helen Hayes Awards, DEAR EVAN HANSEN opened its record-breaking Los Angeles engagement on October 19. With book by Steven Levenson and music and lyrics by Benj Pasek and Justin Paul, DEAR EVAN HANSEN has been deemed "one of the most remarkable shows in musical theater history" by the Washington Post's Peter Marks. The show's 60-city U.S. tour continues to break records all over the country.
DEAR EVAN HANSEN is the poignant tale of a socially awkward, anxious teenager who feels rejected and bullied, even as he laments his invisibility. Evan (Ben Levi Ross), who has been living with his hard-working divorced mother Heidi (Jessica Phillips) since his father left when he was seven years old, craves attention and acceptance but also doesn't feel worthy of love. He's been in therapy for years and takes medication to calm him – but nothing is working to alter his dead-end life. Evan is timidly trying and even embarks on his therapist's latest gambit – writing a letter to himself outlining his inner thoughts and encouraging him to be more confident and optimistic.  The letters always open: "Dear Evan Hansen."
Enter fellow-teen Connor Murphy (Marrick Smith), a zoned-out, nihilistic rebel who rejects his family and life in general. The two boys, both high school students in the same school, never connect until a perpetually furious Connor "bumps" Evan to the ground and runs off with Evan's latest "Dear Evan Hansen" missive. When Connor unexpectedly commits suicide hours later, he still has Evan's letter in his pocket. Naturally, everyone assumes that Connor was writing to his BFF – Evan – just before he died. And suddenly two teens, both isolated, withdrawn, and friendless, are connected in a way no one ever considered.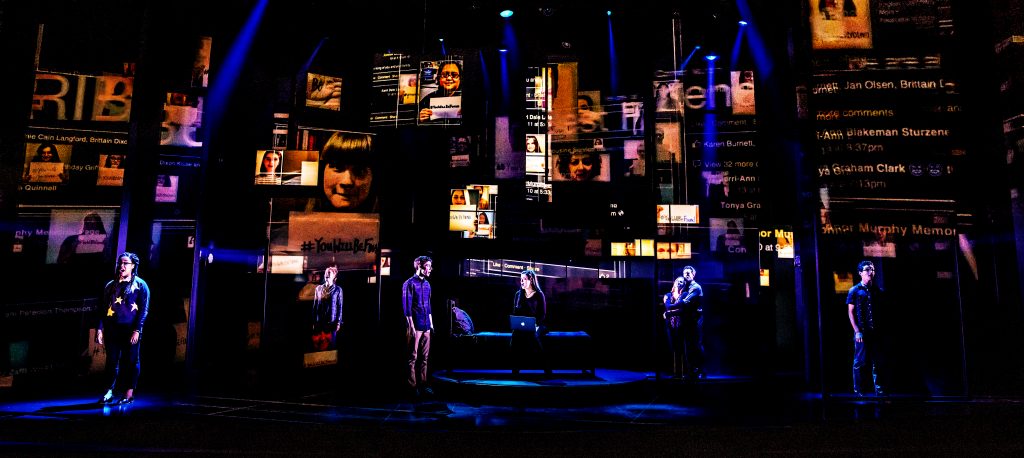 The most surprised of all is Evan, who – in his typically bumbling way – doesn't know how to explain the confusion. He is even more befuddled when he meets the Murphy family – Larry (Aaron Lazar), Cynthia (Christiane Noll), and charmingly hot daughter Zoe (Maggie McKenna). Even the clueless Evan can see that the Murphy's need to have something positive to remember their son by – and Evan is the most positive aspect of Connor's secret life that they can grab onto. This comedy of errors will have profound effects on everyone in the piece.
Brilliantly directed by Michael Greif and musical director Alex Lacamoire, DEAR EVAN HANSEN has a spot-on cast – with special kudos to Ben Levi Ross as Evan. Each member of the cast is also blessed with a terrific voice which melodiously tells the tale in song. The combination of David Korins' scenic design and Peter Nigrini's projection design set the perfect scene for today's teen world, one of social media and high tech. Let's not forget perfectly integrated lighting (Japhy Weideman), sound (Nevin Steinberg), and costume (Emily Rebholz). It's no small wonder that DEAR EVAN HANSEN won so many awards and caught the attention of so many theater goers. This is a play not to be missed.
SPLASH SELECTION
DEAR EVAN HANSEN runs through November 25, 2018, with performances at 8 p.m. Tuesdays through Fridays, at 2 p.m. and 8 p.m. on Saturdays, and at 2 p.m. and 6:30 p.m. on Sundays. No 8 p.m. performance on Thanksgiving Day (11/22). Added performance at 2 p.m. on Wednesday (11/21). The Ahmanson Theatre is located at the Music Center, 135 N. Grand Avenue, Los Angeles, CA 90012. Tickets range from $99 to $285. For information and reservations, call 213-972-7231 or go online.