Short Synopsis: A physician investigating a missing body disrupts an unlawful experiment.[Source: Joe Russell Productions]
Laboratory Conditions,directed by Harvard-educated physician, Jocelyn Stamat, is a gripping short film that handles a fascinating question of existence: what exactly is the difference between life and death? The film starts off with intrigue; Dr. Emma Holloway (Marisa Tomei) must track down the mysterious disappearance of a patient in her care, one who was on death's doorstep. She tracks him down to the laboratory of a team of neuroscientists, under the leadership of Marjorie Cane (Minnie Driver), who are using him a test subject in an experiment designed to prove one thing: the existence of a human soul.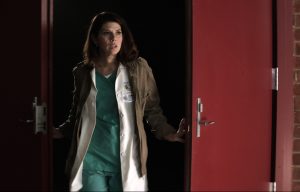 It's impressive enough when a team working on big-budget, feature length film creates a work that captivates immediately and tells a compelling and satisfying narrative from beginning to end. It is even more impressive, and difficult to achieve the story-telling component, when done in the span of 16 minutes. It helps that the film has excellent quality editing, sound design, and effects, as well as solid performances on the part of its cast. Overall, Laboratory Conditions is without a doubt one the strongest short films released this year and is definitely worth watching. It has expertly-crafted storytelling that represents some of the finest caliber possible, not just in short films, but in the medium as a whole.
For more information, please visit the Laboratory Conditions Official Website.
Queen Palm International Film Festival (QPIFF) is an Official IMDB qualifying bi-monthly film competition with a live Annual Screening & Awards Show Event in Palm Springs, CA. QPIFF honors films from around the world with a vast array of awards in different categories and genres. QPIFF's primary mission is to showcase top tier elite talent, as well as diverse new voices and to promote artists' work through numerous platforms. QPIFF has featured films that have screened at top tier festivals such as Cannes, SXSW, TIFF, Tribeca, Slamdance, & Berlinale, as well as films that have been Oscar & BAFTA Shortlisted.