MUTT HOUSE makes it pretty clear that author Tony Cookson is an inveterate dog lover. How else could he have created this enchanting tale of five homeless pups currently living in a shelter? With music and lyrics by John Daniel, Tony Cookson, Robb Curtis Brown, and David O, MUTT HOUSE is not only the heartfelt story of these four-legged, tail-wagging canines – but also the rousing and entertaining chronicle of how they interact with humans.
When Orhan Pamuk ("My Name is Red") opined that "Dogs do speak, but only to those who know how to listen" – he could have been thinking of Eddie Corbin (Ryan McCartan), a shy fellow who's not very comfortable with other people. But Eddie has a special talent which makes him the best friend of a coterie of dogs in the shelter where he works – Eddie can speak to our four-legged friends. The current denizens of the city shelter are a motley crew who can't help but make the audience smile.
There's Pepe (Gabriel Gonzalez), a spunky Chihuahua who adds Latin spice to the canine quintet. And then there's a Pit Bull named Bradley (Garrett Marshall), who's been rescued from a dog fighting ring – but may have some trouble cooling his knee-jerk growls. Let's not forget Digger (Ben Palacios), a golden Labrador with a flea (and female) problem. Donna (Amanda Leigh Jerry) is the real mutt of the lot who happens to have a New York accent that you can cut with a knife. The plump Corgi Max (Max Wilcox) will probably steal your heart as he melodically begs someone to "Scratch Me." Finally, there's Sophie (Valerie Larsen), the snooty show poodle who finds herself slumming at the city pound. She also tugs at your heartstrings when she portrays an elderly bloodhound who won't make it for a few moments at the beginning of the show. Each dog has his own story to touch your heart. Allison Dillard deserves special kudos for the costumes and makeup which turn these breeds into irresistible heart stealers.
But now a disaster is on the way. City mayor Jenkins (Heather Olt) has decided to save the city money by closing the pound. Which, of course, will leave more funds for her to pilfer. She sends young, naïve Hannah Matthews (Claire Adams) to the targeted shelter for the final paperwork. But it just so happens that Eddie and Hannah have met before – in junior high – where she was the one kind student who didn't laugh at "Weird Eddie." Can Hannah, Eddie, and pound supervisor Gerry (Boise Holmes) find a way to save the pound – and the lives of its current canine residents?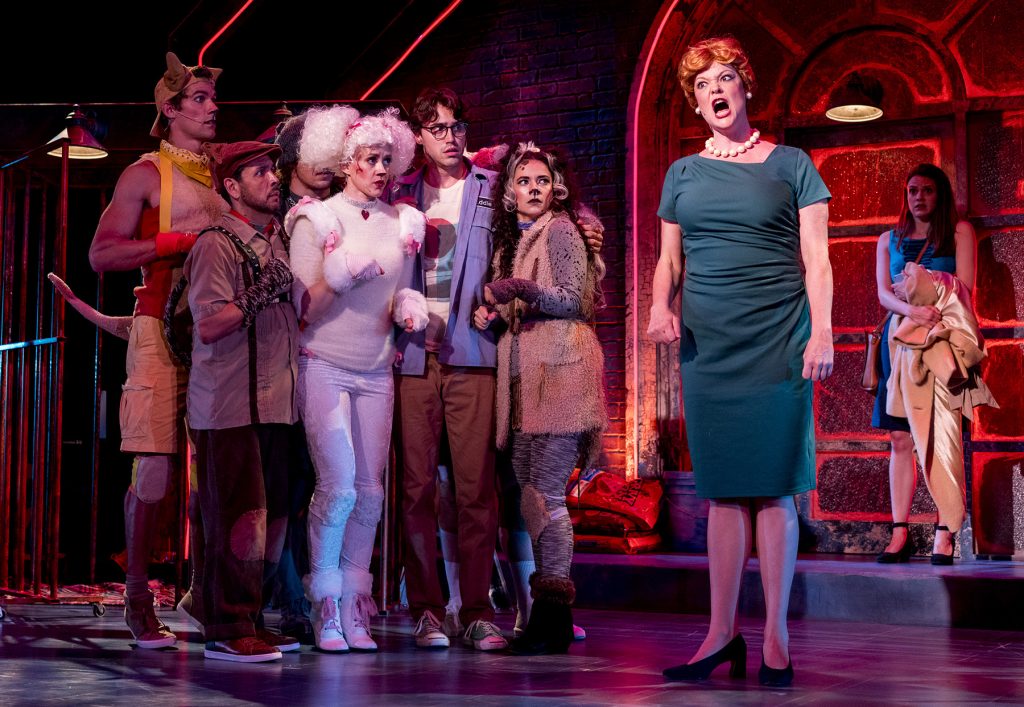 MUTT HOUSE is a sweet and charming story – simple yet tender and dare I say cute – about what it means to be human, or perhaps not, in a dog-eat-dog world. Director Ryan Bergmann does a superb job of helming the cast and crew through the doggy account, punctuated by 18 clever pop-rock musical numbers. Music director Anthony Lucca and choreographer Janet Roston keep the songs coming as the talented and very nimble dancers give their all to the tunes. Stephen Gifford's scenic design, Matthew Brian Denman's lighting, and Cricket S. Myers' sound add to the general frolick. A live band hovers onstage throughout the show with keyboard virtuoso Anthony Lucca conducting with the able assistance of his gang (Max Wagner (guitar and keyboard), Cyrus Elia (bass), Ian Hubbell (percussion and drums), and Brandon Bae (guitar and percussion).
Even though MUTT HOUSE retains its simplicity throughout – and even though everyone in the audience knows that there will eventually be a happy ending – this is still an involving and entertaining musical which will appeal to children – and the child in all of us. This is a must-see production.
SPLASH SELECTION
MUTT HOUSE runs through August 5, 2018, with performances at 8 p.m. on Wednesdays, Thursdays, and Fridays, at 2 p.m. and 8 p.m. on Saturdays, and at 1 p.m. and 6:30 p.m. on Sundays. The Kirk Douglas Theatre is located at 9820 Washington Blvd., Culver City, CA 90232. Tickets range from $39 to $59. For information and reservations, call 213-628-2772 or go online.