Developed at the Eugene O'Neill Theater Center's National Music Theater Conference in 1994, VIOLET is based on the short story, "The Ugliest Pilgrim" by Doris Betts. With music by Jeanine Tesori and libretto by Brian Crawley, VIOLET premiered off-Broadway in 1997 to strong critical reviews and Best Musical wins from the New York Drama Critics' Circle Award and Lucille Lortel Award, as well as an Obie Award for Jeanine Tesori. Charles Isherwood described the 2014 Broadway revival as "an enduringly rewarding musical…tangy flavors of country, gospel, blues, and honky-tonk rock."
Set in 1964, VIOLET relates the tale of a back-country lass with a dream. Following a tragic childhood accident, Violet (Claire Adams as an adult; Lily Zager as a child) has been left seriously disfigured, both to her face and deeper still in her very soul. She has tried to get help in every way known to her – but without success. But one day she sees a televangelist preacher (Kevin Shewey) who may have the answer – a miracle. And so Violet decides to journey from North Carolina to Tulsa, Oklahoma, to ask the preacher to heal her scars. With a bus ticket, one suitcase, and a heart full of hope, Violet courageously follows her boundless faith.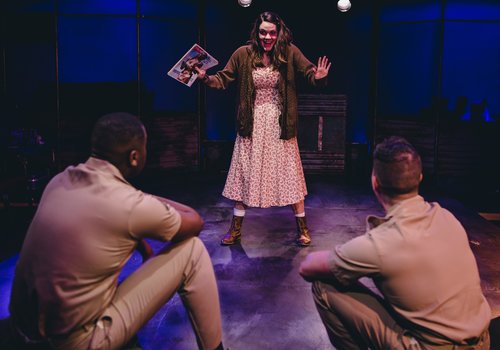 But fate may have other plans for Violet. When the bus makes a rest stop in Tennessee, Violet meets two soldiers who may alter her life, Monty (Morgan West), a white paratrooper in his 20's who hopes to transition into a Green Beret, and Flick (Jahmaul Bakare), a black Army sergeant in his early 30's who has had his share of disappointments in life. Both men are bound for Fort Smith in Arkansas and become Violet's traveling companions – and perhaps something more? This is naïve Violet's first encounter with racism – and skin color (scarred or not) may soon become a major issue in her life. Violet's odyssey brings her into contact with a cross-section of the inhabitants of the 1960's South until she finally reaches her goal – an audience with the preacher who can work miracles. Just maybe her dream may finally be realized.
Director Richard Israel helms the production with compassion and confidence, drawing from the talented cast members an intimate portrait of personality and interpersonal connections – how they are formed and how they may be changed. VIOLET explores multiple timely and thought-provoking issues, including beauty and ugliness (and what that really means), loneliness and fear of getting close to others, what different kinds of love mean, and prejudice and rejection – what are they all about? Let's not forget about the music, which is integral to the total picture and adds immeasurably to the final interpretation. Kudos to musical director Taylor Stephenson for a job well done.
Nicholas Acciani's flexible scenic design also deserves special notice, with eye-blink conversions from a bus interior to a café to a hotel to a chapel – and everything in between. Not an inch of space is wasted. Martha Carter's lighting, Wendell C. Carmichael's costumes, and Cameron Combe's sound help VIOLET to take off. This is a gentle but profound piece which offers a lot to think about – and great foot-tapping music too.
VIOLET runs through June 30, 2018, with performances at 8 p.m. on Fridays and Saturdays and at 2:30 p.m. on Sundays (no performances on June 22, 23, and 24). The Crossley Theatre at the Actors Coop is located at 1760 N. Gower Street, Hollywood, CA 90028. Tickets are $34 (seniors $30, students $25, rush tickets $17). For information and reservations, call 323-462-8460 or go online.