In a lively musical tribute to her grandmother, playwright and solo performer Elise Arndt has outlined Bibi's life and times with joy. Eerily resembling Bibi Osterwald, a star in musical comedy and television in the 1940's, 1950's, and 1960's, Arndt captures the verve and glory of her musical progenitor with elan. As photos roll behind her, Arndt brings her family history to life through song – and even a little dance. Always right behind the resurrected Bibi is the Doug Peck Trio (keys by Doug Peck, bass by Shane Harry, and drums by Brian Boyce). After a sold-out run in New York, SING, BIBI, SING! has come from the Big Apple to the Melodious Melon that is LA.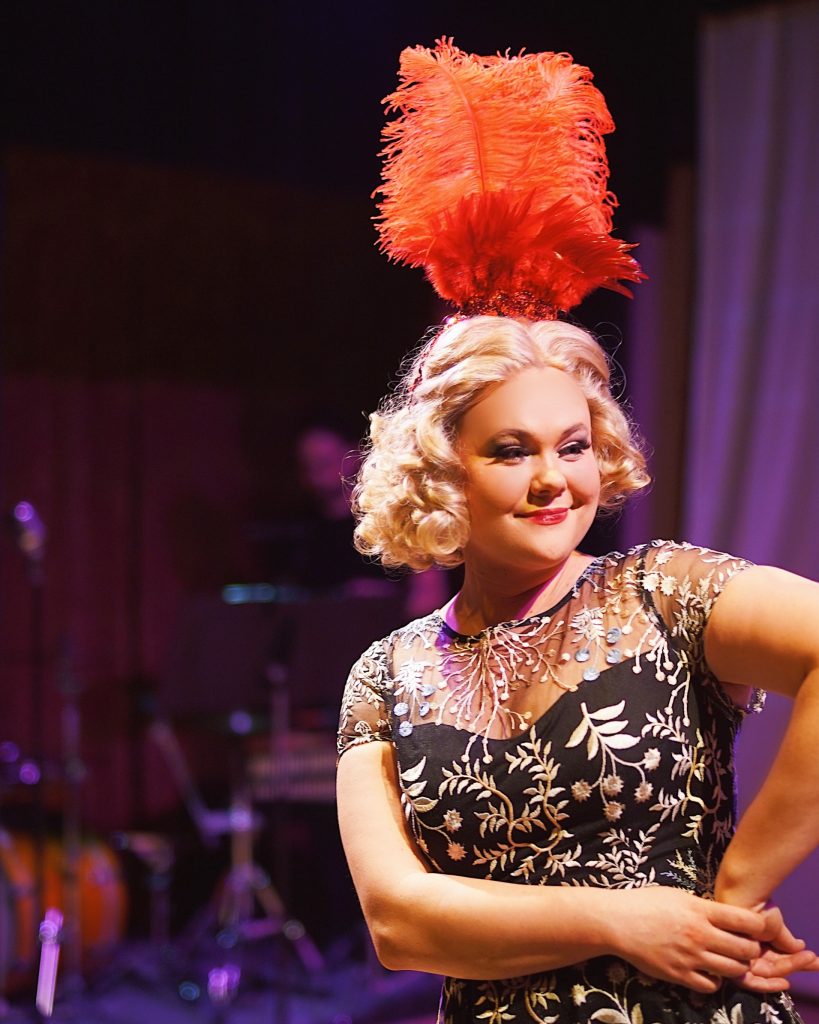 Deftly directed and choreographed by Christine O'Grady, with musical direction by Doug Peck, SING, BIBI, SING! captures the heart and soul of a woman who made it in show business. Don't expect the show to dig up the dirt on Bibi – but do expect a fun evening with lots of oldies but goodies and the entrancing tale of a woman who lived to entertain and achieved her childhood dream. In its West Coast debut, SING, BIBI, SING! opens at Write Act Repertory's home, the Brickhouse Theatre in North Hollywood.
Arndt regales the audience with warm and fuzzy memories from her grandma's playbook, including her stint as standby for "Hello Dolly" on Broadway and her hob-nobbing with some of the biggest names in showbiz along the way. She stepped in for any number of talented stars, including Ethel Merman, Ginger Rogers, and Martha Raye. From popular standards to jazz to Broadway melodies, Arndt will charm the audience. If anything, her voice may be even better than her renowned forbear. And she clearly has had lots of training on how to belt out a song. Of course, given her lineage, where genes part ways from training might be a moot point. In any case, this 70-minute show is worth every moment as the talented Elise Arndt guides us through Bibi Osterwald's triumphs.
Mark Baker's lighting is especially important in a show that blends nostalgia with nightclubs and the Broadway stage – with just a bit of TV thrown in. Move over, Ed Sullivan, as Bibi returns. Adding to the ambiance are a number of photos, projected onto the stage commemorating Bibi's journey, and adding to the audience's enjoyment. If there is one word to characterize what Arndt has accomplished, it would be "warm." After the show, you'll want to hug Bibi in this trip through her granddaughter's reminiscences.
SING, BIBI, SING! runs through April 8, 2018, with performances at 8 p.m. on Fridays and Saturdays and at 7 p.m. on Sundays (two performances on Saturday April 7 at 4 p.m. and 8 p.m.). The Write Act Repertory @ the Brickhouse Theatre is located at 10950 Peach Grove Street, North Hollywood, CA 91601. Tickets are $20 online and $25 at the door. For information and reservations, go online.