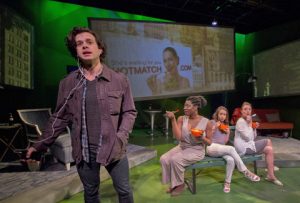 If you aren't aware of the Internet meme "women laughing alone with salad," you can probably figure it out just from the name. In 2011, a blogger started compiling stock photos of women laughing while eating salad, a bizarre motif that seems to encapsulate the absurd social standards to which women are held: stay skinny/sexy by eating only bland foods like salad and always, always, always appear happy while doing it.
Of course, most of us women are nothing like the thin, traditionally pretty women in these photos, who are unreasonably delighted by bowls full of greens and cherry tomatoes. And even if we are, somewhere inside us there is a longing for something more substantial, more decadent, as playwright Sheila Callaghan would describe it. Her play, Women Laughing Alone with Salad, now receiving its Chicago premiere at Theater Wit, attacks these stereotypical images of women with a satirical razor blade, ripping them to shreds with both laughter and the demand that we confront the parts of ourselves responsible for holding up these standards.
The first act fluctuates between a realistic and linear storyline and farcical, abstract sections like the "Dance of the Seven Lettuces," hilariously performed by Echaka Agba or the opening sequence, which features women eating salad on a park bench and enjoying it to an insane degree. Stock images of women, including the eponymous women laughing alone with salad but also similarly idealized and inexplicable images, like white women striking yoga poses perfectly, or women failing to drink water out of a bottle correctly, flash on three screens onstage, designed brilliantly by projections designer Joe Burke.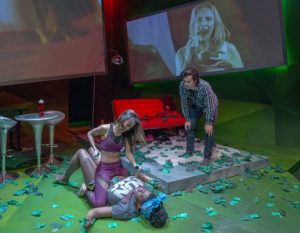 The main story in the first act focuses on three women in the life of the generic Guy: his stick-thin, salad-eating girlfriend Tori; the bodacious, plus-sized woman he meets at a club and becomes obsessed with (Meredith); and his mother, with whom he has a complicated relationship to say the least. Tori and Meredith represent the extremes of two categories of women: those who follow all the rules and perform femininity perfectly (Tori) and those who buck tradition and live wildly, decadently (Meredith). But of course, neither Tori nor Meredith can live up perfectly to her prescribed role, as they are complex human beings with a multitude of motivations and needs. Playwright Callaghan never really lets them become absolute foils, and actors Echaka Agba (Meredith) and Daniella Pereira (Tori) deliver energetic and nuanced performances that endear them to the audience.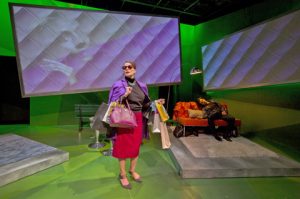 The second act is a bit of a curveball, reminiscent of Caryl Churchill's Cloud Nine, with the actors performing in drag and only one character from the first act, Guy, remaining, portrayed by a different actor—Jennifer Engstrom, who played his mother in the first act. Engstrom really comes into her stride as the exhausted and angry middle-aged Guy in the second act, delivering his monologues with such passion and intensity that it generates empathy for the character's plight even as he expresses his rampant misogyny. Japhet Balaban, too, is remarkably fascinating as Alice, a top executive at the company at which his former character, Guy works.
Gender-bending, genre-bending, and mind-bending, Women Laughing Alone with Salad is a spear to the heart of cultural misogyny, and it's also gut-bustingly funny. This unique play is highly recommended.
Ticket Information
Location: 1229 N. Belmont in Chicago's Lakeview neighborhood
Dates: March 20 – May 12, 2018
Times: Thursday, Friday and Saturday at 8 p.m., Sunday at 3 p.m.
Tickets: $19-$70. To purchase single tickets, a Membership, or to inquire about Flex Passes, visit the Theater Wit website or call 773.975.8150.
Please Note: Women Laughing Alone with Salad includes nudity and explicit discussions about gender and sex.
All photos by Charles Osgood.