White Bean Hummus Pizza
Ingredients:
For the pizza dough*:
3 ½ cups all-purpose flour

1 teaspoon salt

1 teaspoon instant yeast

1 pinch sugar

3 tablespoons olive oil

1 cup lukewarm water
*You can also use a store-bought crust or flatbread and heat according to the instruction on the packaging.
For the toppings:
1 cup Lantana® White Bean Hummus

1 yellow bell pepper

1 tomato

1 handful slice red cabbage

1 handful sliced fresh basil

1 handful mozzarella shreds (or your favorite vegan cheese shreds)

Optional: 1 red or green bell pepper (if you want more pepper!)
Instructions:
Combine all of the dry ingredients for the dough in a mixing bowl.  Then add the olive oil and lukewarm water.  Knead the mixture with your hands into a smooth dough and forms a ball.  Cover the bowl with plastic wrap and leave the dough to rise for an hour.

While the dough is rising, slice the bell pepper into thin rings.  Chop the tomato into ½- inch slices.   Rough chop the red cabbage and the fresh basil. Set aside.

After the dough has risen, preheat your oven to 350 °F.  On a flour-dusted surface, divide into two dough balls and form two 8" flat pizzas with your hands or rolling pin.

Spread the Lantana® White Bean Hummus evenly across the dough.  Add your peppers and tomatoes. Then sprinkle the cheese on top.

Bake for 15-20 minutes.  Halfway through baking, sprinkle on your red cabbage.

Once your pizza is fully cooked, remove from the oven and then top with fresh basil.
Enjoy!
Lantana® Black Bean Hummus Breakfast Skillet
Ingredients
1 tsp coconut oil

1 pasture-raised egg

2 T Lantana® Black Bean Hummus

¼ C fresh pico de gallo

Fresh avocado slices

Handful fresh cherry tomatoes

1-2 corn, wheat or flour tortillas
Directions
Heat a small cast iron skillet over medium heat for 2 minutes

Add coconut oil

Once coconut oil has melted, break the egg into the skillet and cook for 1 minute

When the outer edges of the egg turn opaque, reduce heat to low, cover the skillet and cook for an additional 4 minutes

Uncover skillet and remove it from the heat

Add Lantana® Black Bean Hummus, pico de gallo, avocado slices and cherry tomatoes directly to skillet

Serve with warm tortillas
Serves 1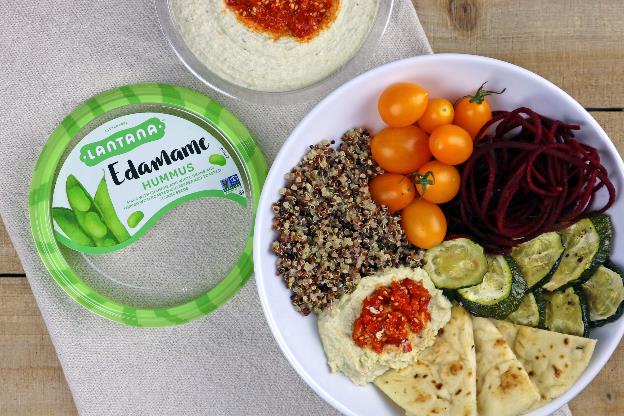 Lantana® Edamame Hummus Power Bowl
Ingredients
1/3 C cooked tri-color quinoa

½ C yellow cherry tomatoes

½ C spiralized beets

½ C roasted zucchini slices

¼ C Lantana® Edamame Hummus
Directions
Assemble all ingredients in a bowl

Serve with naan or pita triangles
Serves 1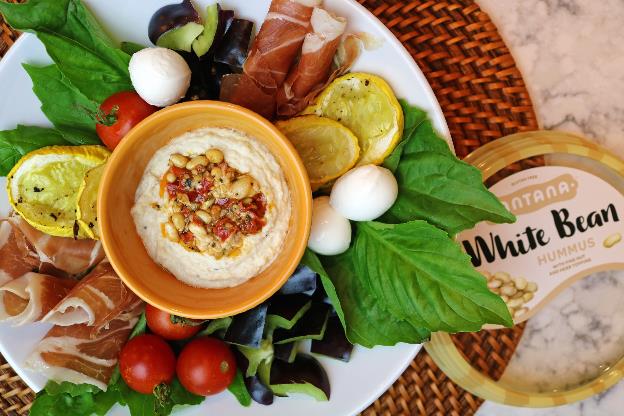 Lantana® White Bean Hummus Antipasto Plate
Ingredients
¼ C Lantana® White Bean Hummus

2oz prosciutto slices

2oz mini mozzarella cheese balls

¼ C red cherry tomatoes

½ C roughly chopped purple peppers

½ C roasted summer squash slices

8-10 large fresh basil leaves
Directions
Assemble all ingredients on a plate
Serves 1
*all images courtesy of Lantana®