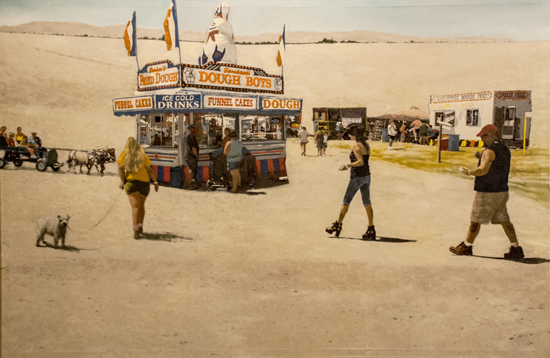 On Friday, February 2, 2018, 643 Project Space (Ventura, CA), celebrates the art of Marjorie and Bob Moskowitz in a new exhibition entitled "Free Or Best Offer." These talented artists have been married for thirty-seven years. Both have been creating art most of their lives. For the past three years they have been collaborating and exhibiting their art as a duo.
Margie grew up in St. Louis, Missouri and now has lived in California for 20 years. Currently she
spends months on the east coast every year. Bob grew up and lived in Philadelphia, lived in the Midwest and in California for equal amounts of time. As a couple they have been colored by diverse geography and experiences and have produced a unique body of work.
This exhibition is a collaborative effort, featuring the paintings of Marjorie and Bob Moskowitz. Both have been creating art all of their lives…but have been working together for the past three years. The artists approach their work with a different point of view and process but they have consistently worked through any obstacles. Each paint on their own schedules. "I try to paint every day. My best painting time is different from Bob's. He can start right after coffee in the morning and get in his hours of work. I, on the other hand, start at 3PM and can go on until late at night or until I finish what I was trying to accomplish for that day." Bob paints as often as he can while he arranges his schedule around teaching at Ventura College.
The artists plan and compose all of their collaborations, but never work on them at the same time. "One of us starts and we alternate. We critique each other's work every day after a certain amount of work has been done by one or the other."
Bob went on to say, "One afternoon I came home and Margie said, 'By the way, I painted over everything you did yesterday.'" He continued, "I looked at the painting and it had vastly improved. We realized early that we would have to be all over each other's work. As a result, we sign the paintings, MB Mosk."
"The first painting we collaborated on focused on the unusual juxtaposition of a nude standing in a field with seven curious and friendly beef cows from Maine," said Bob. "We exhibited this painting at the bG Gallery in Santa Monica as part of its first show of the season in 2015."
The artists continue to work on their own individual paintings as well. "Our work is quite different and we continue to produce and exhibit our own paintings," said Bob. Marjorie said since they come from different orientations, there is never a conflict with their individual work. "Bob comes from a figurative tradition and I have moved from abstraction to landscape."
The opening reception will be held from 6-9pm on Friday, February 2, 2018.  643 Project Space is located at 643 Ventura Avenue, Ventura, CA. "Free Or Best Offer" runs through February 24th, 2018.
Visit the art by appointment, or call for more information 805-289-6273 or email mf********@sb*******.net.
See the joint website at http://mbmosk.com or visit http://marjoriemoskowitz.com and http://bobmoskowitz.com
All images are courtesy of the artists.