BRUNCH TO BROADWAY is a wonderful journey that brings the matinee back to Las Vegas. The brainchild of creator's Bob Torti and DeLee Lively-Torti, BRUNCH TO BROADWAY is the opportunity to get a great buffet brunch and top-notch entertainment all on a Sunday afternoon.
Taking up residency at the Red Rock Casino through March, your afternoon starts with a lovely brunch at the Feast Buffet. Once your meal is completed you move into the Rock Lounge and get ready for 90 minutes of excellent entertainment.
The show is BRUNCH TO BROADWAY: BLOCKBUSTERS, and is presented by 6 of the finest vocalist that Las Vegas has to offer. Led by Broadway Tony nominees, Bob Torti and DeLee Lively-Torti, the cast presents a smorgasbord of Broadway hits. From the old to the new, from love song to comedy, from dynamic to delightful, they have it all. The numbers range from Guys and Dolls to Kinky Boots and each number is wonderfully arranged to provide a dynamic vocal effect.
The show opens with a powerful ensemble rendition of "No Business Like Show Business". The harmony's are astounding. Highlights of the show are "Lady Luck" performed by Bob Torti in a very Rat Pack style. A marvelous compilation of The Wizard Of Oz featuring Ashley Fuller's "Somewhere Over The Rainbow", DeLee Lively-Torti's "Home" from The Wiz and Nakaze Nikee Harris' "Defying Gravity" from Wicked, delighted the nearly full house. The showstopping number however was these same three ladies ripping the walls down with their version of W-O-M-A-N from Smokey Joe's Café.
The gentlemen also held their own with tremendous performances. Brandon Nix kicks off the series of solo's with a remarkable performance of "Step Up" from Kinky Boots.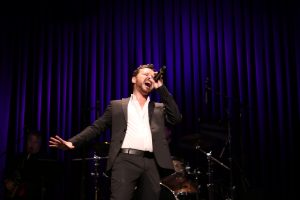 Eric Jordon Young wowed with "Got A Lot Of Living To Do" from Bye Bye Birdie.
As Torti explained, he and all of his performers, while grateful for their wonderful careers, have not forgotten their roots, the hard work it took to get where they are and the help they had along the way. Subsequently, BRUNCH TO BROADWAY is sponsoring young performers that live locally and are giving them a platform to perform. At this performance it was 14 year old Katelyn Murphy who shook the shutters with her amazing and 'well beyond her years' performance. Katelyn is a member of the Positively Arts Foundation. The Positively Arts Foundation (PAF) is a 501c3 non-profit foundation dedicated to using the arts to EMPOWER, INSPIRE, and to HEAL. Kudo's to the cast for supporting these young performers.
BRUNCH TO BROADWAY is a tremendous way to spend a Sunday afternoon, particularly with the impending end to the football season fast approaching.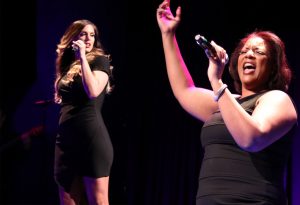 BRUNCH TO BROADWAY runs Sundays through March at the Red Rock Casino and Resort in the Rocks Lounge at 12:00pm and 2:00pm. Tickets are available through the Red Rock ticket office and Ticketmaster.