Playwright Mark St. Germain's brilliant imagination has conjured up what might have happened if Sigmund Freud, the father of psychoanalysis and an avowed atheist, met up with Oxford don C.W. Lewis, author of Narnia and a devout Christian convert. Suggested by the book The Question of God by Dr. Armand M. Nicholi, Jr., St. Germain brings to tense, exciting, and often amusing life the debate to end all debates between the two – does God exist?
In the role which he created for the 2009 world premiere production In Pittsfield, Massachusetts, Martin Rayner nails the role of Freud, then an 83 year-old icon in constant pain from multiple surgeries for advanced oral cancer. As the younger Lewis, Martyn Stanbridge provides a staunch opponent to Freud's clever and sometimes biting observations about the world. The battle of beliefs takes place at a seminal moment in history: George VI has just committed Britain to World War II (as a blaring siren searingly confirms minutes after the beginning of the play) just as Freud is approaching the end of his endurance.
FREUD'S LAST SESSION is a powerful study of two men in their prime – the elderly and poignantly alert Freud and the scholarly, thoughtful, and yet fantastical C.S. Lewis. St. Germain has achieved the perfect personality study of two world-renowned men who never met in life. Of course, as Freud shrewdly points out, the question of God may never be solved in life.
Kudos to Pete Hickok's scenic design, which very convincingly replicates Freud's London office (including the proverbial couch). Kim Deshazo's costumes make the era real, while Josh La Cour's props keep 1939 very much alive. Derrick McDaniel's lighting and Christopher Moscatiello's sound round out an ultra-competent production team.
In FREUD'S LAST SESSION, St. Germain aces the difficult task of recounting lots of potentially dry data in a highly involving and intriguing way. Earlier reviews have described the play as "…a theatrical and intellectual delight (Huffington Post)…a gem…intellectually thrilling with both humor and insight in abundance (NY1)." This is a must-see production which blends fact and fiction, which breathes life into history – but which doesn't forget that laughter is good medicine too. The study of an abstract intellectual concept has never been so riveting – and so much fun. If it weren't too late, these two fellows would make a great debate team. But wait! Now audiences can enjoy their repartee in 2018.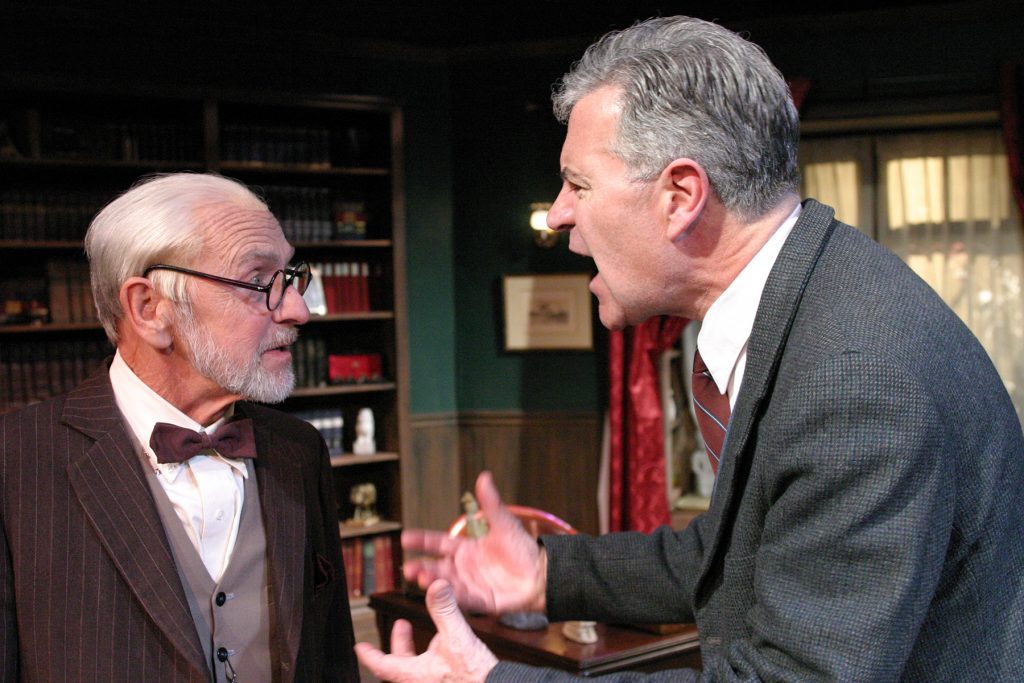 FREUD'S LAST SESSION runs through March 4, 2018, with performances at 8 p.m. on Fridays and Saturdays and at 2 p.m. on Sundays. The Odyssey Theatre is located at 2055 S. Sepulveda Blvd., Los Angeles, CA 90025. Tickets range from $30 to $35. For information and reservations, call 310-477-2055 ext. 2 or go online.