On Sunday, October 29th, 2017 the Chicago Philharmonic Chamber Players, Quintet Attacca, gave a "Día de los Muertos" (Day of the Dead) concert at The City Winery, 1200 W. Randolph, Chicago, entitled, "Music of Latin America". The Quintet, consisting of Jennifer Clippert, flute; Erica Anderson, oboe; Barbara Drapcho, clarinet; Collin Anderson, bassoon; and Jeremiah Frederick, horn, performed 6 memorable pieces to honor Hispanic Heritage Month.
Cleverly selected and arranged to cover a morning until night time frame, the program included 3 pieces by Astor Piazzolla, and it's no wonder! The musical legacy left by Piazzolla, a 20th Century musical icon from Argentina, continues to make its presence felt in contemporary music; it is played everywhere. Attacca Quintet enriched these pieces with their own interpretation and their fine technical ability, bringing to life the many contrasting moods that are ever-present in Piazzolla's work, interspersing these pieces with fine renditions of the other pieces in the concert.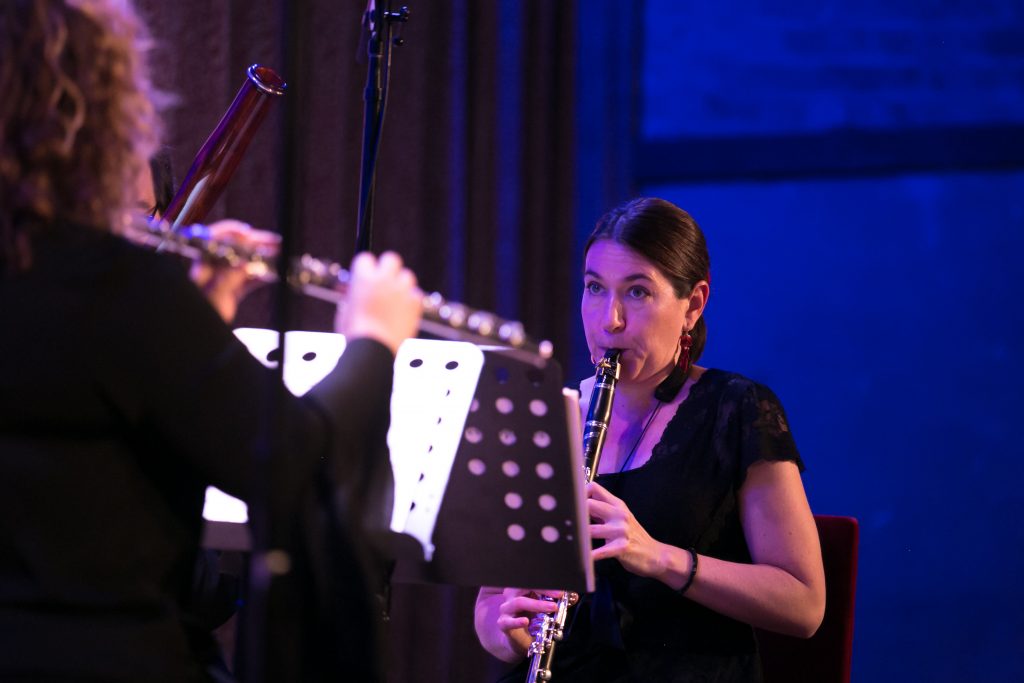 The program was presented as follows, with members of the Quintet introducing the pieces:
–Paquito Francisco D'Rivera, Aires Tropicales, 2015:
Cuban-born Paquito D'Rivera , the winner of fourteen GRAMMY Awards, is celebrated both for his artistry in Latin jazz, "bebop" recordings and his illustrious achievements as a classical composer.
The first movement performed seemed almost shy or tentative in nature. "Alborada", (a "morning song") is over almost before it begins, announcing itself with a lyrical serenade, which approaches and retreats in a dancing rhythm. The piece is sprightly yet sonorous, and flute-intensive." Son", with its relentless ostinato Latin bass line in the bassoon and horn, is the most extended movement of the seven. It takes its inspiration as well as its title from a popular Cuban dance from the late 1800s, which had its roots in African rhythms.
– Astor Piazzolla, Milonga sin Palabras, 1948, is a piece of music that is "rooted in drama" and deeply atmospheric. This is a fine example of how Piazzolla revolutionized the traditional tango through his use of the jazz elements of counterpoint, extended harmonies and dissonance. Here Attacca Quintet gave the audience a lively rendition that captured the rhythm along with the lyricism and charm.
–Arturo Marquez, Danza de Mediodia, (Noon Dance), 1996:
Marquez is a Mexican composer of orchestral music, chamber music, music for solo instruments and film, known for incorporating the musical forms and styles of Mexico into his compositions. The danzón is the official dance of Cuba, evolved from the habanera, and is rooted in Veracruz folklore. This is actually a classically oriented piece flavored with touches of tango and elements of traditional music. Some aspects of the habanera can be heard in the composition; it's not quite as passionate as a tango, being more lyrical in form. Barbara Drapcho gave a charming introduction, describing the piece as sounding like an "outdoor party… with a horn/bassoon showdown…and the clarinet gets rock and roll", adding "It has a raucous end". Beautifully performed, it has a spirited and jazzy wit.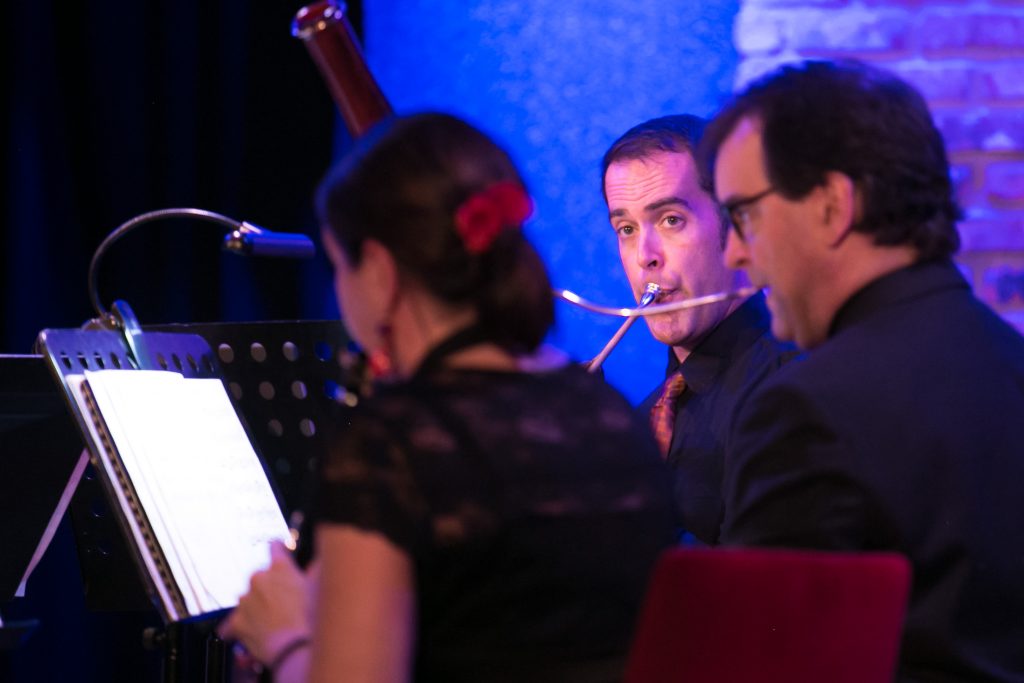 –Astor Piazzolla, Oblivíon, 1982:
This is a hauntingly beautiful piece used in the soundtrack of Mario Bellocchio's film, Enricho IV. This lovely work that seems to evoke tragic love is one of the most famous Tango pieces composed by Piazzolla. It begins with a subtle and extremely melancholy melody, with both long notes and alternating notes, very elegant in structure. Halfway through the song, the melodies change and a contrasting theme emerges, less intense in character. This is a tango with almost no jazz or rock influence, very true to the original Tango, with sophisticated harmony, and a great deal of emotional density.
–Miguel del Aguila, "Wind Quintet No. 2", Opus 46. 1994 (Back in Time; In Heaven; Under the Earth; and Far Away),:
Three-time Latin Grammy nominated American composer Miguel de Aguila hails from Uruguay and is lauded for works that "couple drama and driving rhythm with nostalgic nods to his South American roots". In 1995 this piece was awarded a Kennedy Center Friedheim Award for excellence in chamber music composition.
Erica Anderson enthusiastically described how this piece "fits in with The Day of the Dead", giving the audience her interpretation of  "a party in heaven" ending up with "a parade of street musicians".
The four movements take the listener through four different places like the four acts of a play. "In Heaven" is a "delicate, relaxed and stylized Caribbean dance. Sometimes the quintet sounded like a percussion ensemble. About "Under the Earth" Miguel del Aguila has noted: "The wind quintet is often thought of as an ensemble dominated by the high instruments with limited bass support. I tried to prove the contrary with this movement which explores not only the expressive depth of the wind ensemble but the extreme low registers of some of the instruments"
"Far Away" has us a Middle East flavor with an exotic sound; a technically challenging piece, it comes to a fiery conclusion.
–Astor Piazolla, Libertango
Recorded and published in 1974 in Milan, the title is a metaphor for Piazzola's break from Classical Tango to Tango Nuevo, or new tango.
The song begins rapidly and continues in a faster pace than other tangos; not really smooth enough for the traditional dance, for which it is too frantic. It is, however, considered to be one of the best, and certainly one of the most popular concert tangos. It has been called "propelling, provoking, dynamic, and relentless."
The concert had a distinctly Latin feel, with joy, sultry rhythms, mystical/spooky rhythms, passion and romance. Coupled with the food and wine enjoyed by the guests, it had all the traditional elements of a Día de los Muertos celebration.