On Saturday, October 21, 2017 the legendary 14-Grammy award winner, Oscar winner, superstar keyboardist, UNESCO goodwill ambassador, NEA Jazz master Herbie Hancock, one of the most influential artists in jazz and R&B history, returned to Symphony Center, 220 S. Michigan, Chicago, as part of the Symphony Center Presents Jazz series. The concert included tempting and tempestuous jazz-sonic interludes from his anticipated new album, 2 years in the making and set for release next year, and also featured new versions of prior hits from his 60-year career.
This Chicago native and his super band mates- Saturday Night Live bass player James Genus; former Frank Zappa drummer Vinnie Colaiuta; and Grammy award winning producer/ keyboardist/alto saxophonist/"vocodist" Terrace Martin– all renowned musicians- pushed musical boundaries and created a drenching wealth of sound. Throughout the evening, Hancock duly and generously praised his on-stage colleagues, commenting on their musical underpinnings, professional repertoire, even offering personal anecdotes. He also walked about, often with his ketar, jamming with the others. He noted, with amusement, that Martin "has more keyboards tonight than I do".
The program consisted of:
– "Overture": This was a flavorful stew of the new material to come. Almost discordant at the outset, with high-tech swooping flourishes and keyboard washings amid an electronic-synthesized glow, it segued into a strong and sexy beat before resolving into a quieter tempo and dropping off abruptly.
– "Actual Proof": From "Thrust", 2007, the music is so vibrantly smooth it takes you into a different level of sonority, with super-sharp percussive artistry developed by Colaiuta on a very strong rhythmic funky base.
– "Come Running to Me": from "Sunlight", 1978, this piece was completely fresh, Hancock and Martin vocalizing back and forth through vocoders, the wah-wah bass and synthesizer atmosphere taking over the groove in this beautiful anthem.
– "Secret Sauce": an apparently new work which had Hancock stepping out on the ketar and also providing long and riveting solos at the piano; the whole piece presented quick-fire digressions from the amazingly adaptable foursome.
– "Cantaloupe Island": A jazz standard composed and recorded by Hancock in 1964 for "Empyrean Isles", in 2000 it was placed at #19 in the Jazz24.org "Jazz 100: 100 Quintessential Jazz Songs". Described as "a loping funk confection", here it was played with an unusual metric mash-up presentation.
– In encore, "Chameleon": 1973, from "Head Hunters": a jazz standard and a rocking piece which heralded the inception of "fusion" music. With a notably intense "signature funky bass line" laid down by Genus and solo keyboard riffs, the version here went on a futuristic wonky navigation away from the "2-chord vamp" on which it's traditionally built.
Hancock performed on the Fazioli Grand as well as on an electronic keyboard, often both at the same time. Much of the sound was drenched with electro-acoustics, including the vocals sung through the vocoder by Hancock himself and Martin. The concert took the audience on a transcendent journey through the jazz-funk-rhythm and blues work of the renowned musician/composer. Each piece, elongated to approximately 20 minutes long, had ample room for extensive improvisation and solo riffs by all, some of which extended into spacey and abstract explorations, always accompanied by or returning to a driving percussive beat. Hancock seemed to be filled with as much joy as the audience, ending the concert jumping up and down.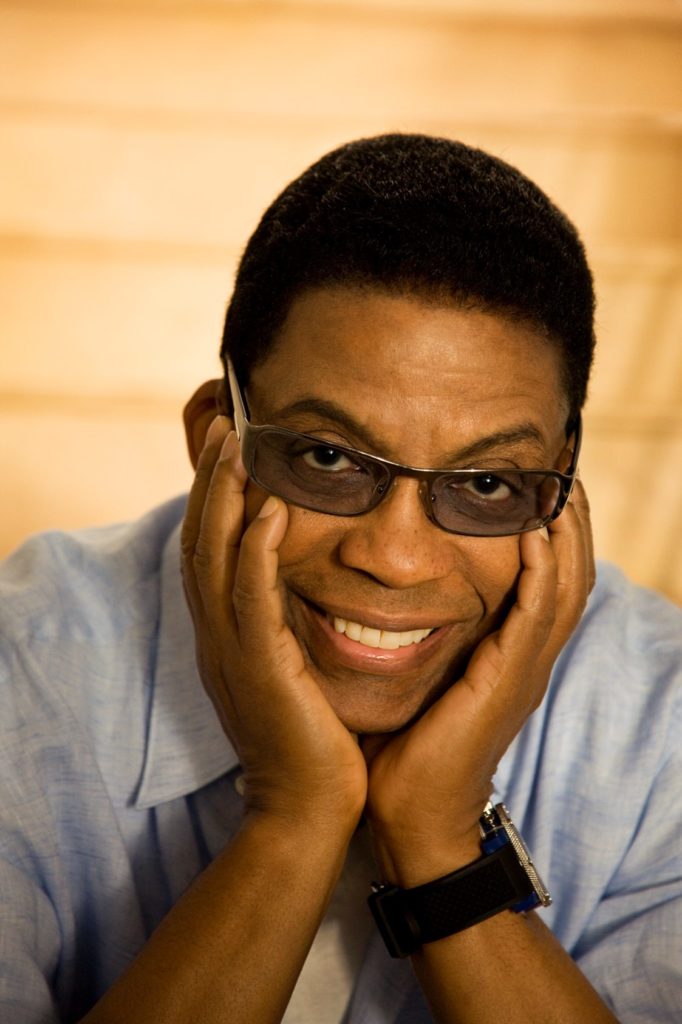 For more information and tickets to all the fine programming by the Chicago Symphony Orchestra, go to www.cso.org