East West Players and Rogue Artists Ensemble bring ancient Japanese ghost stories to spooky life in a show premiering on Friday 13 – just in time for a Halloween haunting. Written by Rogue Artists Ensemble's Lisa Dring and Chelsea Sutton, this production is an eerily modern take on kaidan – or Japanese tales of the supernatural. Vengeful spirits abound in this unnerving, often downright creepy thriller. And the audience is right in the center of the spine-tingling goings-on.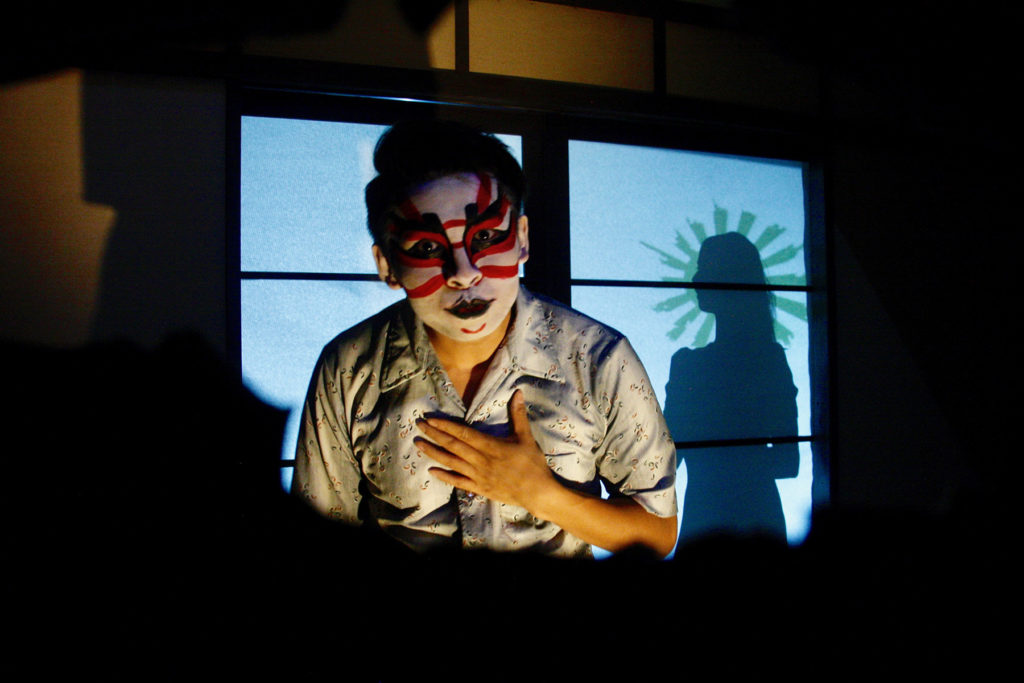 Dreary, scary, and sinister, KAIDAN PROJECT is staged in a downtown warehouse – usually after dark, of course. You've been contacted by the employees of Mori Storage begging for your help. Their friend and warehouse owner, Kana Mori, has disappeared – and they're terrified that something really bad has happened to her. Hours before your arrival, you receive a secret email with the warehouse address and a time they'll be expecting you. Clearly, they're all depending on you.
That's when things begin to get very weird – for this is an immersive haunted house setting with ghostly twists and turns. After signing waivers, groups of 12 ascend a creaky freight elevator as voices and strange noises begin to emerge from the darkness. For 70 minutes, group members come face to face with supernatural creatures, some with faces hidden, some visible in their grisly facades. As the spirits wander among the group, it's pretty clear that you are as much a part of the experience as they are.
Creative designers have had a field day converting this 10,000 square foot warehouse into over 20 different sets, including a teahouse, a cozy bedroom, a candy shop, an ice cave, and other places germane to these chilling stories. Doors open and close; walls slide apart; and maze-like passages lead to equally baffling spaces. Kudos to Keith Mitchell's scenic design, Karyn Lawrence's lighting, Lori Meeker's costumes, Matthew Hill's video design, Steve Swift's and Gilly Moon's sound, and Glenn Michael Baker's props. And let's not forget Sean T. Cawetti, Jack Pullman, and Brian White, who designed the masks and puppets.
Over 20 actors take part in this joint project, with lead Kana Mori played by four different people in performances staggered by 20-minute intervals. This is truly an ensemble piece, and the talented cast successfully conveys the mystifying and chilling nature of these ageless tales from Japan. Get ready to jump right into the middle of these legends. Although the production can be pretty scary – and so is limited to adults – it is not geared to become terrifying or unduly upsetting to the audience. Memo to all audiences: You will survive the experience, hopefully with a few goosebumps added.
KAIDAN PROJECT runs through November 4, 2017, with up to six performances every 20 minutes beginning at 7:30 p.m. on Thursdays, Fridays, Saturdays, and Sundays. On Monday (October 30) and Tuesday (October 31) ONLY, special performances are scheduled beginning at 7:30 p.m. in honor of Halloween. Saturday matinee performances have been added on October 21, October 28, and November 4 (four performances starting at 2 p.m.) The 2 p.m. performance has been modified for guests with mobility issues. Tickets range from $65 to $75. Performances take place at a secret location in Mid-City Los Angeles; the address is revealed after tickets are purchased. For information and reservations, call 213-596-9468 or go online.