The "Young Vic" production/Belgian director Ivo van Hove's wonderful conceptualization of playwright Arthur Miller's 1956 drama "A View From the Bridge," which opened in Chicago's Goodman Theatre on Monday, September 18th, for a run through October 15th is a full-throttle emotionally thrilling journey. At two hours long, it will keep your attention held in thrall long after you leave the theater. Van Hove is the recipient of two 2016 Tony Awards for Best Revival of a Play and Best Director.
This story, a strong and dark epic tragedy, is presented through the memory of the character Alfieri, a lawyer from Brooklyn, New York, and presented on a stage where members of the audience flank the actors for a close-up view. The purpose of Alfieri is to interpret and mitigate the mad passions from running wild. The effect of the on-stage seating is to hold a mirror of modernity up to the depicted characters. Before the play properly begins, the set is encased in a metal container; when it ends, the characters must arise from a sea of blood and their joined and tangled limbs. Kudos belongs to Jan Versweyveld for a masterfully intriguing set and lighting design.
The disaster has been laid open before us on a spare squared-off set like a boxing ring. In the opening, Alfieri, himself an Italian born immigrant, narrates the story of Eddie Carbone and his family and relates as well the background of the Brooklyn neighborhood in which the action takes place. Red Hook is the home of second-generation Sicilians who allow their disputes to be handled legally, but Eddie Carbone cannot accept the strictures of society.
As soon as the action begins, we enter a world that should have gone by, but whose hatreds and suspicions- of the "threats" of unwanted immigrants, of unseemly passions, of suspect sexuality- seem ever so timely.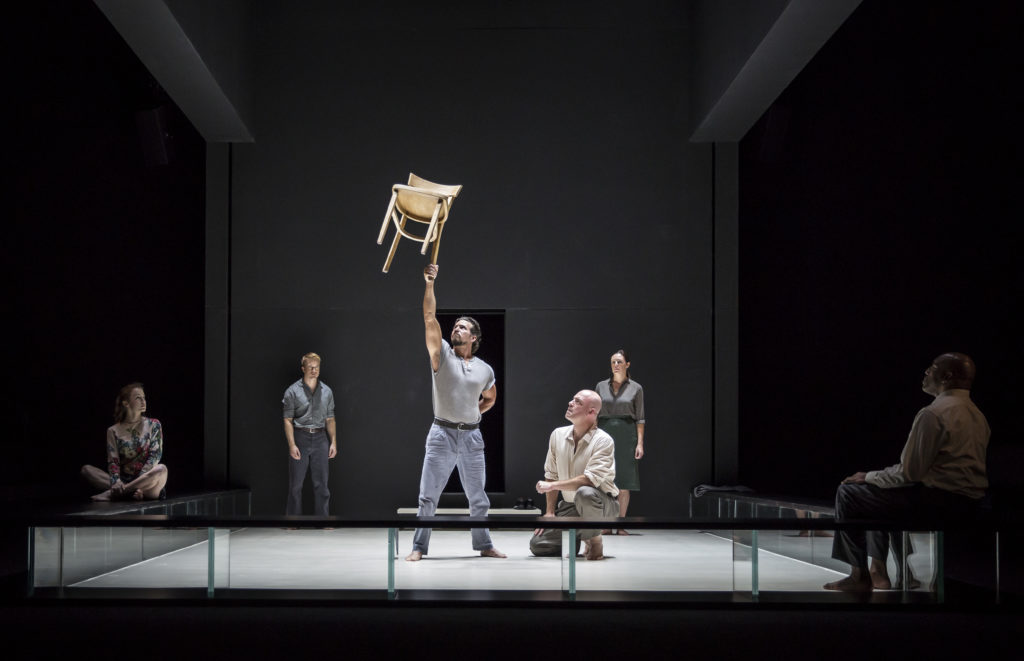 A NYC dockworker, Eddie Carbone can't consummate his marriage with his furious wife Beatrice, and can't keep his mind or hands off his 18- year-old niece, Catherine, who lives with them. Into their cramped apartment come 2 immigrant relatives of Beatrice. One is the married and apparently passionless and circumspect Marco. The other becomes Carbone's nemesis- the charismatic bachelor Rodolpho, whose sexuality seems a little too strangely pliable for Carbone. When Rodolpho begins to take Catherine out, Carbone cannot contain his frustrated rage, and projects his own repressed sexual urges and self-destructive needs out onto all in the extended family. Ultimately, Carbone's thwarted efforts at control impel him headlong to betrayal and a dark and deadly fate.
This is a production stripped down to its basics- a great script, fine acting, relentless emotion, no breaks. Starring Ian Bedford as the chillingly domed Carbone; Daniel Abeles as the seemingly carefree yet determinedly practical Rodolpho; Catherine Combs as the precocious and mature-beyond-her-years nymphet niece, Catherine; Brandon Espinoza as the sure and certain Marco; Andrus Nichols as the scorned, confrontational Beatrice and Ezra Knight as Alfieri, the vocal advisor and ultimately, the only mourner; with strong supporting performances by Ronald L. Conner as Louis and James D. Farruggio as the officer.
For information and tickets, go to The Goodman Theatre website
All photos of "A View From the Bridge" by Arthur Miller, directed by Ivo van Hove at The Goodman Theatre  by Liz Lauren